Tekno RC Team Report Week 27-28 2016
A very successful couple of weeks around the globe with Tekno RC Team drivers winning in Europe, USA and Africa! Tony Liljeqvist, Eric Grotenhuis, Billy Bowden, Allan Smith, Joe Tramontana, Gerhard du Toit and Jordy Velder all managed to top the podiums at the races they attended. Congratulations everyone! Report from each race follows:
Standard Bank Dash 4 Cash 2016 (NM), report by Gerhard du Toit: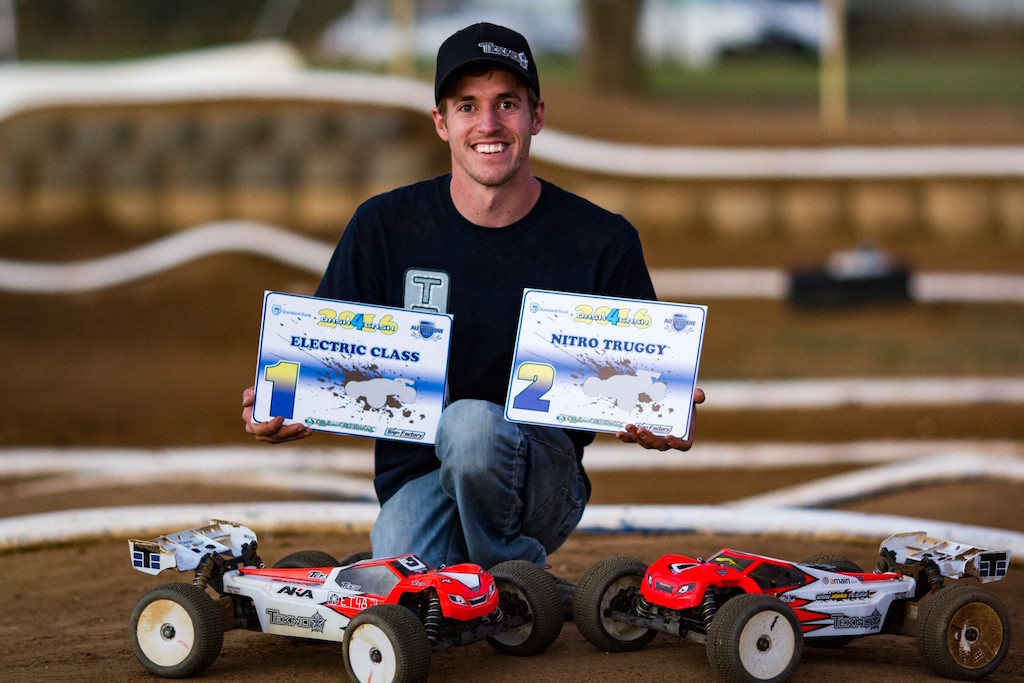 "The Standard Bank Dash 4 Cash is the biggest event held in Namibia annually.
Starting off with the nitro truggies, where despite a transponder issue costing me the overall 1st position, the NT48.3 was dialed and after a great battle and winning the Final I took a 2nd overall. Nitro buggy soon followed and unfortunately due to some engine troubles I was unable to finish the race. E-Truggy was pretty much a flawless run. Only a couple minor mistakes I managed to take the first position in all three qualifiers and winning the final.
I'm very happy with the performance these vehicles have to offer. Big thanks to my brother, Jean du Toit for being tops in the pits and to Tekno RC for their support!"
E-Truggy Overall Results:
TQ/1st: Gerhard du Toit
2nd: Loffie Van der Merwe
3rd: Mark Root
H.C.R.C.R. 2nd annual Nitro-Masters Race (US), report by Paul Bowden: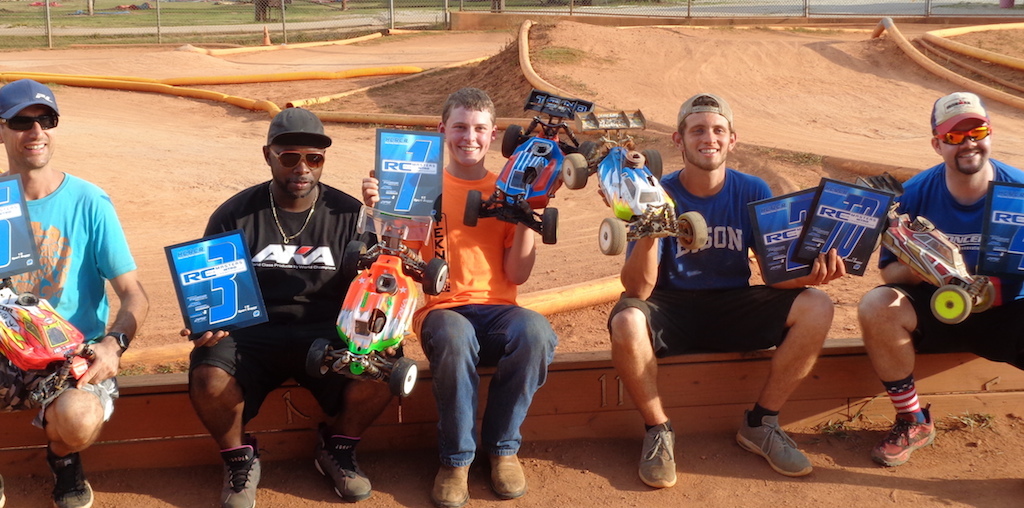 "After the dust settled on a hot Georgia day of racing at Henry County's 2nd annual Nitro-Masters Race, Billy Bowden earned the title "Nitro Master (jr.)" for his win in this year's Sportsman Buggy division. Track was dry to say the least but held up really well considering the temps and recent drought conditions. The groove offered a ton of traction but step out of the groove and it was rooster-tail, dirt track style (lots of fun).
After 3 rounds of qualifying Billy placed his Tekno NB48.3 solidly in the 4th starting position. After some jockeying for position on the first lap of the feature event, Billy was relegated back to 8th but with some calm and cool driving he moved up into the 3rd position at 7 minutes (first pit-stop), around the 13th minute mark he was in the 2nd position and was clearly gaining on the leader. As soon as Billy got on the bumper of the leader he immediately came in for his last pit-stop. The leader pitted the very next lap and came out of the pit right on Billy's rear bumper!!! Billy managed to hold him off for the next 6 minutes to get his first win in a nitro class!!!
Great -nitro only- event! – Thanks for having it, thanks for the comradery among competitors!
Congratulations to all who had FUN !"
Overall results:
1st: Billy Bowden
2nd: Zac Powers
3rd: Larry Cromontia
2016 Novarossi Challenge (US), report by Joe Tramontana: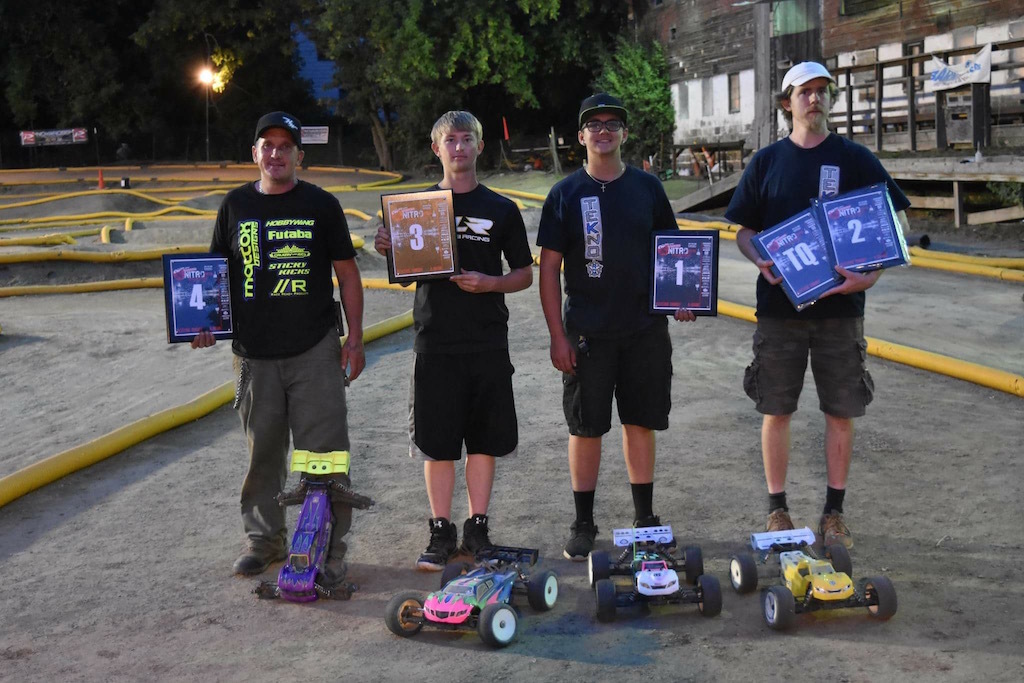 "Great race held at an old barn in Chester, New york. This in an annual race sponsored by Novarossi. It was a 3 day race. (Friday,Saturday and Sunday)
The high chance of rain meant that I would skip out on practice and head up Saturday for the race. I was fortunate enough to get in a couple tanks with the nitro buggy and 4-5 packs with each e-class. E-Truggy I had the most fun and sucess with as I had great battles for the top 3 each and every round. Main time came around putting me 3rd going into the 8 minute double A mains. A main #1 David checked out early with me starting to pull him in but 1 mistake cost me the A1 win. A2 I had a much better start as 2nd crashed early on leaving us two for a 2 way battle for the lead. Unfortunately for David there was a late race incident leaving me to run away with A2 giving me the overall win!"
Overall results:
1st: Joe Tramontana
2nd: David Hemmenway
3rd: Ryan Fields
Midnight Madness Race (US), report by Eric Grotenhuis: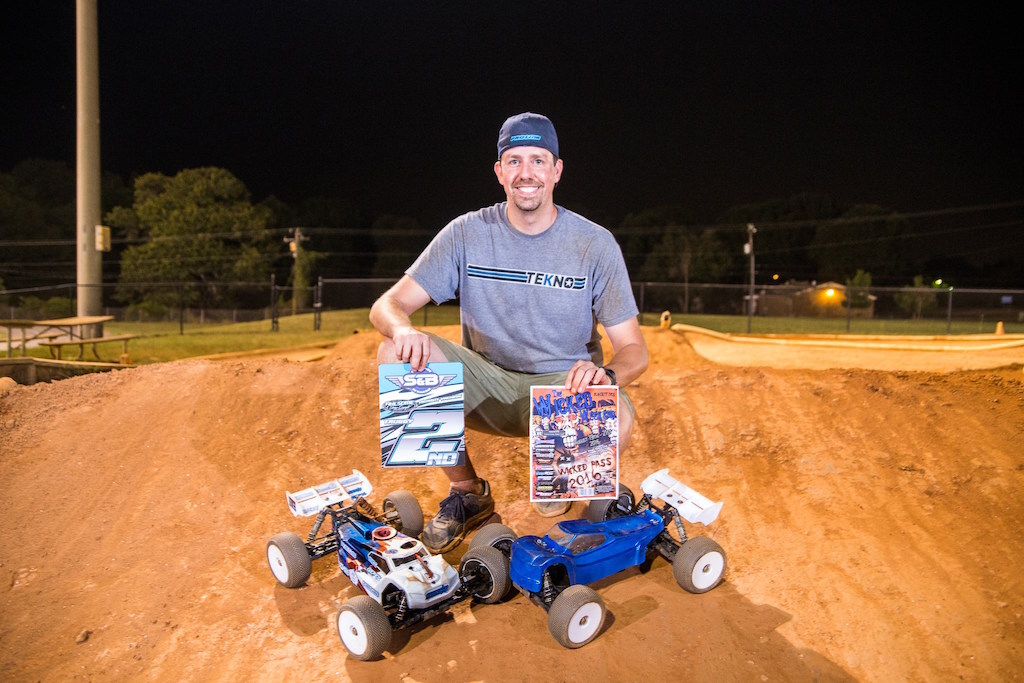 "S&B held their holiday weekend Midnight Madness race starting at 7PM on Saturday lasting until 4:30 AM, with attendees driving up to five hours to participate. At the time we ended, it was still 77 in South Carolina!
Truggy were the classes of focus for the night, pulling off a 10 minute A-main win with the freshly built ET48.3. Box stock setup, not bad for the first big race. To top it off, e-truggy podium came with a free entry to in my opinion the best race on the east coast coming up in August, The Wicked Weekend, put on by the lunatics also responsible for Psycho Nitro and Southern Indoor Championship. Nitro truggy was a bit more of a challenge, but pulled off a second followed by teammate Robbie Davidson shortly behind."
SC Summer Cup Round 2 (FIN), report by Tony Liljeqvist: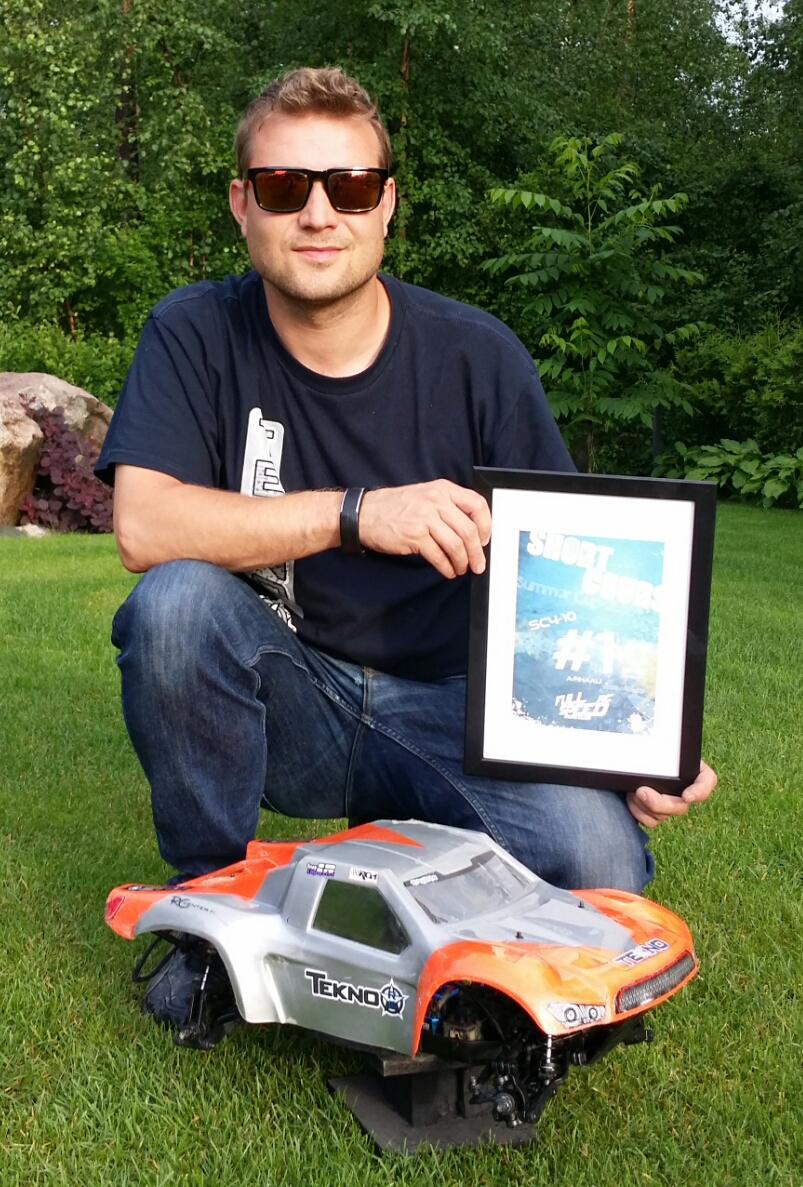 "Race took place at my home track Lavanko, so the layout was very familiar to me, practice went well and I was 3rd because I didn't use new tires just yet. Q1 was very tight but I finished 1st, in Q2 I made couple mistakes and finished 2nd, taking the overall TQ.
We run 4 finals and in every final I was in the lead from start to finish. Car was amazing and worked perfectly the whole day."
Overall results:
TQ/1st: Tony Liljeqvist
2nd: Jani Ravantti
3rd: Mikko Lampinen
Minnesota State 1/10th Scale Offroad Road Championship, report by Allan Smith: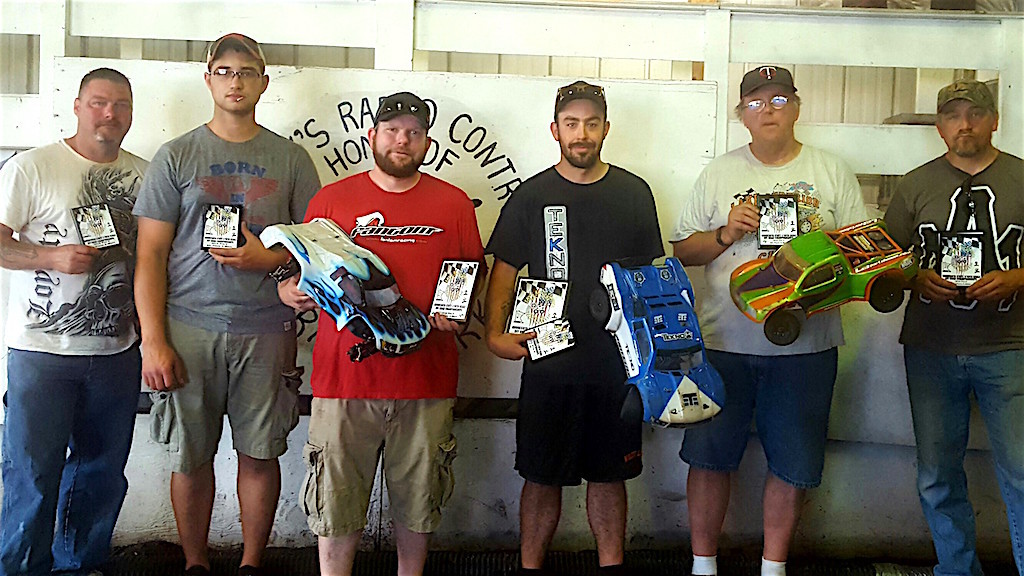 "I got to Jay's Radio Controlled Race Park Friday around 7pm and decided to run pro4, pro2 and stock buggy. Everything went well in practice and my cars were hooked up with M4 Proline Holeshots on the indoor black dirt. Saturday I ran super clean in all classes and took TQ in all three.
Sunday was tripple a mains and I was able to win a1 and a2 in pro4 and pro2 sealing the overall win in both classes. With a technical issue in Stock buggy I took 2nd overall. Thanks to Jay Campbell for hosting this race it was a fun one."
Overall results:
TQ/1st: Allan Smith
2nd: Cody Artz
3rd: Troy Fisher
Dutch Nationals Fourth Round, report by Michel Velder: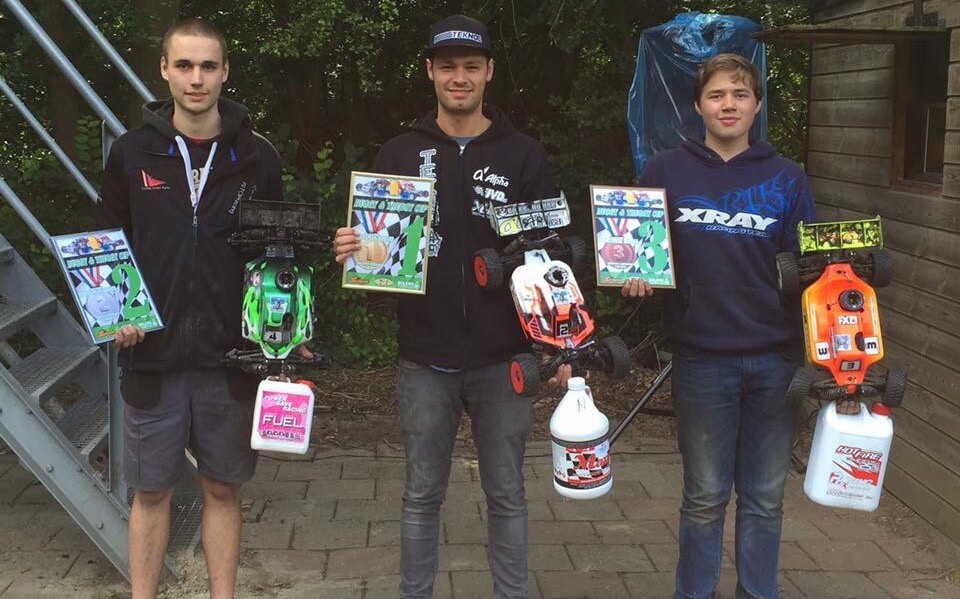 "Last weekend we went to Appingedam, Groningen in the North of Holland to battle for the fourth round in the Dutch Nationals. As normal we went as early as we could to setup the NB48.3. When we arrived, the track was very wet and muddy but made the best of it. After 8 tanks it felt good, so we decided to stop and clean the car. Hahahah, this was a difficult job!
Sunday the weather was beautiful but when the race started the first raindrops fell and it didn't stop, pff. Our qualification ran well, second in the first, first in the second and again a second place in the third, so overall second place.
Our semi final was good, track was not easy but a solid win in the semi B. The Amain, was a different one. Lots of rain came down but we had to start. We wanted to win this race, so Jordy had to make a good start. In the first round of pits he would take the lead and kept it all to the end, one lap in front of 2nd and 3rd.
Package was awesome. Thanks Tekno for this great car!"
Overall results:
1st: Jordy Velder – Tekno NB48.3
2nd: Sander van Genechten
3rd: Jarno Pijpers