Tekno RC Sweeps Motorama 2017!
A great weekend at Harrisburg Pennsylvania, Tekno RC's Joe Bornhorst TQed and won E-Buggy, E-Truggy and Pro4 SC classes! Joe reports back from the race:
"This weekend I loaded up my new truck and headed 5 hours east to Harrisburg Pennsylvania for the annual Motorama event. This race is pretty original, not only because of the track but mostly from everything else that goes on in the same complex. Everything from motocross racing, car shows, go karts, battle bots, there is plenty of things to go check out throughout the weekend. For this race I chose to run all three expert classes of SCT, E-Truggy and E-Buggy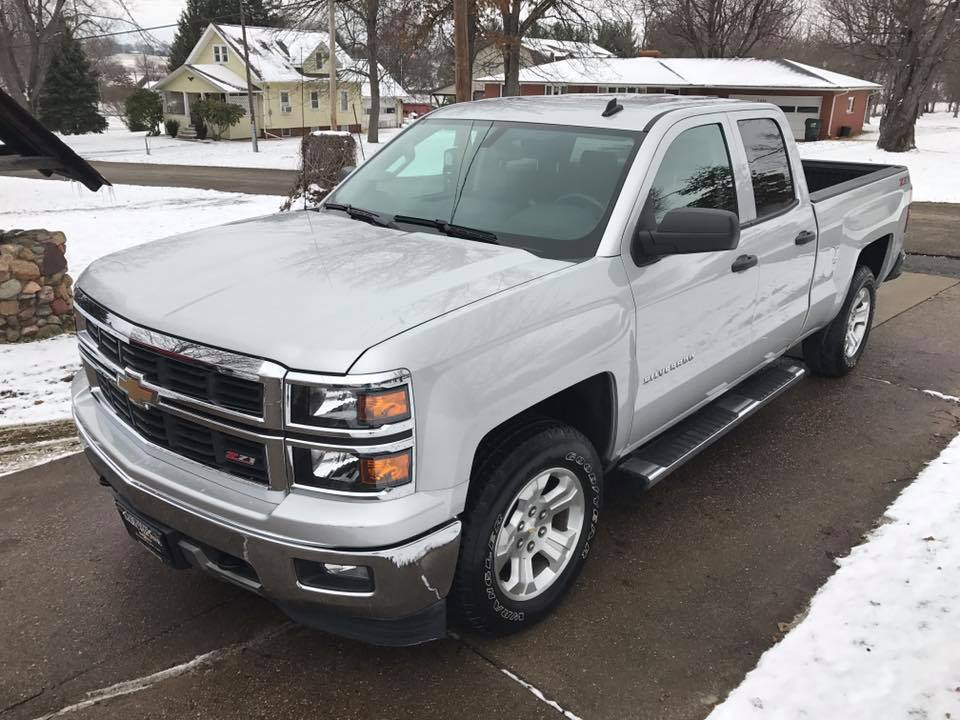 Joe was pretty stoked about his new truck!
Going into practice day I knew track time was pretty limited so I got some tires prepped and batteries charged in the hotel room the night before so I could go into the morning ready to roll. The track wasn't a overly difficult layout, but what made it tricky was some bumps throughout the track from the machines building it. Considering that they really only have one day to construct the entire track, Ill take it. I didn't make too many changes to my cars as they were all pretty good from the start. Overall practice went smooth and it was onto seeding followed by the first round of qualifying to finish out Friday night. Both seeding and Q1 went very well as I was able to top seed and TQ all three classes ending a more than solid day one.
Joe's cars ready for Motorama and next week's DNC
Onto Saturday morning, we showed up to the track when the doors opened and I prepped my cars for Q2. I made no changes to SCT or Truggy but a slight change to buggy as it seemed a little stiff in the cold temperatures the night before. I wanted to lock up qualifying in two rounds to be able to have a no pressure Q3 test session, which almost happened but not quite. I was able to get clean runs in both SCT and Truggy locking them up, but had an unfortunate traffic incident in Buggy while on TQ pace which slid me back to second overall. No worries though, its racing and stuff happens. Onto Q3. No changes once again for Truggy and a slight ride height change to short course to attempt to gain some more comfort in the high speed sections. I was able to TQ Truggy and SCT again to put a clean sweep of qualifying in those two classes. In Buggy it was down to a few drivers with a chance left at TQ. At the tone I focused in and put in a nearly flawless run and take the overall TQ for the class. I went 8 out of 9 TQ's for the day so once again it was a good day at the track.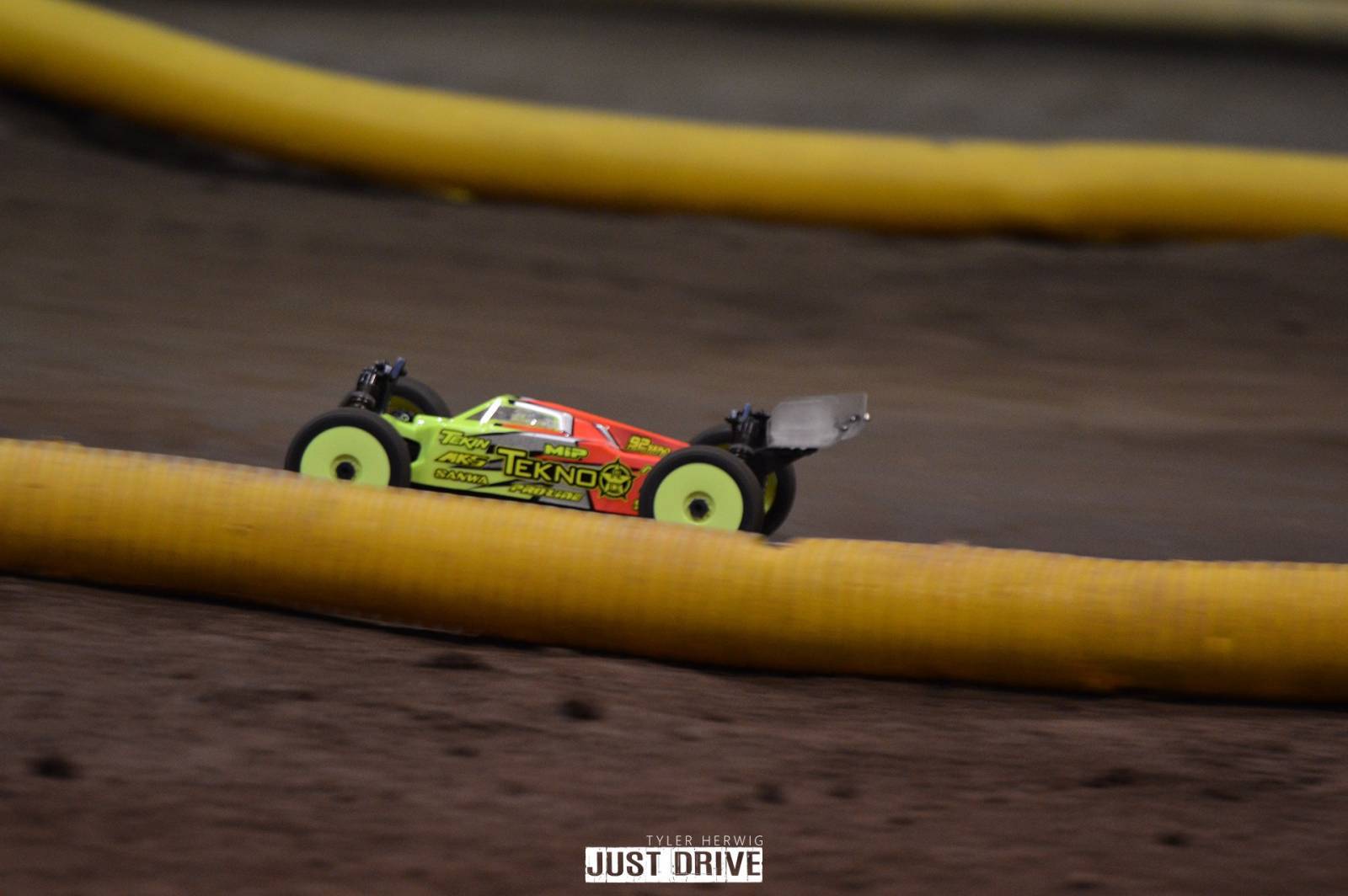 Joe's EB48.4 on its way to the overall TQ
Main day. Once again another early morning as we were at the track as the doors opened to prep for Double A-mains in all classes. No changes from the night before as all three of my cars felt good. A1's went to plan and I was able to lead all laps in all three mains. This honestly didn't mean a whole lot since this race was using a motocross style tiebreaker which means if you tie on points, the better finish in A2 decides the overall. Nonetheless I put myself in a good position going into A2's. We had about a 4 hour break so I checked over all my cars, made a few small changes for the changing track conditions, but more so paid attention to the track and what it was doing. There had been no water put down all day, so it was getting slightly drier then it had all weekend. With about 45 minutes left before my mains, I had a talk with Pro-Line's Brian Lewis and we decided that it was worth trying a slightly harder compound tire. Tekno teammate Jared Wiggins volunteered to be the guinea pig and try it in his B main, which ran right before the A's. Watching his car and talking to him after the race we decided it was best to stay on what I have been running, but it was still a worthwhile test. That's what teammates are for! Ok, A2's. I got focused and wanted to put in flawless runs to seal the deal. I was once again able to do so, getting the win in all three A2's wrapping up the overalls and finishing the sweep of the 2017 Motorama!
Overall results:
TQ/1st: Joe Bornhorst
2nd: Spencer Heckert
3rd: Anthony Mazzara
TQ/1st: Joe Bornhorst
2nd: Austin Woodyard
3rd: Spencer Heckert
Pro4 SC:
TQ/1st: Joe Bornhorst
2nd: Jared Wiggins
3rd: Spencer Heckert
Overall it was an awesome weekend. I had a lot of fun hanging out and racing with a bunch of guys from my local track who also made the trip over. Now to get some rest, re-pack my bags and head to the airport on Tuesday to make my way out to Phoenix Arizona for The Dirt Nitro Challenge. I had a good showing at that race last year and I hope I can do same this year against some of the best in the world.
As always, HUGE thanks to all of my sponsors for everything they do for me. We've had a really good beginning to 2017 and I am hoping to keep the momentum going into the next few major races coming up on the schedule. See everyone in a couple days at DNC!"