Tekno RC Team Report Week 8-9, 2018
Another couple of successful weeks for Tekno RC team drivers, with John Bernard Jr, Mike Lopes, Patrick Rossiter, Lil Donnie Ward, Frederick Perkins, Steve DeArmon, Logan Wendling, James Doherty, Alex Anapoliotakis and Rudy Khoubbieh winning the races they attended in USA, Greece and Dubai, congrats everyone! Report from each race follows:
Force Series (US), report by John Bernard Jr: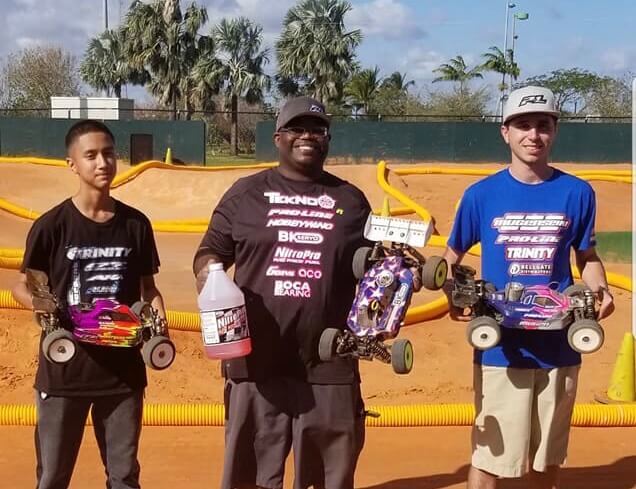 "The final round of the Force Series brought us to Mills Pond RC Speedway. It was a great layout and challenging surface that definitely rewarded consistency. We ran 3 rounds of qualifying and topped it off with a 45-minute A-Main.
After 3 rounds of qualifying, I would put my Tekno NB48.4 4th on the grid of Pro Nitro Buggy. Thanks to my new BLOK engine, my strategy for the main was consistency, patience, and 9 minute stops. The plan paid off as I would take the lead for the 3rd time 30 minutes in and hold it for rest of the 45-minute main."
Overall results:
1st: John Bernard Jr – Tekno NB48.4
2nd: Kyle Phillips
3rd: Jordan Singletary
2018 Motown Showdown (US), report by Mike Lopes: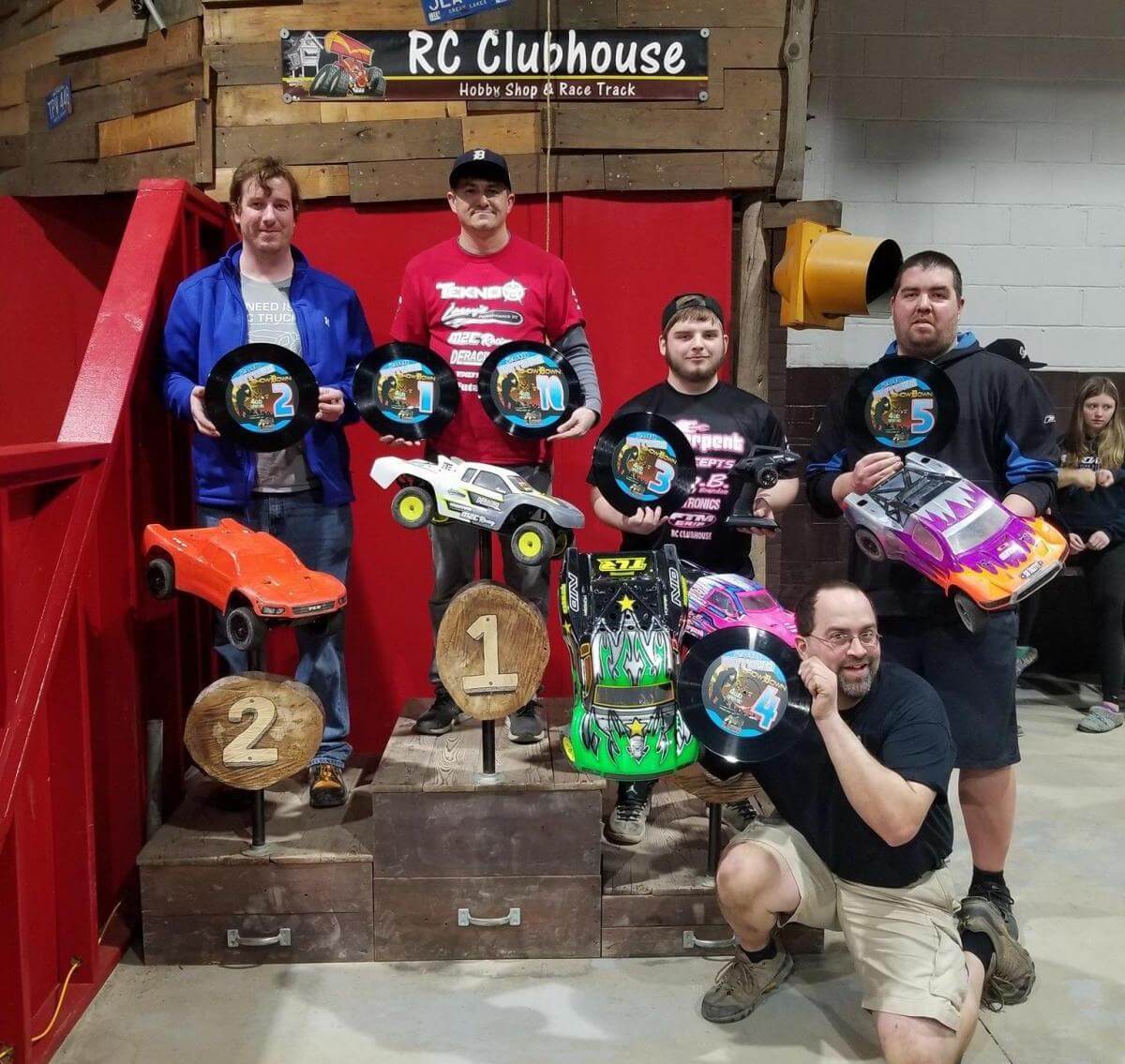 "I had a great experience at RC Clubhouse attending the Motown Showdown trophy race Feb. 17th….. Kudos to Melissa, Bill and the crew for hosting another great event. Bill provided a technical, drivers track that was tight and challenging.
4wd mod buggy, the EB410 and I started 9th in the show… It was a good overall race moving through the field. I would get involved with an entanglement of a few other cars towards the end of the race that were battling for top 5. I would finish 6th in the A. It was a fun battle with some solid talent from the mid-west and Canada.
Open 4wd SC, the #SCT410.3 was on point and on rails. I would handily TQ and go on to take the 1 spot in the A-main, leading from start to finish. The truck is getting better and better. So stoked to have a stable robust platform. Just an awesome feeling to trust the equipment while on the track!
1/8 Ebuggy, I chose to throw down my freshly assembled EB48.4 with no practice runs. I needed to just begin figuring it out for upcoming series. Some servo brownouts held me out of round 1 quals. I managed to Qualify 2nd overall in round 3 after only 2 initial sessions on the car. In the A main, I would drop back to 7th after getting banged around a bit and battled back to finish 2nd overall. I am ecstatic about the EB48.4 and the up and coming outdoor season as well.
– Other highlights, I was able to assist some folks with some part support… always happy to be in a position to do that for fellow drivers.
– Much appreciation to all my sponsors and team support.
– On deck, Round 4 of the RC Clubhouse/AMS point series and Chi-town Shootout"
Overall results:
TQ/1st: Mike Lopes – Tekno SCT410.3
2nd: Charles Parsons
3rd: Thomas Buckley
2017 Force Series Finale (US), report by Patrick Rossiter: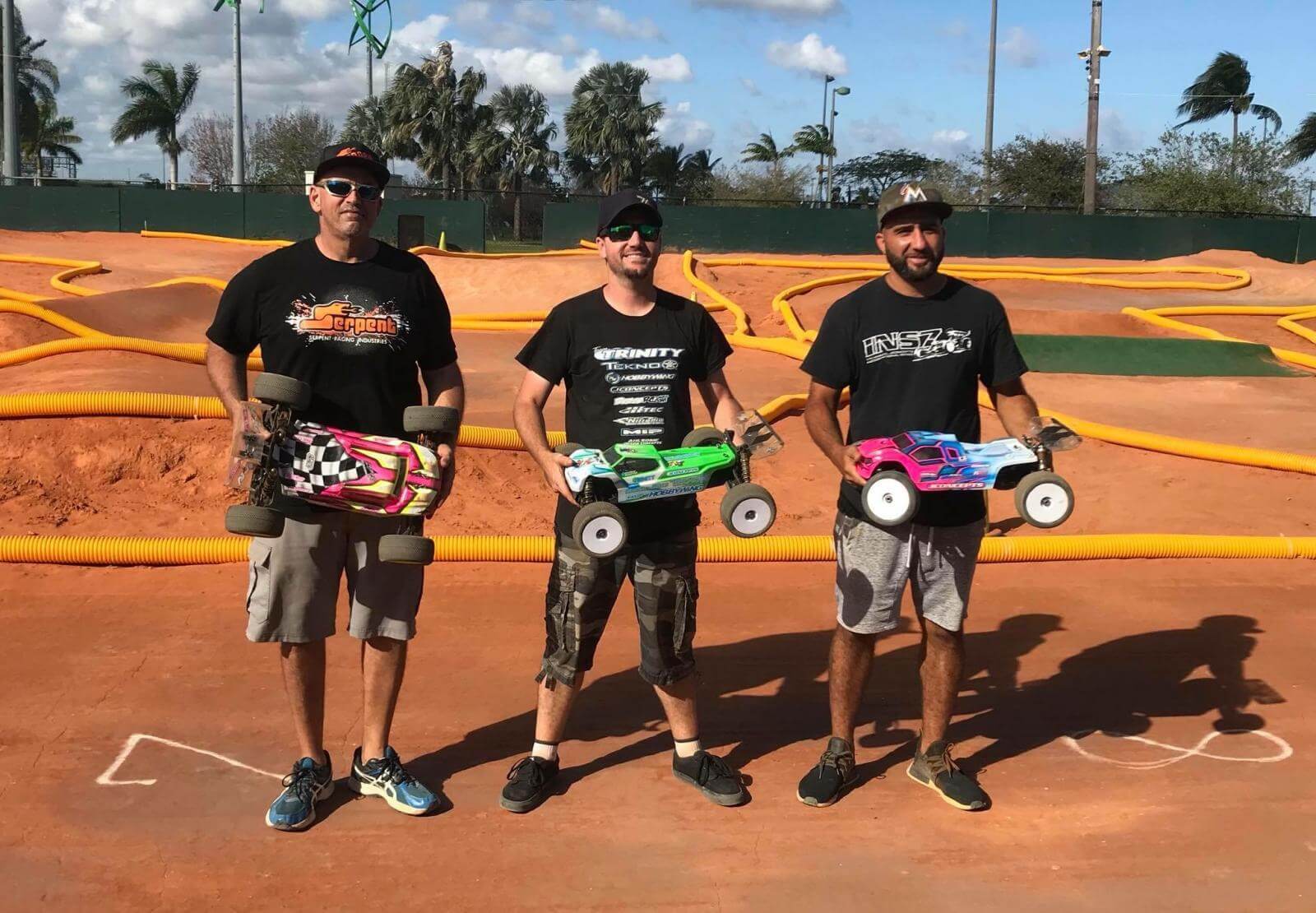 "After dealing with Hurricane Irma and Christmas, we finally got to finish up this amazing and adventurous series! First off, I want to give a huge shoutout to Lance MacDonald for all the time he's taken to organize this series and all the effort he's put into the production, organization, and execution! Also on a personal note, he's gone out of his way to help me on so many levels and I am truly grateful for his friendship. I entered my Hobbywing/Trinity powered Teknos into the Expert E Buggy and E Truggy classes. The track itself was somewhat of a challenge due to the very grooved yet dusty blowout surface. I will give Alfredo Morales a huge thank you for all his time and effort to maintain the surface as best he could. OCD has its benefits, lol.
After 3 qualifiers, I would take TQ in E Truggy and P2 in Expert E Buggy. The Triple A Main format for the electrics left the door open for anything to happen! In A1 and A2 of E Truggy, I put on some JC green Triple Dees and set cruise control! I would win both and sit out A3 to secure the win. In E Buggy, my buddy Kyle Phillipps with take the overall win with A1 and A3 and I would settle for 2nd with 2 bridesmaid finishes and a win in A2 on green Reflex. After the points for the series were tallied, I have claimed the championships in both E Truggy and Expert E Buggy for the 2017 Force Series! I want to thank all my family, friends, and sponsors for their continued support."
Overall results:
TQ/1st: Patrick Rossiter – Tekno ET48.3
2nd: Alfredo Morales
3rd: Bobby Smith
Roar Region Two Series Race (US), report by Lil Donnie Ward: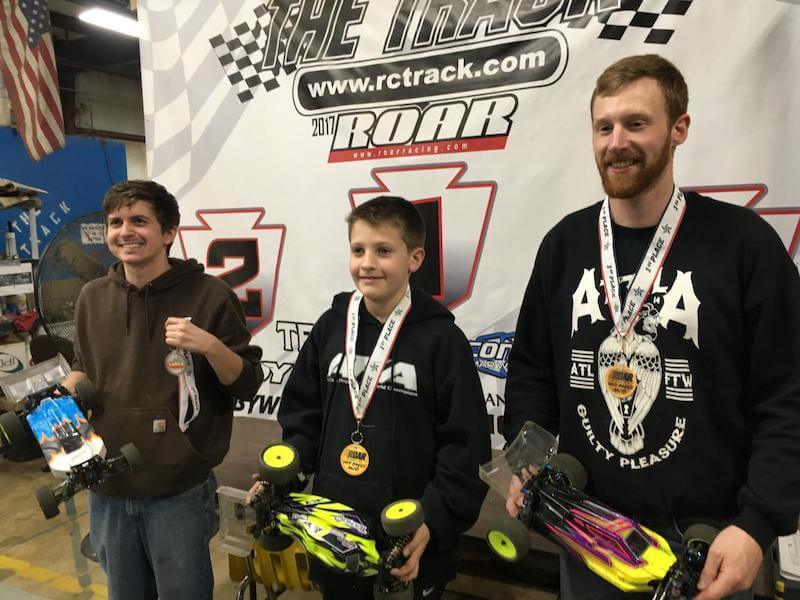 "Great day with stiff competition! Qualifying was tight racing could not pull off the TQ but was able to get the win 4 x 4 Mod buggy! For Stock Buggy we had a tight battle with teammate Mark Unrath. Mark got TQ and finished 2nd just in front of us we got 3 rd after a little rough start! Special Thanks to Paul Rush for speedo help it paid off!"
Overall results:
1st: Lil Donnie Ward – Tekno EB410
2nd: Chris Kline
3rd: Matt H
UAE National Championship Round 4 , report by Rudy Khoubbieh: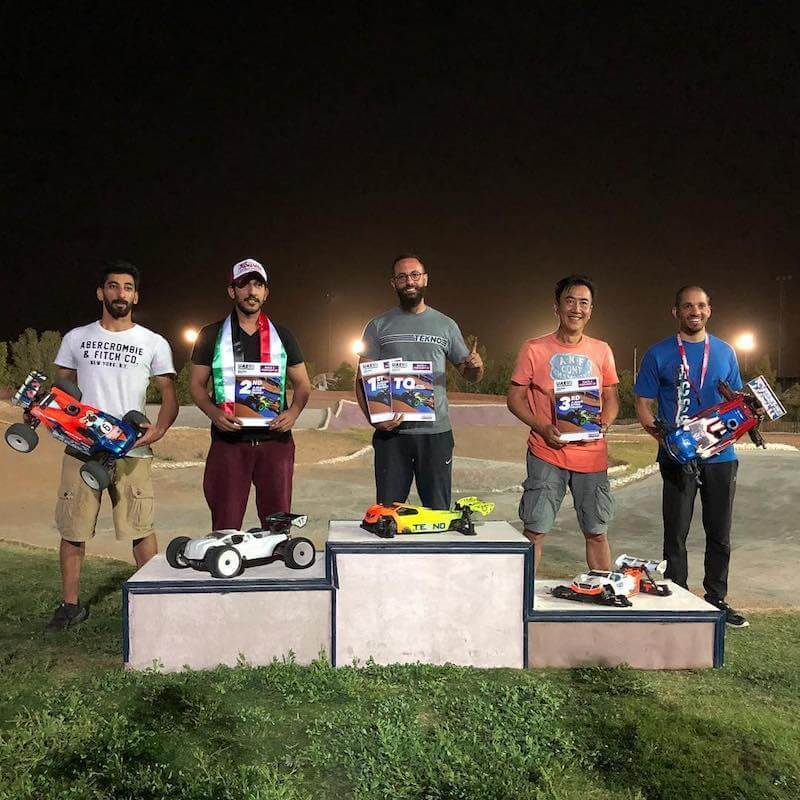 "Round 4 of the UAE national championship 2017-2018, it was my second participation in nitro truggy. I enjoyed a lot the race and the competition was very tough. I got well deserved TQ after problems with a broken fuel line in one of the qualifying rounds and in the Amain final I was able to lead from the start running fast and consistent laps allowing me to take the win."
Overall results:
TQ/1st: Rudy Khoubbieh – Tekno NT48.3
2nd: Abdulrahman Aljuhail
3rd: Edward Anthonijsz – Tekno NT48.3
Roar Region Two Series Race (US), report by Fred Perkins: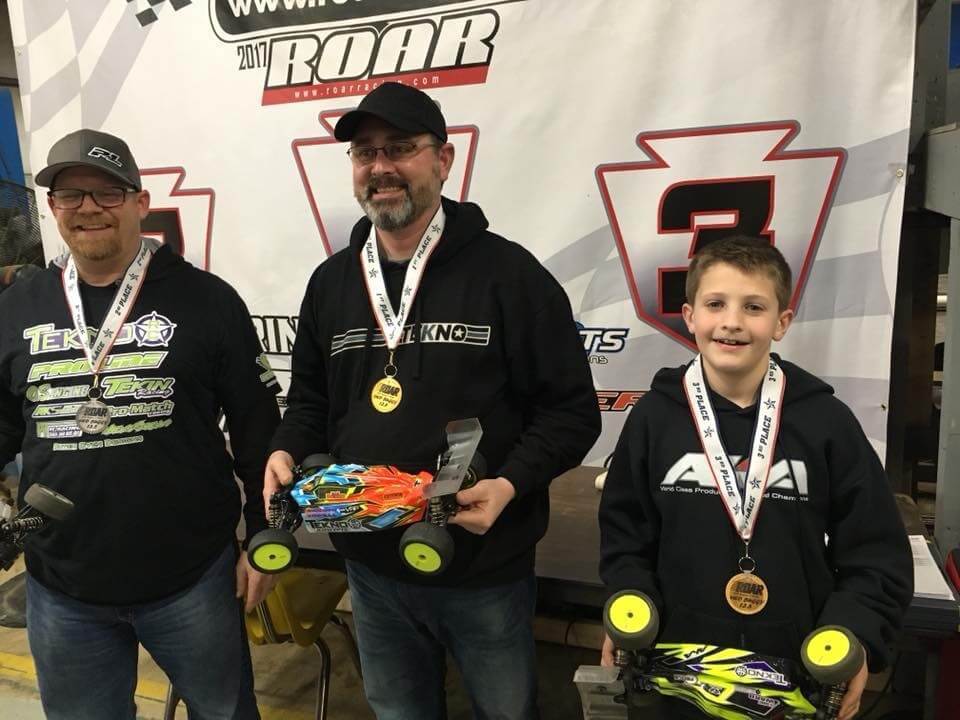 "Yesterday I ventured to The Track in Gaithersburg Md for the second leg of the ROAR regional series. I had been making some trips down in the previous weeks to get prepared an it paid off. There was a track layout change the week before so it would just be getting used to the new layout and picking treads vs slicks. I went out on my normal tire for practice, Black Octagons, and never changed to treads. They were a little loose but I knew the traction would come up. In 2wd 17.5 I put a solid run in the first round and was sitting 8th. After the next 2 rounds I would slightly better that run and qualify 7th. I got a good start and worked my way up to 5th for a decent finish. In 4wd 13.5 I had a great 1st run that would put me 2nd for the round. I was able to go a little faster but would end up qualifying 3rd.
The first start was a mess so they restarted the race. After the restart I would come out 2nd. I followed team mate and team manager Mark Unrath for the first few minutes. Team mate Donnie Ward Jr would make up some ground and get past me for 2nd. Now running 3rd I just tried to stay consistent and not let 1 & 2 get away. with about a minute to go Donnie would catch a pipe and I would move back into 2nd. 2 corners later Mark rolled it in the berm and I was able to get by for the lead. I kept my head down and just drove the last 30 seconds smooth as possible. I was able to take home the win with Mark 2nd and Donnie 3rd. What a race! I had a great time battling with my team mates and ROAR put on a very nice race! Team Tekno finished 123 in 13,5 as well as having 8 out of 10 cars in the A Main!"
Overall results:
1st: Frederick Perkins – Tekno EB410
2nd: Mark Unrath – Tekno EB410
3rd: Donnie Ward JR – Tekno EB410
2018 RaceRC 1:10 Series Round 1 (GR), report by Alex Anapoliotakis: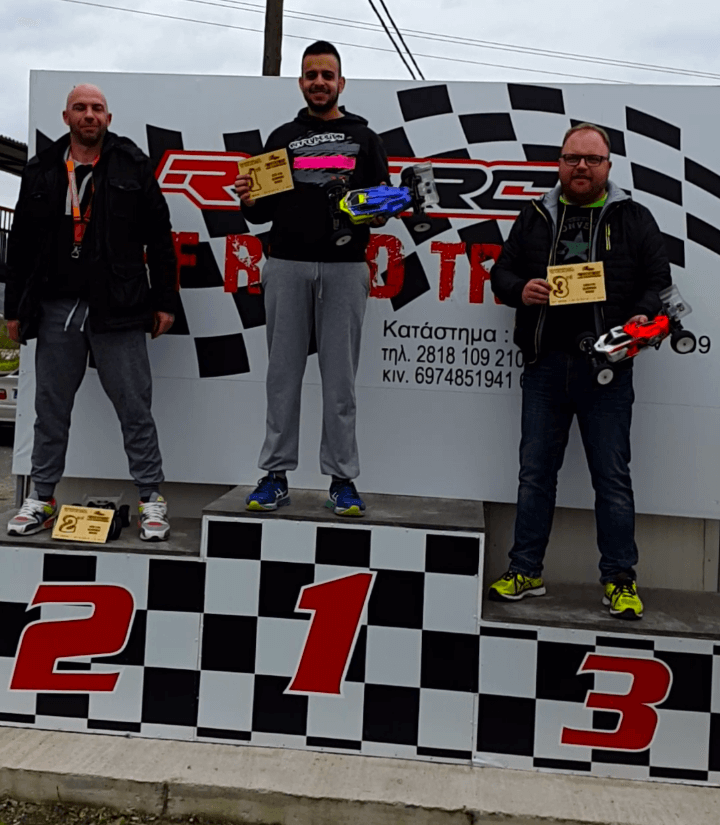 "The first round of 1:10 RaceRC Series was held this past weekend at the RaceRC track in Heraklion Crete. Since this was the first actual attempt to create a 1:10 scale specific series on our island everyone was pretty excited and full of desire to race. Tekno RC cars dominated the race with a total of  9 cars in the race which showed the potential of the car. I was able to get the overall TQ of the race by winning all qualifying rounds and get the win by finishing first in the first two Amain legs, all cars finished the race with zero issues putting big smiles on their owner's faces!"
Overall results:
TQ/1st: Alex Anapoliotakis  – Tekno EB410
2nd: George Andreadakis  – Tekno EB410
3rd: Dimitris Arnopoulos  – Tekno EB410
Oklahoma Hobbies Payout Series #2 (US), report by Steve DeArmon: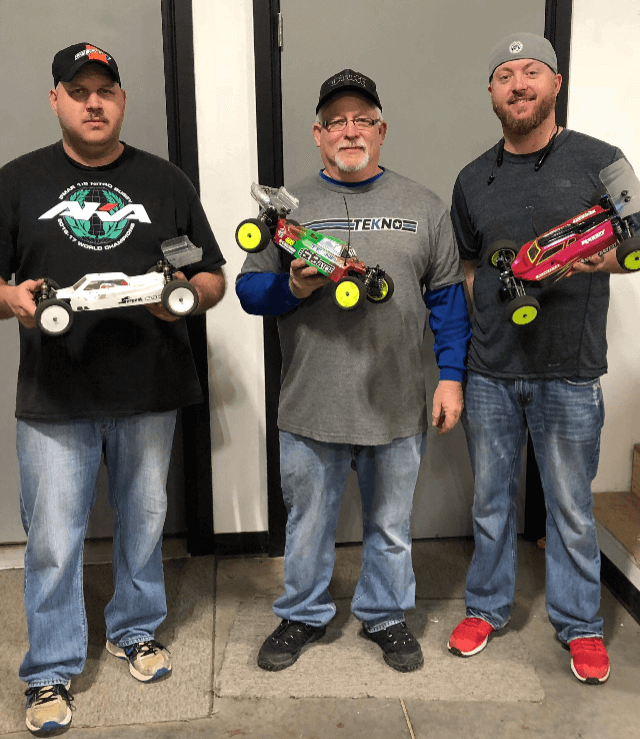 "My Tekno EB410 was on rails all through qualifying, made some shock oil change to 37 in front and 35 in rear,ride height was 19 mm front and rear, green springs in front and pink springs in back. Took out both chassis braces in back and put in 52 grams of weight in the rear. Set the TQ by 9 seconds and won both double A Mains"
Overall results:
TQ/1st: Steve DeArmon – Tekno EB410
2nd: Jeremy Jones
3rd: Jason Shuttles
AMS/Clubhouse Points Series Round 4 (US), report by Logan Wendling: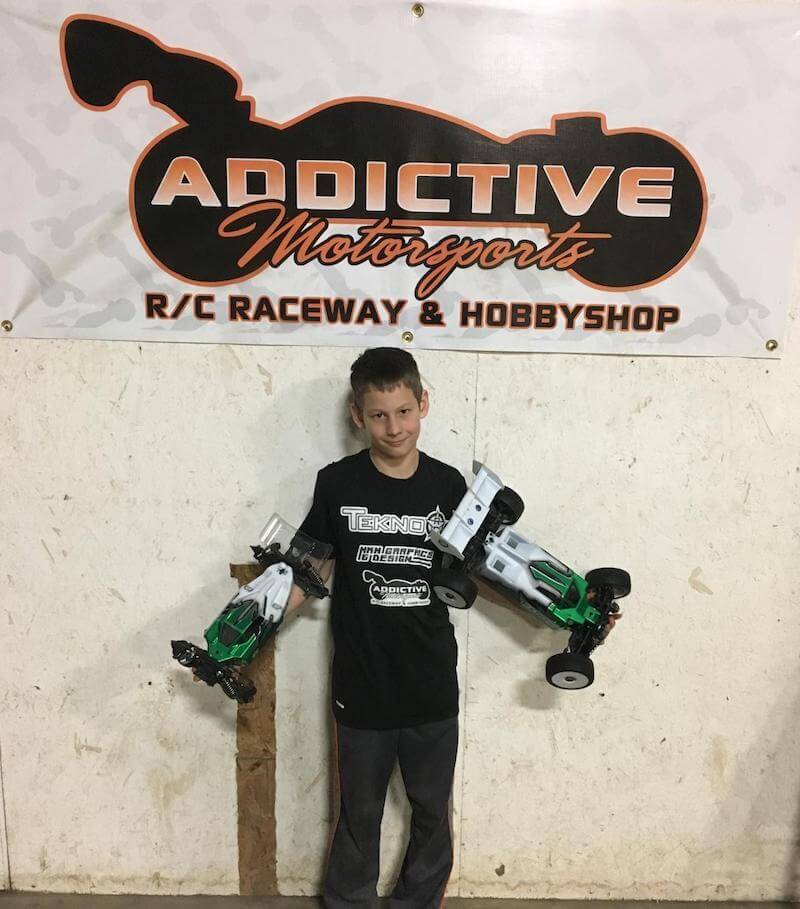 "The 4th round of the AMS/Clubhouse points series was hosted by AMS in Grand Blanc. I raced 13.5 Wheeler and 1/8 Scale buggy. During practice the track was coming in really nice and stayed great all day. Mike Sontag built the track and it was extremely fun. Qualifying went really well with no issues and I was able to TQ both classes. 13.5 wheeler was really tight all day and the main would be a great battle. I was able to lead from wire to wire with a near flawless run. My EB410 was absolutely awesome! In 1/8 scale buggy I was able to lead from wire to wire putting a lap on the field with a great run also. I can't wait to get back to the track! There is not any podium pics until the series is over….."
Overall results:
Flash Mod Race (US), report by James Doherty: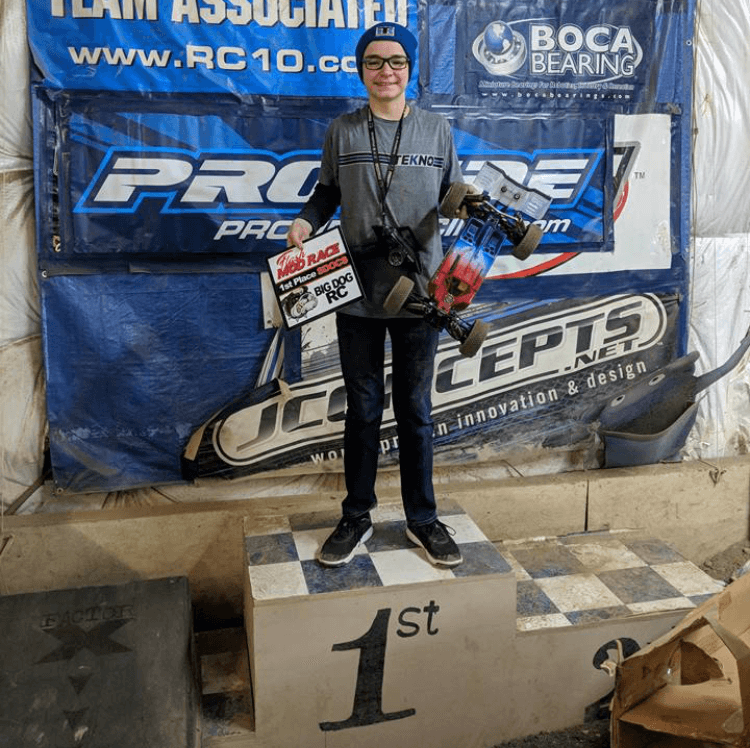 "When I arrived at the track Sunday morning, I did not have any time to practice. I went straight into qualifying. For the first round, I finished 3rd in the heat. I had a good run with only a few mistakes. In my second round of qualifying e-buggy, I had an ok run, making a couple of mistakes. I finished 2nd in the round. It put me third overall on the main starting grid. In the main of e-buggy, I started in 3rd place, having a couple of rough mistakes but I worked my way through traffic and finished 1st overall."
Overall results:
TQ/1st: James Doherty – Tekno EB48.4
2nd: Cecil Parsons
3rd: Scot Stoffer