Tekno RC Team Report Week 45-46, 2017
Another couple of successful weeks with Tekno RC Team drivers winning more races and with the release of our EB410 4wd 1:10 scale buggy Tekno RC is also filling podiums at 10th scale races as well. Congratulations to Mason Eppley, John Bernard Jr, Kevin McCoy, Patrick Rossiter, Shaun Kirkman, Zachary Sampiere, Seth VanDalen and Mike Legue for their wins! Report from each race follows:
North vs South race, report by Mason Eppley:
"Once again I would make the 5-hour drive south for the annual North vs South race held at CVR 2.0 in Madera, California. Starting with my base setups, my cars were as close to perfect as you can get on Friday practice. Without making any setup changes, I had a lot of confidence going into racing on Saturday. Qualifying would go perfect, getting the TQ both rounds in E-Buggy and Pro Nitro Buggy.
After qualifying, I would also take part in the dash for cash. After an eventful 8 minutes, I would come away with the win and an extra $120 in pocket money. The mains would go pretty perfect as well. I would go on to take the win lapping the field in ebuggy and drive mistake-free in the pro nitro buggy main, taking the win over my good friend Austin Blair. Overall it was a pretty perfect day, can't really ask for more. Huge thanks to my sponsors for the continued support, Tekno RC, Proline, Amain, Tekin, Protek, MIP, Schelle, BOOMrc, and RAD Painting."
Overall results:
2017 Georgia State Championship Race, report by John Bernard Jr: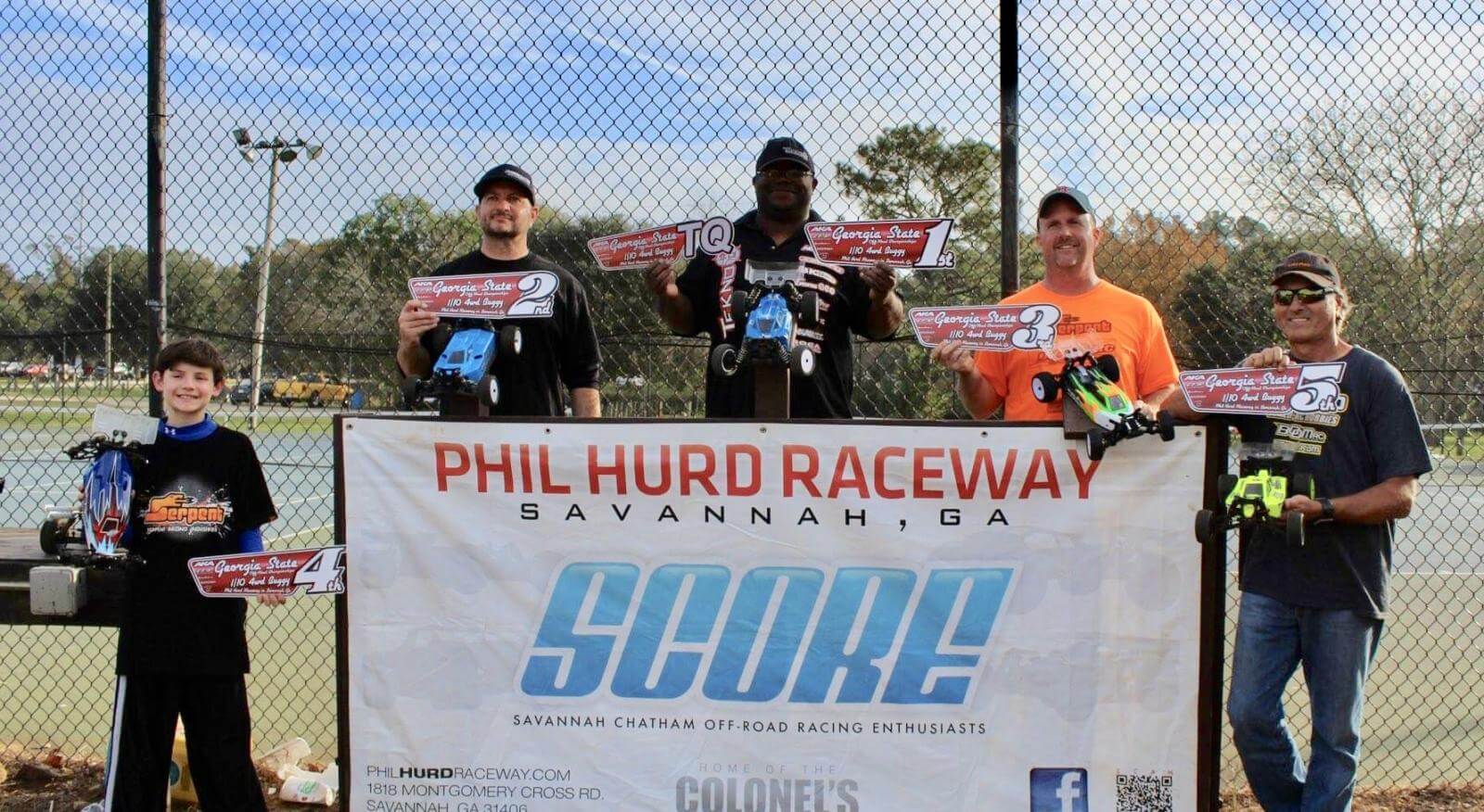 "The track crew went to work Friday morning to give us a raceable surface for practice as rain Thursday had soaked the track. Conditions were wet and bumpy but improved throughout the day despite the lower temps and lack of sunshine. I made changes to my EB410 to account for the bumps and felt very comfortable navigating the large track. Friday night the crew went to work again smoothing out the bumps and ruts before the 3 rounds of qualifying on Saturday.
Round 1, I stuck with my practice setup. Traction was low but the car still felt great as I set TQ for round 1. The bumps had been smoothed out considerably by the track crew so went to stiffer springs front and rear. The sun finally came out and brought traction with it for round 2. The EB410 was perfect in round 2 taking the TQ overall. Sunday morning started with mist that wet the track and washed the groove away. In A1 I hit the double wrong on lap 2 and fell to 4th place. I knew I had plenty of time in the 8 minute main and concentrated on smooth consistent laps. With 2 minutes to go I retook 1st place and pulled away for the win. By A2 the sun was out, temps were up, and the traction was back. I had a great start putting a gap on the field quickly. I would lead A2 tone to tone for the overall class win.
The SCORE club members hosted another memorable event and Lance MacDonald ran a great race as usual."
Overall results:
TQ/1st: John Bernard Jr – Tekno EB410
2nd: Doug Dragotta
3rd: Brian Case
Toys for Tots Race, report by Kevin McCoy: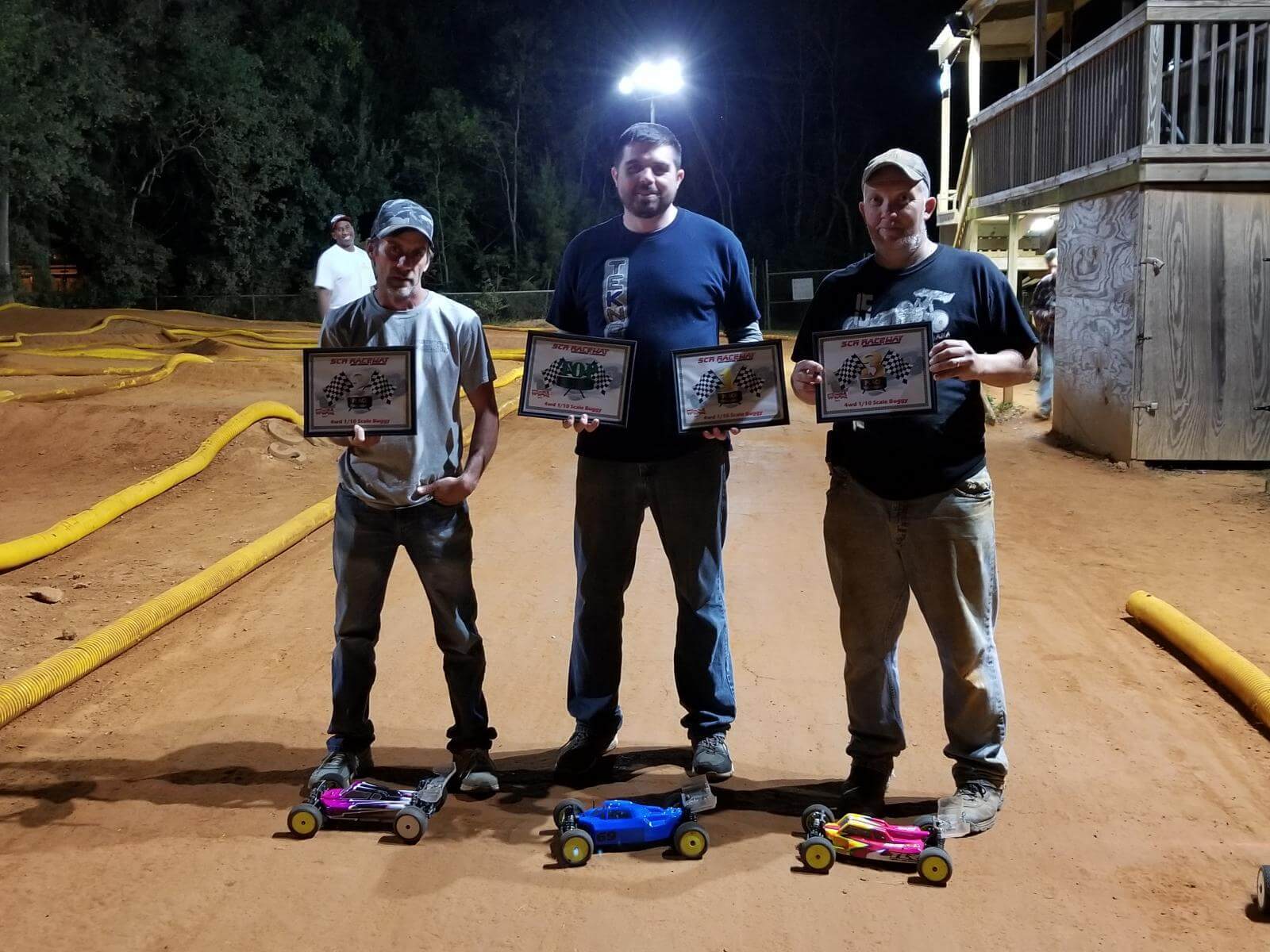 "The guys in Destrehan, LA hosted one of their biggest races (Toys for Tots) at SCR this past weekend and I was fortunate enough to make the trip. The track really blew out and competes with classic PNB races as the roughest track I've been on, but that added a real off-road element I'm thankful for. I've notoriously struggled at this track in the past, but I put a lot of work into setup (on the car and mentally) and am happy with my results.
I TQ'd Expert Electric Buggy after making a few rough track setup changes, but gave away the 1st main. After rebleeding the shocks to relieve some pressure from the big temperature swing I went on to win the 2nd main, giving me a 3rd place finish overall.
I also TQ'd 1/10th 4wd Buggy on a mostly stock setup. I'm amazed at how well this car handled on such a rough track. It some aspects it was even easier to get around with than my EB48. In typical fashion, I fumbled the 1st main finishing 2nd. I came back strong in the 2nd main, giving me 1st overall!"
Overall results:
TQ/1st: Kevin McCoy – Tekno EB410
2nd: Tommy Reeves
3rd: Mark Forbes
Tekno Winter Series, report by Seth VanDalen:
"The first round of the Tekno Winter Series is in the books. I ran my NB48.4 and EB48.4 and the were good all day long and got even better with each run. In qualifying, I would TQ the first round if Nitro Buggy and take 2nd in E Buggy. The second round was a little rough as I would take a 3rd and a 4th but I would still TQ in Nitro Buggy and I would qualify 4th in E Buggy. In the mains, both of my cars were on point. In Nitro Buggy, I would pull away early and then flame out and then pull away again after a short battle with Mason Fuller and I would take the win. In E Buggy I stayed super patient and made smart clean passes and I would end up taking the win."
Overall results:
1st annual Turkey Cup Classic, report by Shaun Kirkman: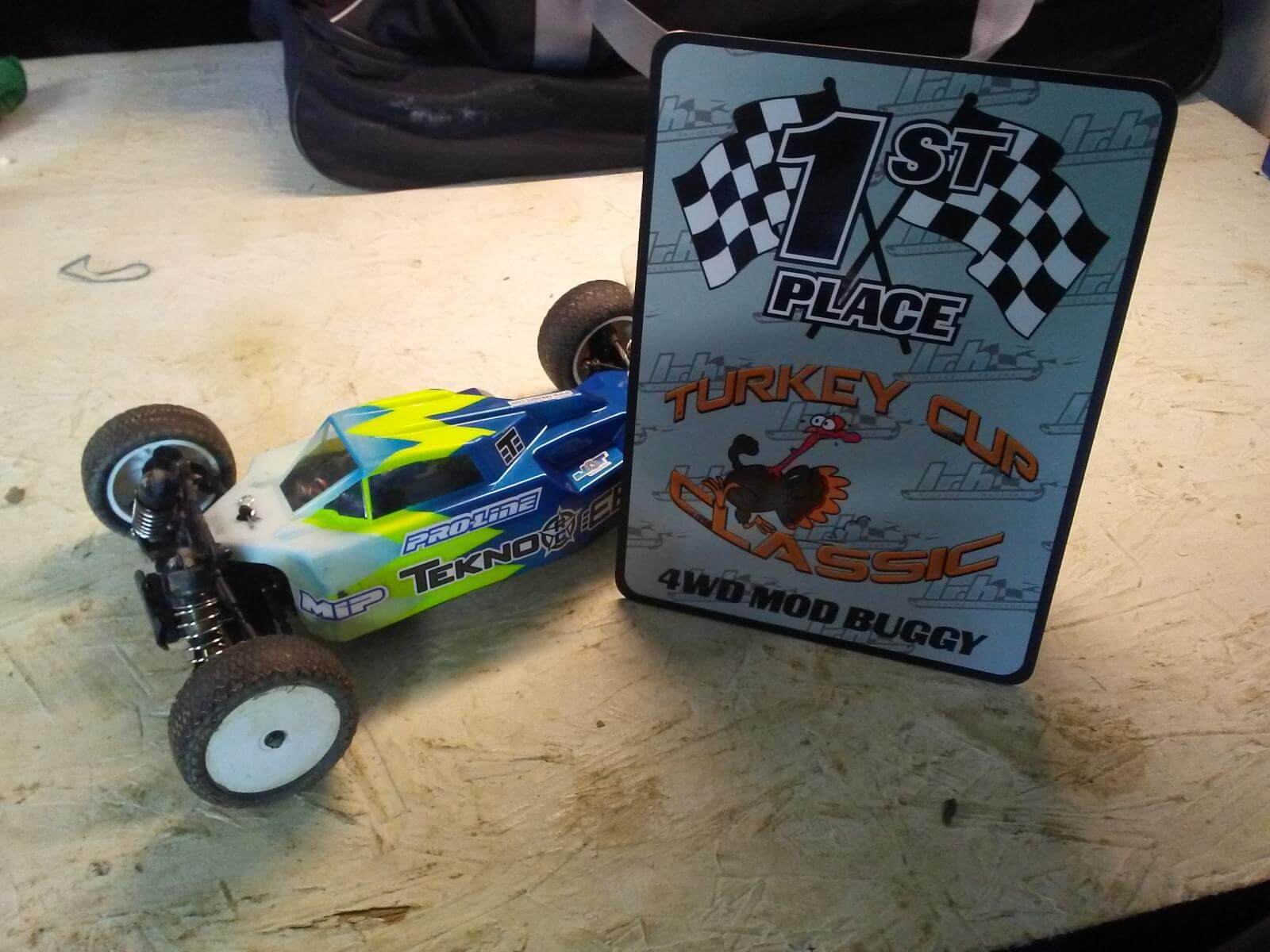 "This past weekend I attended the 1st annual Turkey Cup Classic at LRH Hobbies in Anahiem, Ca. The track surface is 100% wet clay, most people run slicks theres so much traction. I ran some ground-down Proline clay microns on my Eb410. I ended up winning the 7 minute min in the 4wd mod buggy class. My buggy was on rails! I had a blast! Id like to that the track owner Lorenzo Rojas for putting on a great event."
Overall results:
1st: Shaun Kirkman – Tekno EB410
2nd: Jesse Howeth
3rd: Steve Gonzalez
2017 Georgia State Championship, report by Patrick Rossiter: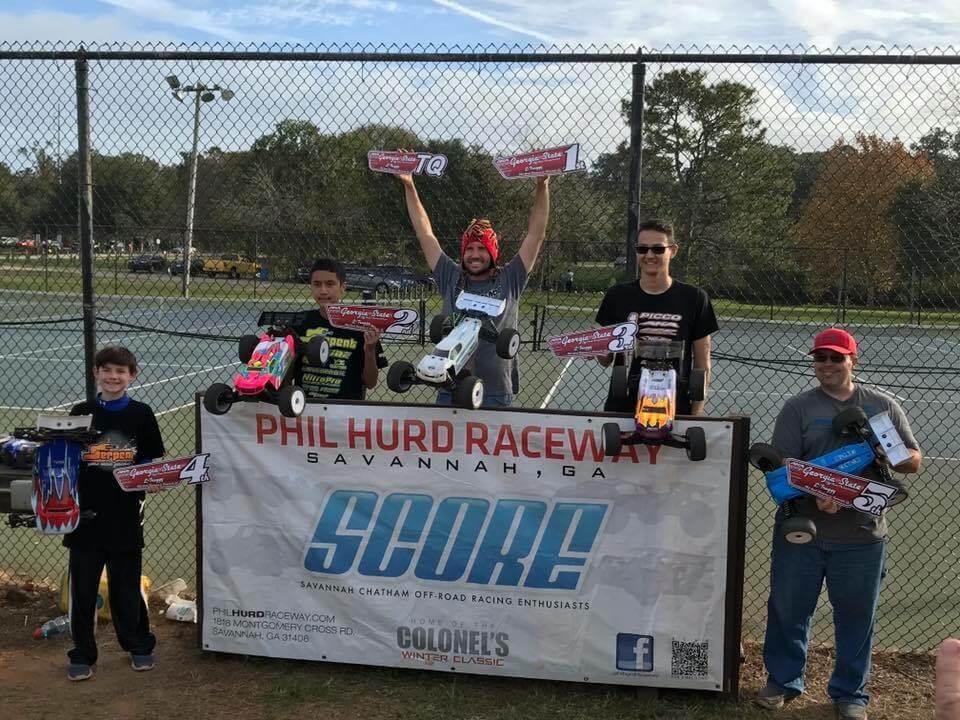 "The Georgia State Championship returned to Savannah for the first time since 2005. With rain coming in on Thursday, the track was thick with mud, by late Friday, it was already showing signs of a groove. Members of Team Oh Yes Daddy Racing would step in and give the track the manual labor it so desperately needed. Once qualifying started, the track had some character about it and was very reminiscent of the old offroad days. Fast times would start off in the 31s and gradually go down to the 29s. Lance MacDonald ran a heck of program, as always, and had 3 qualifiers done on Saturday within 12 hours and our mains completed just before 4pm on Sunday. Jeff Keeton, with the help of RCTrackmaster's Bobby Moore, put in a very fun yet challenging layout for both 1/8 and 1/10 scales."
Overall results:
TQ/1st: Patrick Rossiter  – Tekno ET48.3
2nd: Kyle Phillips
3rd: Justin Fales
Oktoberfast race, report by Zachary Sampiere: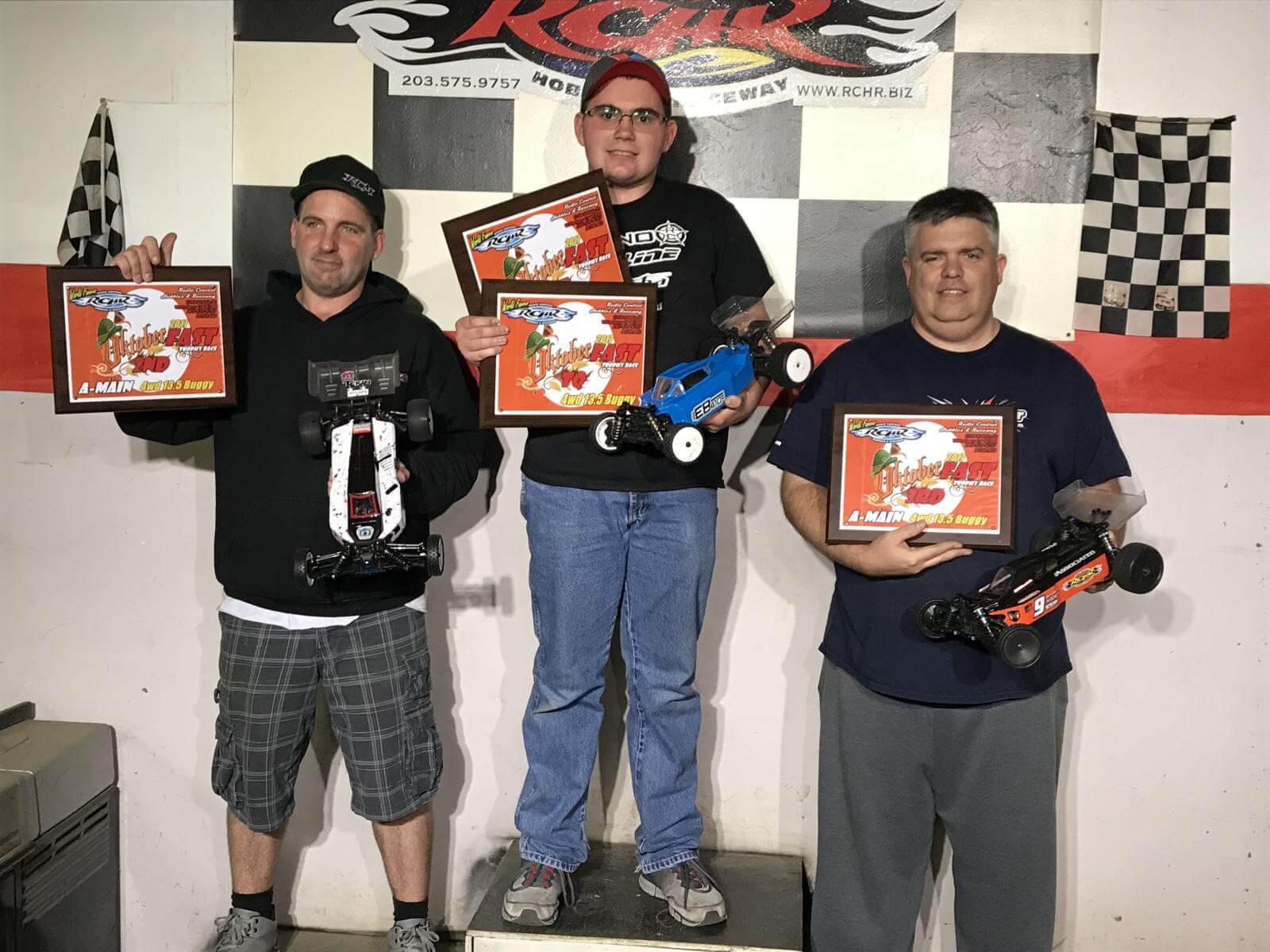 "At the Oktoberfast at RCHR the EB410 was very good and consistent all day. I TQ'ed and won and lead wire to wire from the start to finish. The car started out great and ended great on a high note. So a good solid 1st trophy race with the EB410."
Overall results:
TQ/1st: Zachary Sampiere – Tekno EB410
2nd: Eric Bresnahan
3rd: Will Blanck
8th Anniversary Race, report by Mike Legue: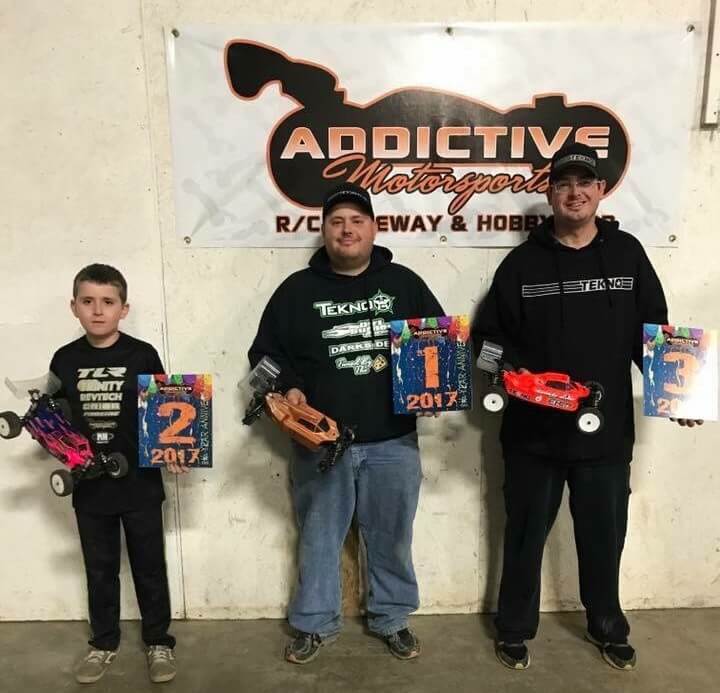 "This week I attended the 8th anniversary race held at AMS raceway! I ended up running mod 2wd and mod 4wd. This was only my second race with the Eb410 and it just keeps getting better and better! I was able to tq all 3 rounds of qualifying and take the win in the main over 2x national champ Michael "tater" Sontag. At his own track nonetheless! Coming in 3rd place was Tekno teammate RJ Hart, who just finished building his eb410 the night before!
I also qualified 2nd in mod 2wd behind top driver Dakotah Phend! But, I tuned it in the first lap of the main and struggled my way back to a still respectable 5th place overall."
Overall results:
TQ/1st: Mike Legue – Tekno EB410
2nd: Michael "tater" Sontag
3rd: RJ Hart – Tekno EB410