Tekno RC Team Report Week 42-43, 2017
Two more weeks of achievements around the world! Tekno RC Team drivers Alexis Anapoliotakis, Mason Eppley, Seth VanDalen, Nian Du Toit, Dave Hemenway, Adam Cilley, Brian Bush and Kevin McCoy won the races they attended in Greece, USA, and South Africa, congratulations everyone! Report from each race follows: 
Greek Nationals Round 4 (GR), report by Alexis Anapoliotakis: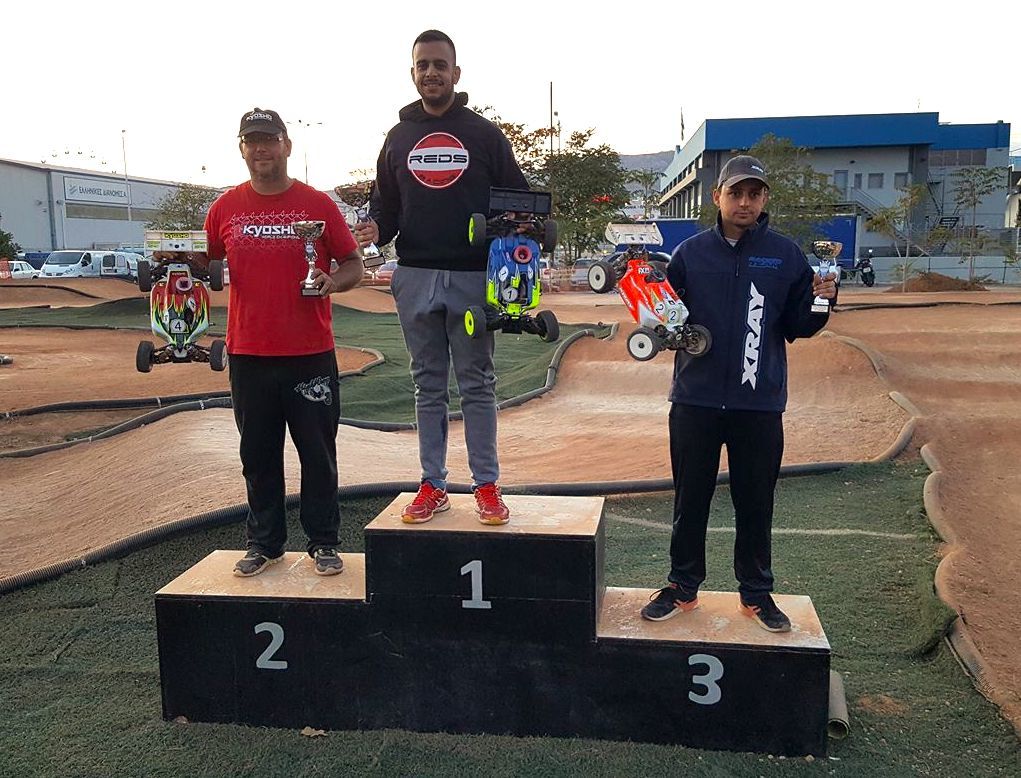 "The last round of the Greek 1/8 off-road Nationals was held this past weekend at the newly rebuilt RC Renti off-road track. Arriving Saturday morning for the free practice sessions, time was limited, so we had to act fast and get my NB48.4 quickly. First practice went well, lap times were good, and the car was stable. Since the level of competition at our Nationals is pretty high that wasn't enough for me. With a few tweaks throughout the day, we managed to improve our setup and felt confident for the main event. 
Sunday was the finals race day. I managed to get the overall TQ by a good margin over the second place driver and was very happy with that as my car was not only fast but also very consistent throughout qualifying. During the 45-minute A-main final I was able to lead the race, tone to tone, even with one more pitstop compared to the other drivers! I was also able to get second place in the overall Nationals series, tied in points with the winner. #TeknoTakeover"
Overall results:
TQ/1st: Alexis Anapoliotakis – Tekno NB48.4
2nd: John Papanikolaou
3rd: Tasos Paparegas
Fall Brawl race (US), report by Mason Eppley:
"Had a great time at this year's Fall Brawl at Amain's Silver Dollar Raceway. I was able to TQ E-Buggy and tie for the TQ in pro nitro buggy and 4wd mod, but start 2nd in both due to tiebreakers. My Tekno EB410 was on rails as I was able to take the win by almost a lap. In E-Buggy, Kyle Turner, Cj Jelin, and I would all have a great battle, but in the end, I would come out on top to take the win. Once again Cj and I would have a long battle in the nitro buggy main, but he would make the least amount of mistakes and ultimately take the win in the end. My Tekno cars were amazing all day and look forward to the next one!"
Overall results:
1/8th off-road National Championship – Round 3 (SA), report by Akshay Patel:
"The final round of the SA nationals was an event not only carried out at a world-class facility but also with world-class conduct.
Practice on Friday went well, and I was able to quickly find a fast yet stable setup for both the NB48.4 & EB48.4. The Tekno SA team has grown over the last few months, but with only 7 of us present at the nats, putting a Tekno on each A-main podium would prove to be a challenge on a track that is very conducive to close racing.
Working together discussing setup changes and bouncing different ideas off of each other allowed 6 of those cars to qualify straight into the A-main in all three classes on Saturday. I tied for TQ in E-Buggy (winning 2 out of 4 rounds) and lost the TQ spot on fastest time to start 2nd on the grid on Sunday. I was also proud that my NB48.4 took the Concours d'Elegance trophy.
Finals day brought some rain in the lower finals which threw a spanner in the works for tire choices, however, our Tekno's were up to the task and I managed to secure the 2nd place in the E-Buggy A-main with an overall championship win for 2017.
Tekno made the podium in all A-main classes, and a huge shout out goes to Nian Du Toit who won the A-main nitro buggy final by absolutely obliterating the field with the fastest lap and 3 laps on 2nd place. His Blok powered NB48.4 was without a doubt in another league to every other car on the track, his words were "I didn't feel that fast, it just seemed like everyone else slowed down".
This maiden national title marks a milestone that will never be forgotten, and I couldn't be happier to have done it with what I genuinely believe are the best cars available today. I don't think I could have asked for a better year, Thank you Tekno RC!"
Overall results:
1st: Nian Du Toit – Tekno NB48.4
2nd: Dean Steenmans
3rd: Jason Raath
Scream Race (US), report by Dave Hemenway:
"The Hillside Scream race is an annual tradition that marks the end of outdoor trophy race season in the area. It attracts drivers from all over the region for a last shot at some good outdoor fun on a real dirt roosting off-road track. Discounts for costumes and an open grill don't hurt the atmosphere either. Tekno would take home the top 2 spots in E-Buggy and 4wd SC, as well as more podium positions in other classes at the race.
In E-Buggy, I just didn't quite have the speed to get up to the top for most of the day. However, that was remedied for the main when I made a tire change to be on the compound I thought I'd been on all day. Early in the main, there would be some crashing that let me get into the lead, which I built on and never relinquished.
In 4wd SC I would TQ with blistering fast laps compared to the competition. After starting to stretch out with the top couple drivers, a gap would begin to form, but then I took a jump wrong and the top drivers were all together again. A bit later in the race, this would happen again, putting Adam and I into a great battle until the very end. We had several position changes, battling for the lead, lots of side by side and inside/outside and over the top jump passes were made. In the end, I'd get the lead but traction roll a rut in the sweeper, giving it right back. Adam would keep all the passing windows closed while we flew down the straight, and he took the win for Tekno with myself in 2nd.
Special thanks to: Tekno for the durable and performant vehicles, SMC for the power to run them, Sanwa for the precise control, NorCal Hobbies for all my RC needs, my wife for supporting and joining in with me in my passion for racing, Adam for showing everybody what professionalism and sportsmanship are like in 4wd SC racing with me, and of course Jesus Christ for saving me and making me a better person than I would be otherwise." 
Overall results:
Moto Dome race (US), report by Seth VanDalen:
"This past weekend I attended the final round of the Minnesota Nitro Series. I ran my NB48.4 and EB48.4 and they were spot on all weekend. In qualifying the cars were unmatched by any other cars allowing me to TQ all three rounds in both cars. The Nitro Buggy main started out a little rough for me as I fell back to 11th, I would then work my way back up to the front and finish with a 16-second lead. In E-Buggy I ran clean and took both main wins and the overall. I ended up winning the E-Buggy and Nitro Truggy overalls for the series points."
Overall results:
Devils Dash 2017 (US), report by Brian Bush: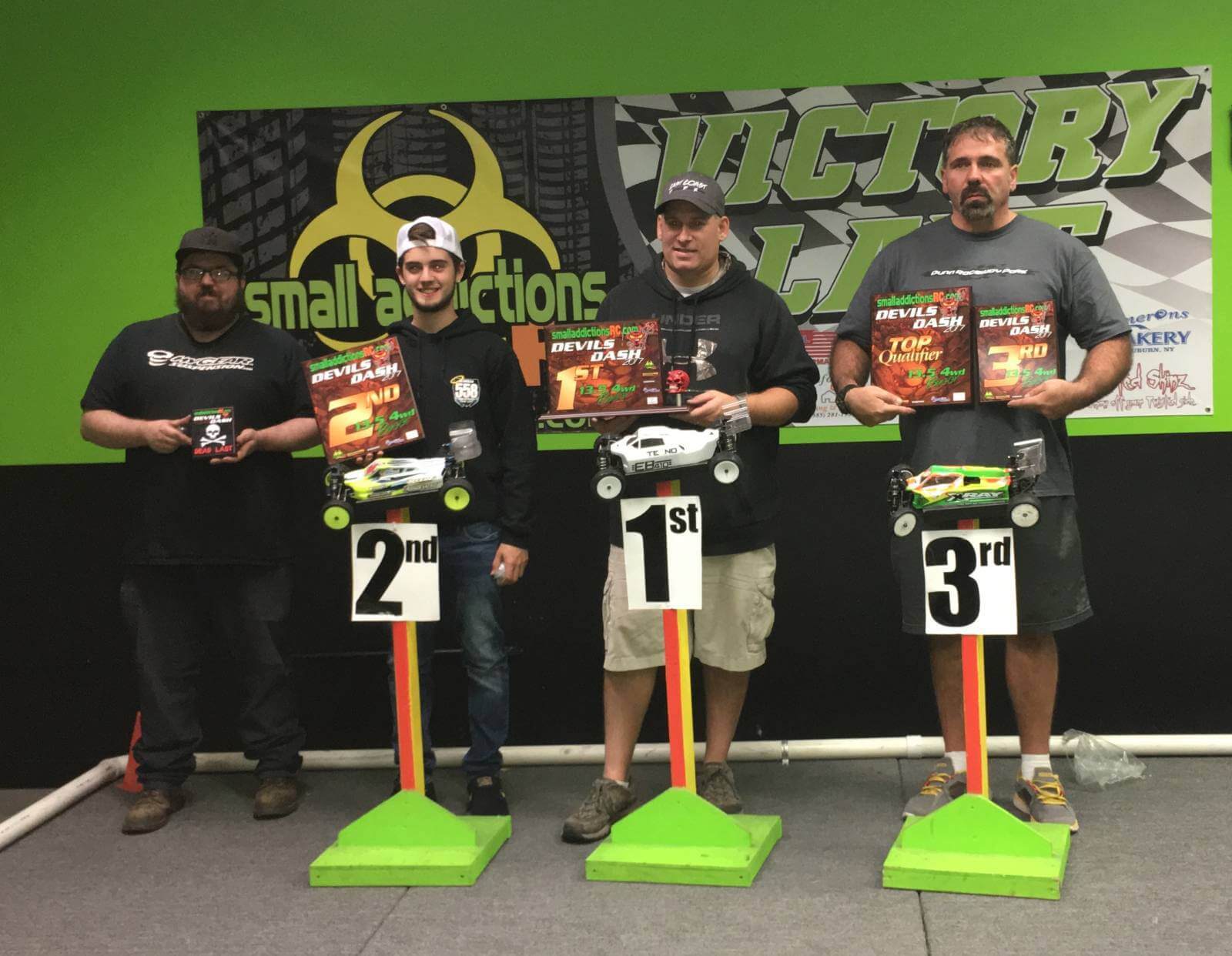 "I was unable to attend the practice day so I did my best to lay down a few laps before the event started on Saturday. I went in with my turf setup and no extra weights and freshly drilled 2.0 pistons. I immediately went up to 725cst in the rear which was the sweet spot, and put my rear weight back on. I also had to make a tire change to my pre-mount staggers w/ glued sidewalls. First round went well qualified #2 overall but decided to make some changes, lowered my ride height and took the cactus tires off and put on some mini darts which dropped my times and locked in the eb410. 2nd qualifier she was dialed. I was on TQ pace with only laps to go I was collected into another drivers wreck, just missed TQ by a couple seconds. The car was great, No changes for the main, I knew I just needed to drive, I got out ahead early and stayed there for the duration for the win."
Overall results:
1st: Brian Bush – Tekno EB410
2nd: Reid McMichael
3rd: Jamie Gulb
BOO At The Track race (US), report by Kevin McCoy: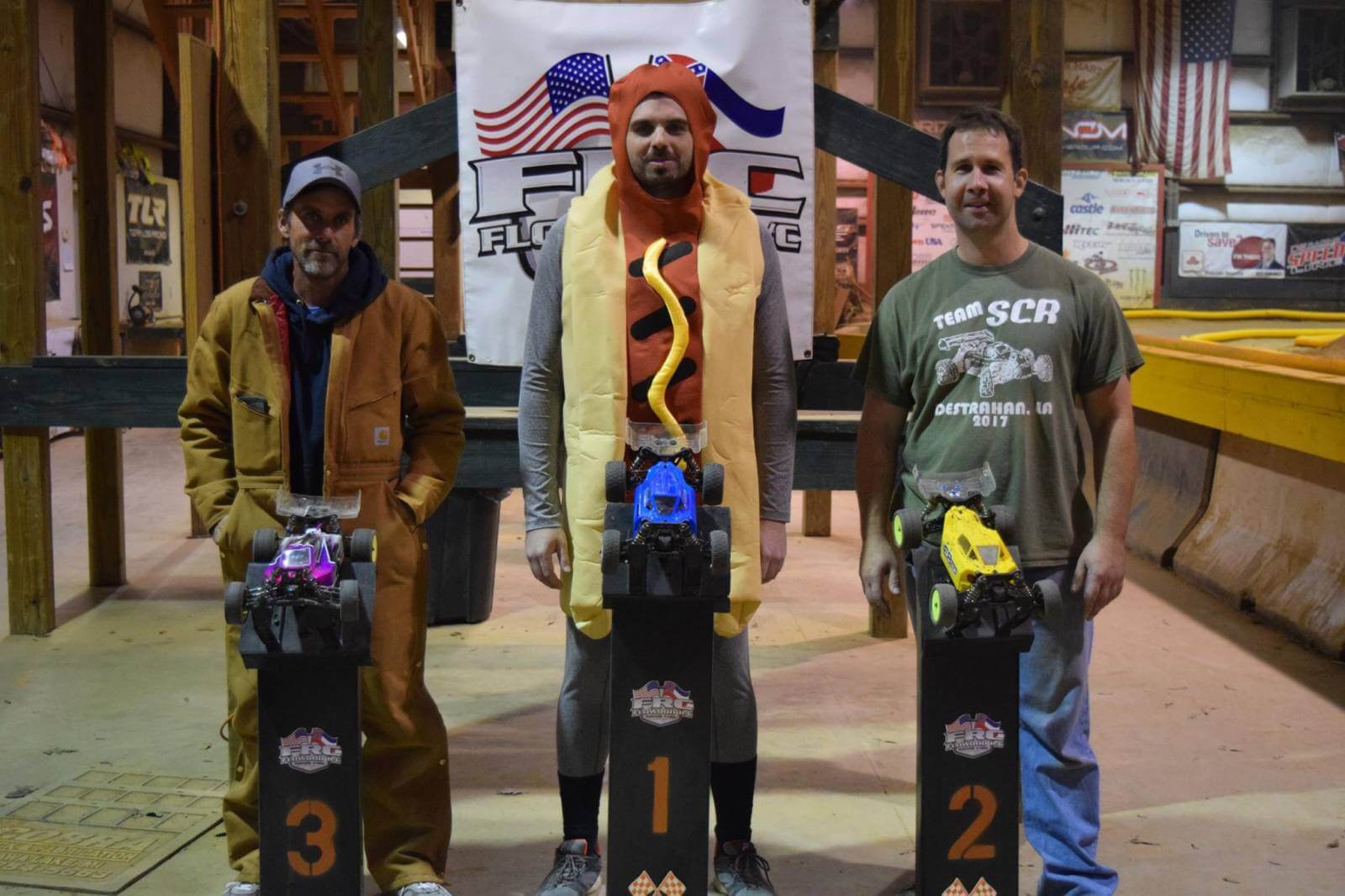 "This was my debut race with the EB410 and it went well! This was FRC's Halloween event so some of us were in costumes, making turn marshaling real interesting. My radio went out, but a good friend lent his to me. Qualifying was a struggle, but I found the right tires for the main, taking the win!
Qualifying in 1/8 electric buggy went horribly, earning me the BQ spot. I bumped to the A and after starting in the 9th spot I fought to 2nd. Both cars felt great!"
Overall Results:
1st: Kevin McCoy – Tekno EB410
2nd: Mike Ault
3rd: Tommy Reeves