Tekno RC Team Report Week 26, 2017
One more successful week with wins all around the world! Tekno RC team drivers Keith Hadley, Shawn Fraser, Mike Murphy, Javier Rivera, Jonathan Yeung, Akshay Patel and Alexey Olyushkin were able to top the podiums in USA, Canada, Bolivia, Taiwan, South Africa and Russia, which makes it 6 different races on 5 different continents! Report from each race follows:
Great Snake Shootout (US), report by Keith Hadley:
"This past weekend racers from Washington, Oregon, and Idaho met in Lewiston, Idaho for Round 3 of the Northwest Championship Tour. 250 entries and 100 degree temps made for a long challenging weekend. Justin Wilde ran an amazing race and the RCCCL crew built an amazing track.
In Expert Ebuggy I TQ'd the first 2 rounds for the overall TQ. In the triple A-mains I won A1 and A2 for the win! The EB48.4 was on rails!
In Nitro Buggy I went 2/DNF/1 in qualifying and lost out on the tie for TQ and lined up 2nd on the grid. In the main it was a battle of attrition and I was able to not have any issues with my NB48.4 and BLOK engine and took the win! Was a grueling weekend and my Tekno rides were on point all weekend!"
Overall results:
TQ/1st: Keith Hadley – Tekno EB48.4
2nd: Travis Kendall
3rd: Jamie Hanlon – Tekno EB48.4
ASIA FEVER Race (TW), report by Carson Yeung: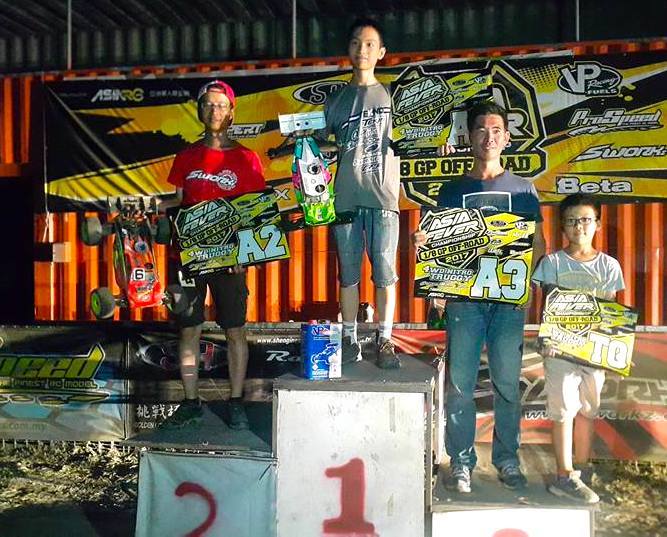 "Racers from South Korea, Singapore, Malaysia, Vietnam, Hong Kong as well as Taiwan participated in the Asia Fever race. Jonathan Yeung driving NT48.3 & NB48.4 competed in Nitro Truggy and Buggy classes respectively.
In Nitro Truggy class, after 5 qualifying rounds, Jonathan qualified in A-Main final and would start from 2nd place. The A-main final was 30min in duration and Jonathan started to take the lead from 13th lap but 2 laps later his car flamed out due to fuel consumption being more than expected under the intense competition. This would cost him around 40sec and his position dropped from 1st to 7th. With strong racing spirit, Jonathan kept his pace and patients, passing car-by-car to get back to the 2nd place after 35 laps. After several laps of a close battle with the leading car (Scott Yang, TWN), on 41st lap (4 laps to go), Jonathan took the lead and kept the leading position to finish the race. This resulted in his first win in ASIA FEVER nitro off-road race in Truggy class.
In the buggy class, Jonathan entered the B-main in 6th place and won the bump up to A-main and started in the 9th place. In the 50min A-Main final, Jonathan finished in 8th place after almost two hours continuous racing."
Overall results:
1st: Jonathan Yeung – Tekno NT48.3
2nd: Scott Yang
3rd: Lion Zeng
La Paz Regional Championship Round 3 (BO), report by Javier Rivera:
"La Paz Regional Championship round 3 was held this past weekend at Rocker Hobbies track in La Paz Bolivia. I ran the usual three classes (SCT, E-Truggy and Nitro Buggy) with my Tekno RC vehicles. Track was in a very good condition with good grip allowing me to win all three classes since my tekno RC vehicles performed flawlessly!"
Overall Results:
Moscow State Championship Round 4 (RUS), report by Dmitry Malyshko:
"4th round of the Moscow State Championship was held this past weekend at the RCracer-Krylatskoe track in Moscow, Russia. Tekno RC drivers Olyushkin Alexey, Zavileysliy Fedor and the 11-year-old Novikov Dmitriy were able to manage an impressive podium sweep of  the same track that the Russian 1/8 scale nationals will be at the end of July!"
Overall results:
1st: Olyushkin Alexey – Tekno EB48.4
2nd: Zavileysliy Fedor – Tekno EB48.4
3rd: Novikov Dmitriy – Tekno EB48.3
Thunder Road Summer Series Round 3 (US), report by Mike Murphy:
"Round 3 of the Summer Series saw polar opposite track conditions of Round 2. This time the track was dry, slick and blowing apart. Fortunately, I prefer those conditions and my results showed it. In qualifying, I learned that lowering the rear roll center would give the car the extra grip to keep up with the demanding track surface. Once I figured out in the first round what tires not to run, my NB48.4 dominated qualifying and earned me TQ.
In the Nitro Buggy main, my confidence level was high and I was able to get a clean start and check out. After the 30 minute main was over, I had lapped the field with a convincing win!!
In Ebuggy, my EB48.4 was spot on from the first laps in practice, so no real adjustments were made throughout the day. After taking TQ honors, I had some early pressure from Tony Bacon, but after the first couple minutes, I was able to settle in and pull away for a comfortable win!!
Thank you to Tekno RC and Thunder Road Hobbies for your continued support!!"
Overall Results:
South African Round 2 Pre-National (SA), report by Akshay Patel: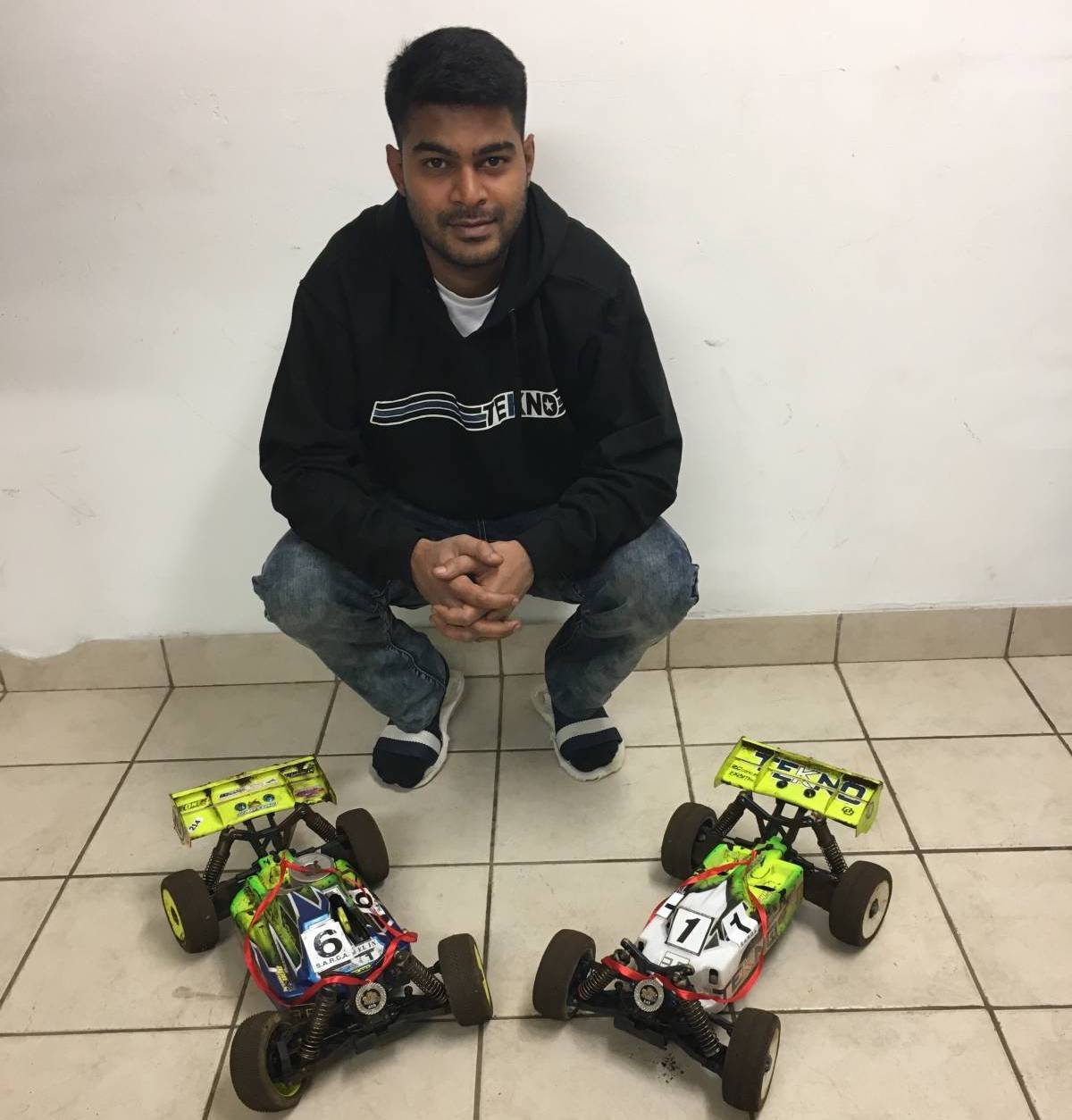 "The South African round 2 pre-nationals held at the oiled APN Raceway track in mid-winter proved to be significantly different to last year's conditions. Practice on Saturday morning was a blessing in disguise as I noticed my diffs leaking (worn o-rings) and spent the day rebuilding both buggies at the track and got in about an hour of driving at the end of the day.
On Sunday morning 3 rounds of qualifying started at 8 am sharp and my cars felt great although I am struggling to find a good shock package to be fast in the jumps as well as the bumps, as this track is very fast and cars feel the smallest of bumps with the speeds you carry, I am also not convinced I am choosing the best line around the track. E-buggy went well, I had DNS, 1,1 to take overall TQ and in Nitro, I had 4,6,5 to take overall 6th in the A-main which am happy with.
I managed to take the win in E-buggy and a respectable 4th place in nitro buggy, overall I am pleased with these results and will work towards finding a good tyre as well as rethinking line selection around the track at the national in 4 weeks.
Thank you Tekno RC for these phenomenal machines! I just feel like I'm going faster and faster ? "
Overall Results:
 TQ/1st: Alshay Patel – Tekno EB48.4
2nd: Willem Steenkamp
3rd: Rowan Brink
Summer Slamm Series Round 2 (CA), report by Shawn Fraser: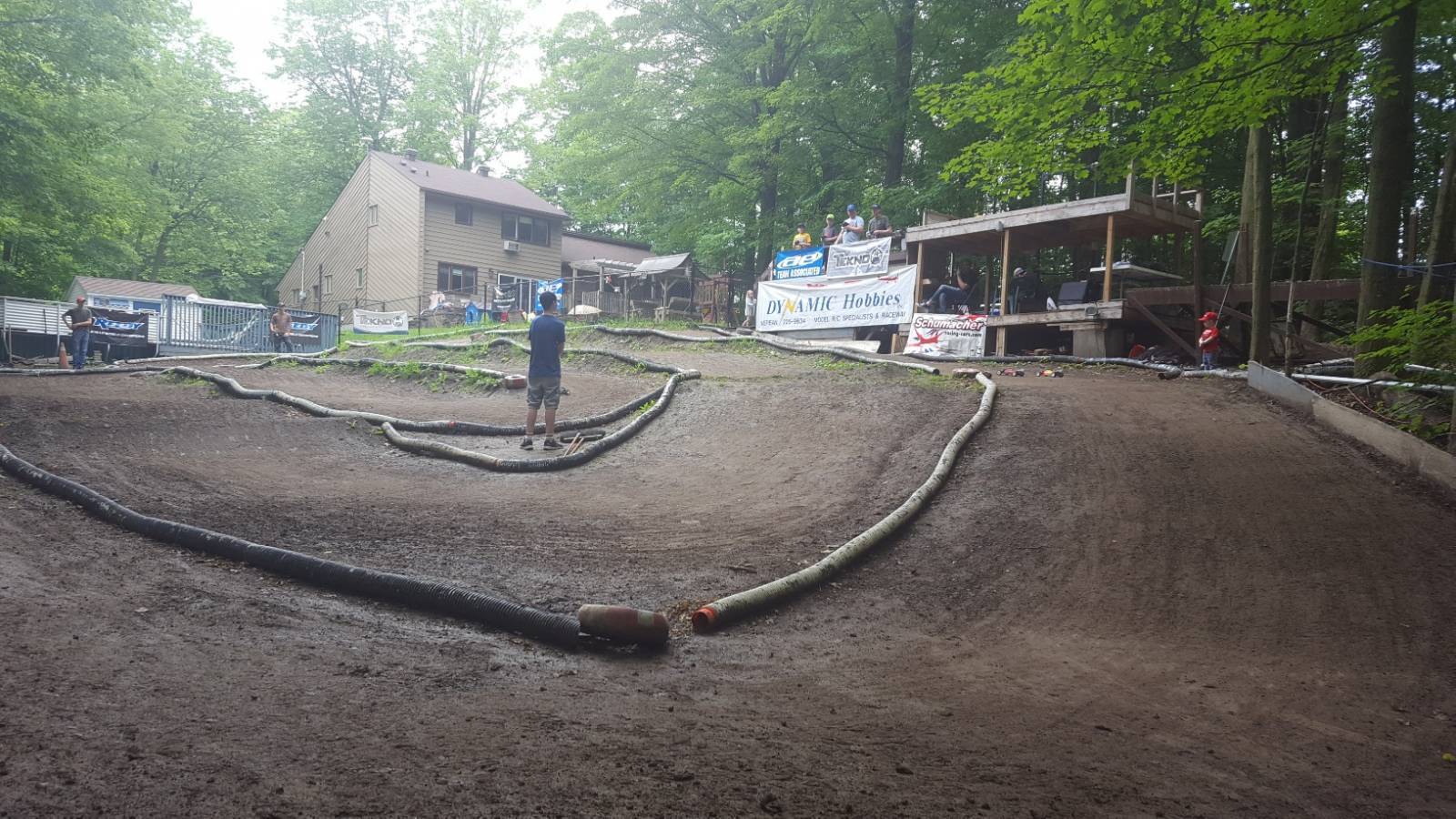 "Round 2 of 6 Saturday races over the summer in Ottawa Canada has completed. 25 entries between all the classes with a bit of rain were in for us and therefore we had some delays. The damp conditions caused us to claim the fastest laps recorded this year to date. We got dirty but we had fun. I was able to keep some good clean laps in both Short Course Pro4 and Ebuggy to take TQs and the wins in both A-mains."
Overall results:
TQ/1st: Shawn Fraser – Tekno EB48.4
2nd: Noah Connell – Tekno EB48.4
3rd: Daragh Slowey – Tekno EB48.4