Ryan Lutz wins the 2017 Pro-Line Gas Champs!
The Tekno RC team was in full force at the 2017 Pro-Line Gas Champs held the weekend of May 20th at the Pro-Line test track in Banning, California. Tekno podiumed two drivers in all top classes with Ryan Lutz setting TQ and winning both Nitro Buggy and Truggy – The full report from Ryan follows.
"This past weekend I flew west to attend the Pro-Line Gas Champs at the Pro-Line test track. Last year was a good year for me at this track as I was undefeated in the Nitro Classes at both the Gas Champs and SikCross that were held there. It's quite interesting that AKA tires are pretty dominant there. Tire wise I stuck with primarily SS Grids on a watered run and SSLW Grids for a drier run. For the mains I went to SSLW Impacts in buggy.
I chose to run my primary 3 Tekno vehicles and was able to practice once with each Saturday morning. Then we jumped right into qualifying which was all heads up. The sort into the heats was random and they started rd 1 using 1-12. Rd 2 was 5-12, 1-4, and the final round was reverse order. In the past we drew ping pong balls for starting position which I preferred for its randomness but it was the same for all.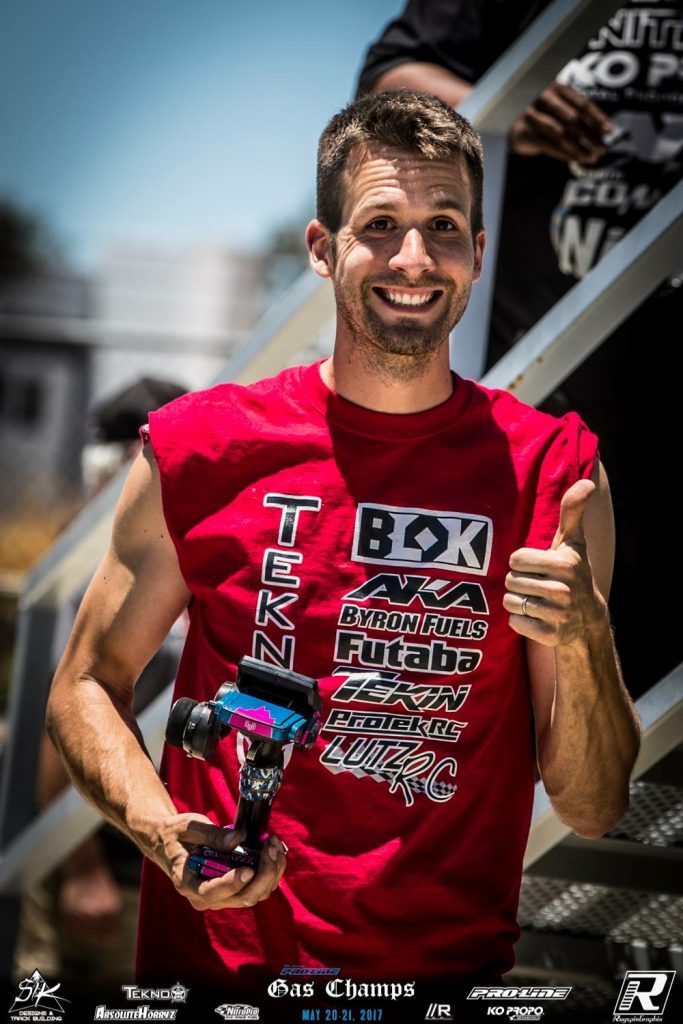 First qualifiers started Ok. I was able to TQ Truggy and took 2nd in the Buggies behind Maifield. In Q2 I swept the round taking TQ in all 3 classes. This gave me overall in truggy and a battle with Maifield for the two buggy classes in rd 3. In the final qualifier in E-Buggy I wasn't able to make it happen and had to settle for 2nd qualifier. In Nitro Buggy though I had a great run under the lights and put in a TQ run to grab the overall and TQ both Nitro classes.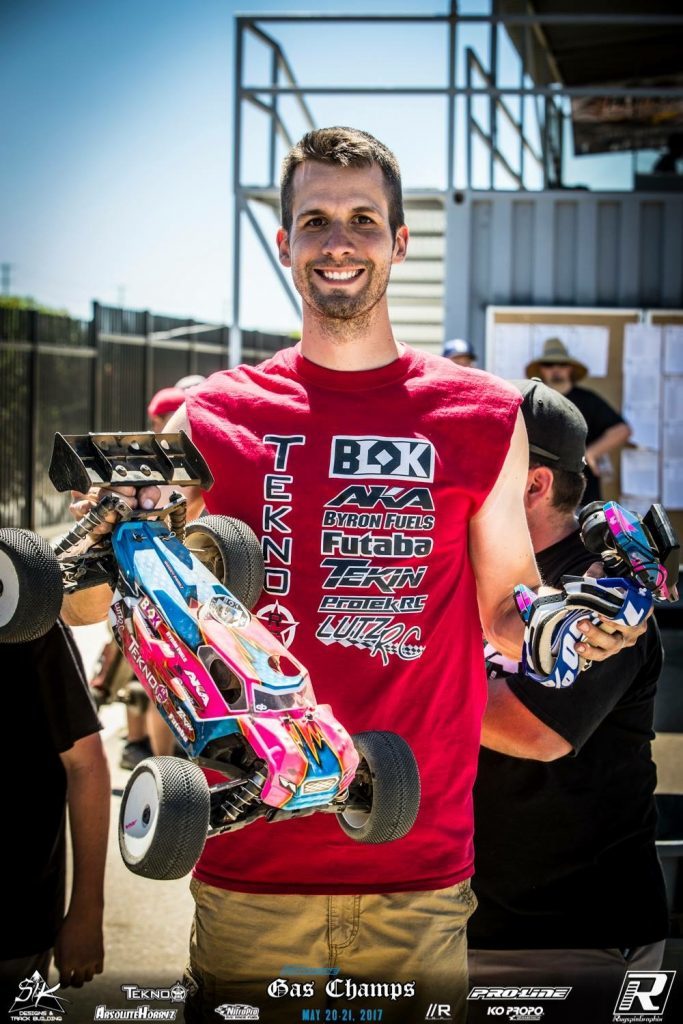 Sunday saw triple A-mains for the E-Buggy class and a 30 and 45 minute final for Nitro Truggy and Buggy respectively. In E-Buggy A1 I started right behind Maifield and he made an early mistake and Joe and I got away into a 1-2 Tekno lead. I led him but he was pushing hard and would catch up only to make a mistake. I would take the win with Joe in 2nd.
E-Buggy A2 started off and early in the race I again got into the lead only to blow a section allowing Maifield back by and we paced each other the rest of the race about 3 seconds apart, setting up an A3 battle once again. In A3 unfortunately, a battle didn't materialize as I crashed early and often and also got a rock stuck in my rear wheel. Overall it was a run to forget but I used it to try to learn some new lines for the Nitro Buggy as the track was starting to develop a little bit of character. Never waste track-time folks! Overall I would take 2nd and Joe in 3rd for two Teknos on the podium.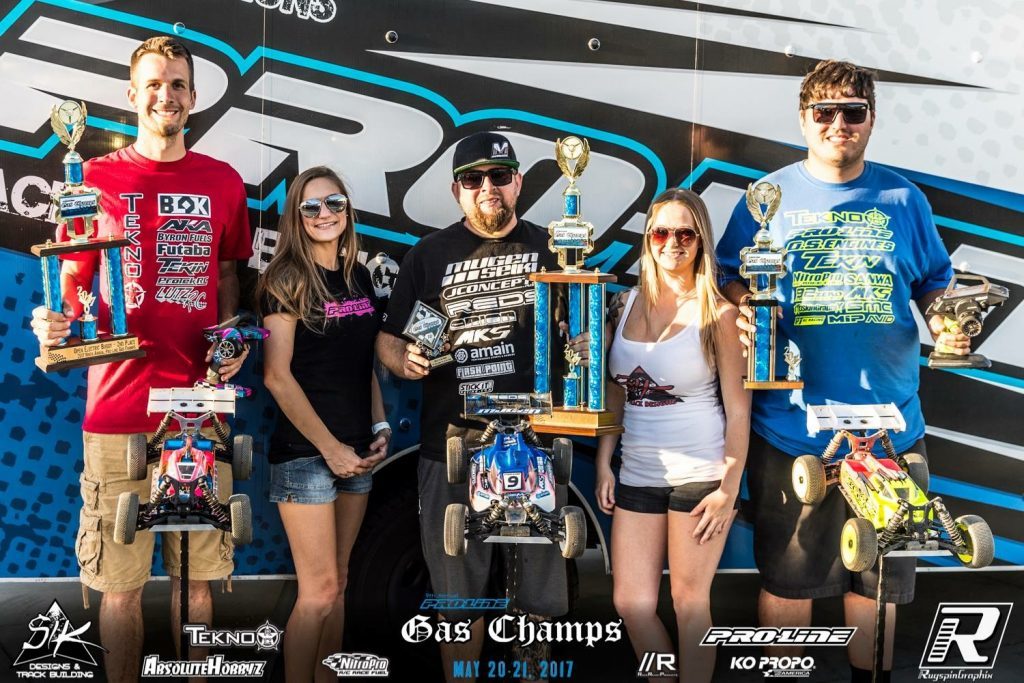 2nd overall, Tekno 2-3
The 30 minute Truggy final was a pretty good one. At the start, I was able to get away to a quick 6-second lead when I crashed on my own and lost the entire gap as now it was a 4-way battle. Soon thereafter I started to pull away again but this time I had company. Joe was right on my tail and as the track started to dry out he was getting faster. He reeled me in and I did some good block passing for a few laps. Then on one lap, we must have swapped position 3 or 4 times on one lap. Not making contact but just inside-outside moves all over. I came out ahead and he made a mistake giving me a couple second lead. I held that lead for the next 10 minutes or so until about a lap before our final pit stops around 23 minutes in. We were both called in and I knew it was going to be a dogfight that last leg of the race. Unfortunately for Joe though he crashed upside down on his in-lap and flamed. This gave me a sudden lap plus lead on the field and I cruised home to victory. Billy Fischer was able to come in 2nd for a Tekno 1-2!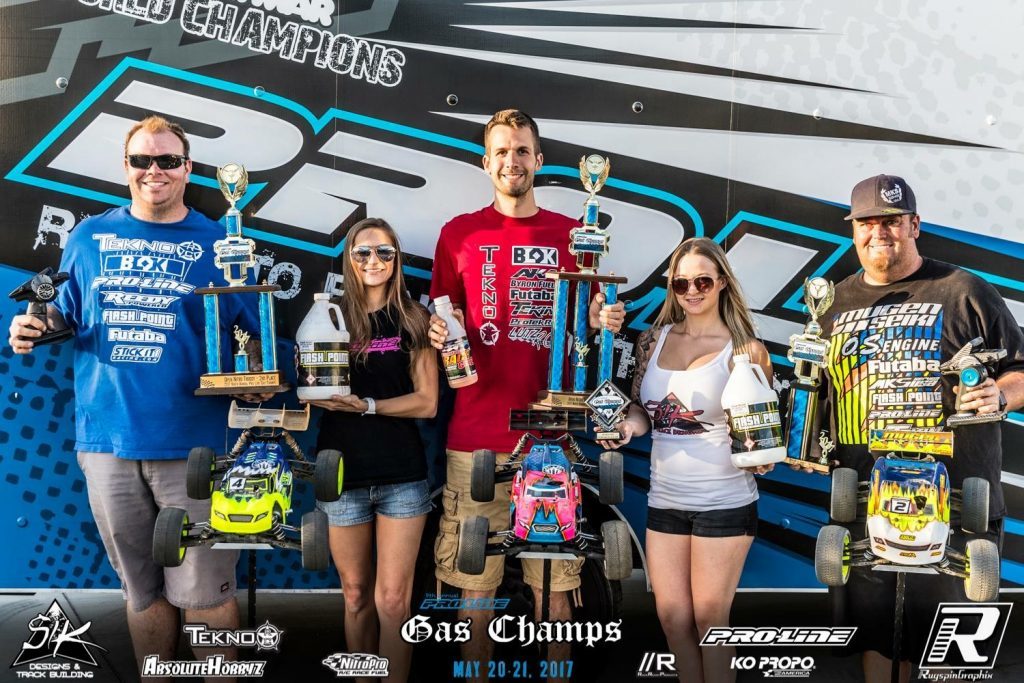 TQ + Win! Tekno 1-2
Nitro Buggy was the final race of the day and a 45-minute affair. I would start on pole but midway through the first lap missed a corner a bit allowing Maifield ahead then I blew another letting Truhe by. Soon there after though they made mistakes and I was back in and finding my groove. I got a couple second lead and it just kept extending. Next I heard it was 9 second and after the first pit stop it was 18 seconds. My Tekno NB48.4 was on point and my AKA SSLW Impacts were the perfect tires for the conditions. Midway through the race I got just within a lap on the field and that's pretty much where I would finish by the end of the 45 minute race. Joe also did well taking 3rd on the last lap and thus a Tekno 1-3!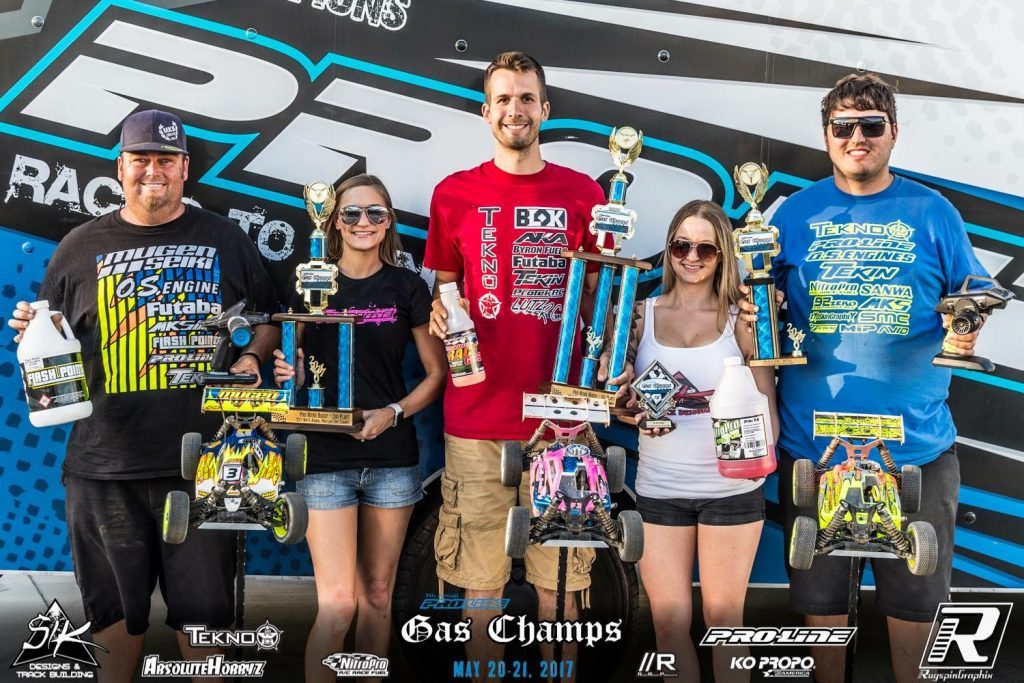 TQ + Win! Tekno 1-3
I was able to continue my top results at this event winning Pro Buggy for the 3rd year in a row. Also defending my Truggy title this year. 2017 has been amazing so far and hopefully is just getting started. We have a busy schedule coming up and looking to keep up the results!
The Tekno Teammate Challenge continues on and unfortunately for Joe, I am on a hot streak! We came in with me at +31. I gained 2 more points with my two TQs. Then gained 2 points in Nitro Buggy, 1 point in E-Buggy, and 3 points in Truggy. So now I'm up +39 points on the season. "