Ryan Lutz Sweeps SikCross 2016!
This past weekend the Tekno Team descended upon Banning, California and the Pro-Line test track to attend the SikCross event. This was the second annual event put on by Levi Jackson and as per usual, the event was unique. There were three qualifiers with each one counting and you received points for how you finished your race. That's right; every race was heads-up, gate start and super exciting. You had to be fast, consistent, and reliable to take top honors.
Throughout qualifying Ryan and Joe would place well in the three classes they were running, Nitro Buggy, Nitro Truggy, as well as EBuggy. The gate starts always made for an exciting start as even when you thought you had the holeshot, more often than not you would find yourself getting clipped in the rear and sent back. It was dog eat dog those first few corners for sure. Ryan would dominate round 1 of qualifying winning all of his heats. Joe would also win his EBuggy heat. In Q2 They did a resort trying to make the racing as even as possible talent wise. Ryan came out again swinging and won all three heats in round two and in a repeat Joe also won his EBuggy heat.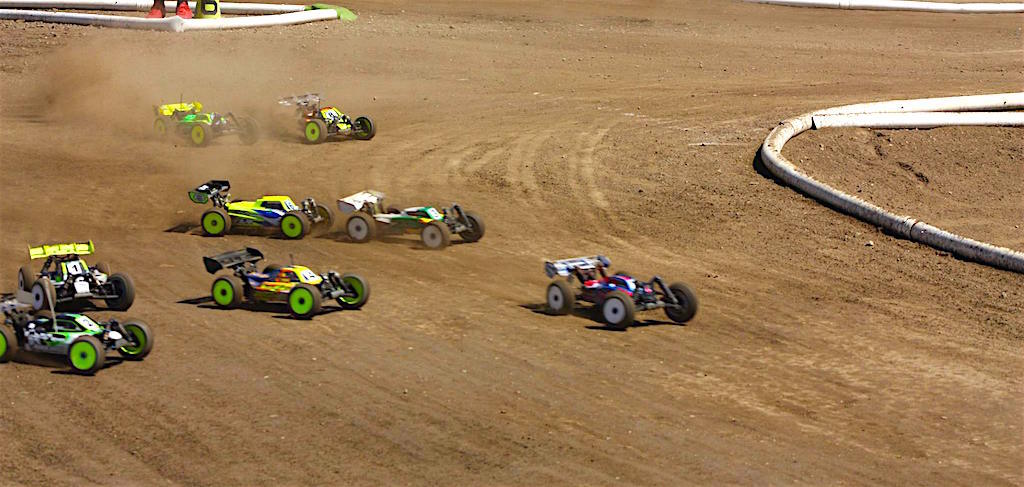 Dog eat dog!
Last was Q3 where Ryan solidified his TQ runs by winning Truggy again. In EBuggy both Ryan and Joe won their heats, so it came down to the tiebreaker which Ryan edged out Joe for the overall TQ. In Nitro Buggy Ryan had a rough go of it getting taken out just as he got into the lead on the 3rd lap and sent to the back. He would finish fourth in the heat that round and thus qualify 3rd overall. Joe would take 3rd in his heat and seat 8th overall into the A main.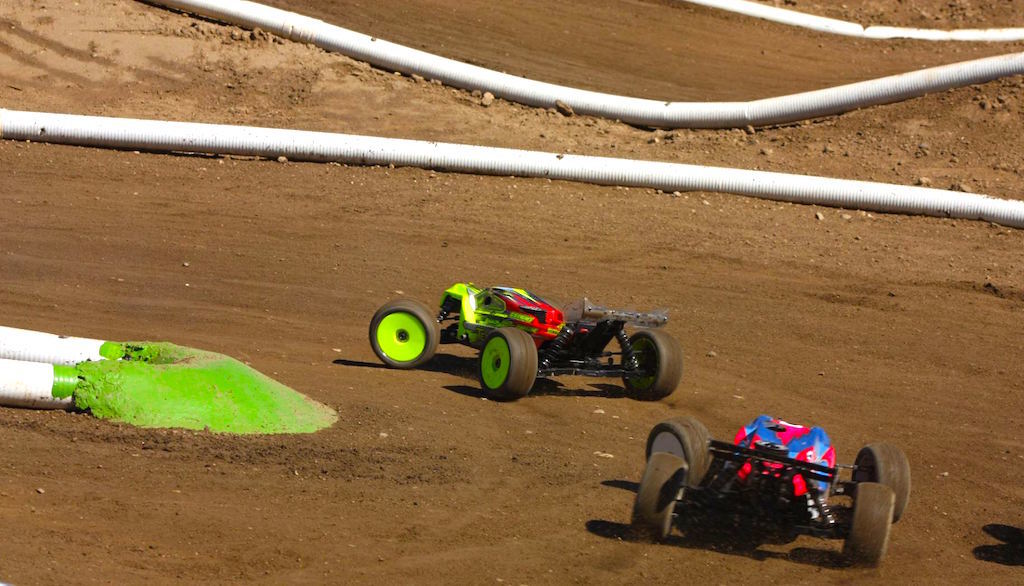 Ryan and Joe battling it our during Truggy qualifying
Qualifying didn't mean much as it just allowed the pick of gate position. You still had to roll the dice and see how you came out of the first couple of corners. The nitro mains were unique in that they were basically a typical 45 minute A-main but broken up into 3, 15-minute races back to back with 5-minute breaks in between. This break allowed for a change of tires or air filter or if you happened to have a mechanical failure as there was another chance in the next one. All three counted and so every position was paramount!
In the Truggy A-mains, Ryan would take victory in the first two mains while Joe took a 3rd and a 4th respectively. In A3 Joe and Ryan had some pretty good battles and Joe came away with the win with Ryan in 2nd. Overall this gave Ryan the victory and Joe in 2nd for a Tekno 1-2!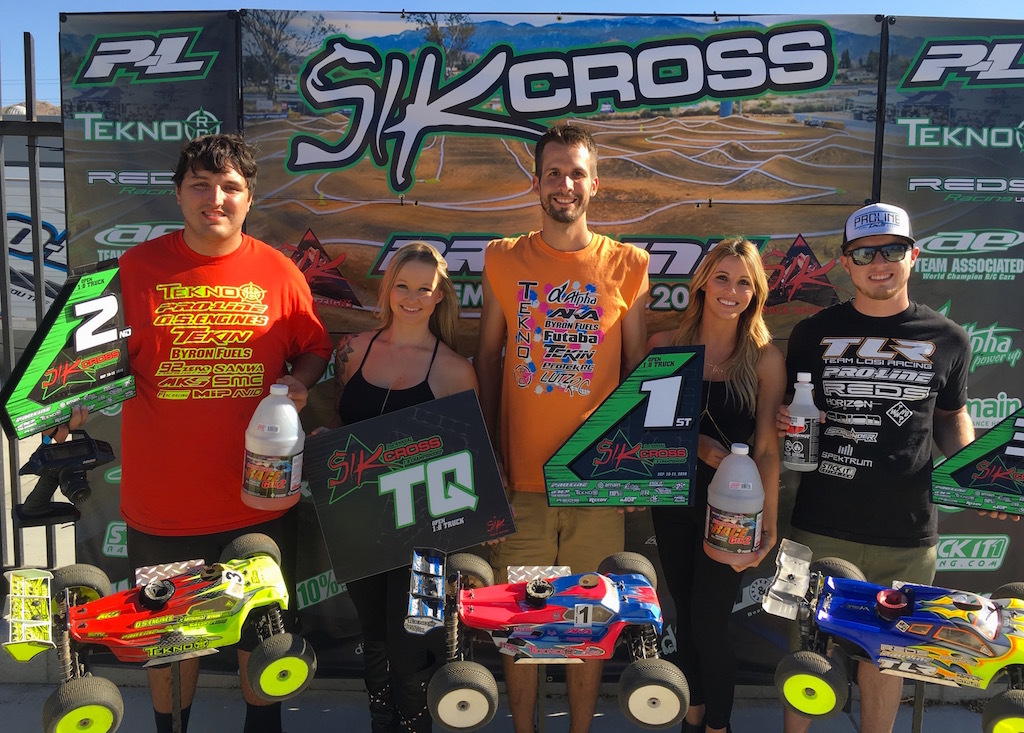 Truggy Podium. Ryan Lutz, Joe Bornhorst and Tanner Denney.
EBuggy had a regular triple A main of 10 minutes each. Ryan continued his hot streak in winning A1 and took a 2nd in A2. Joe took a 2nd and 3rd respectively. In A3 Joe came out guns blazing and took the win by a large margin while Ryan held on to a 3rd. This put Ryan and Joe in a tie but with combined laps and times Ryan edged out Joe for the victory by a couple of seconds.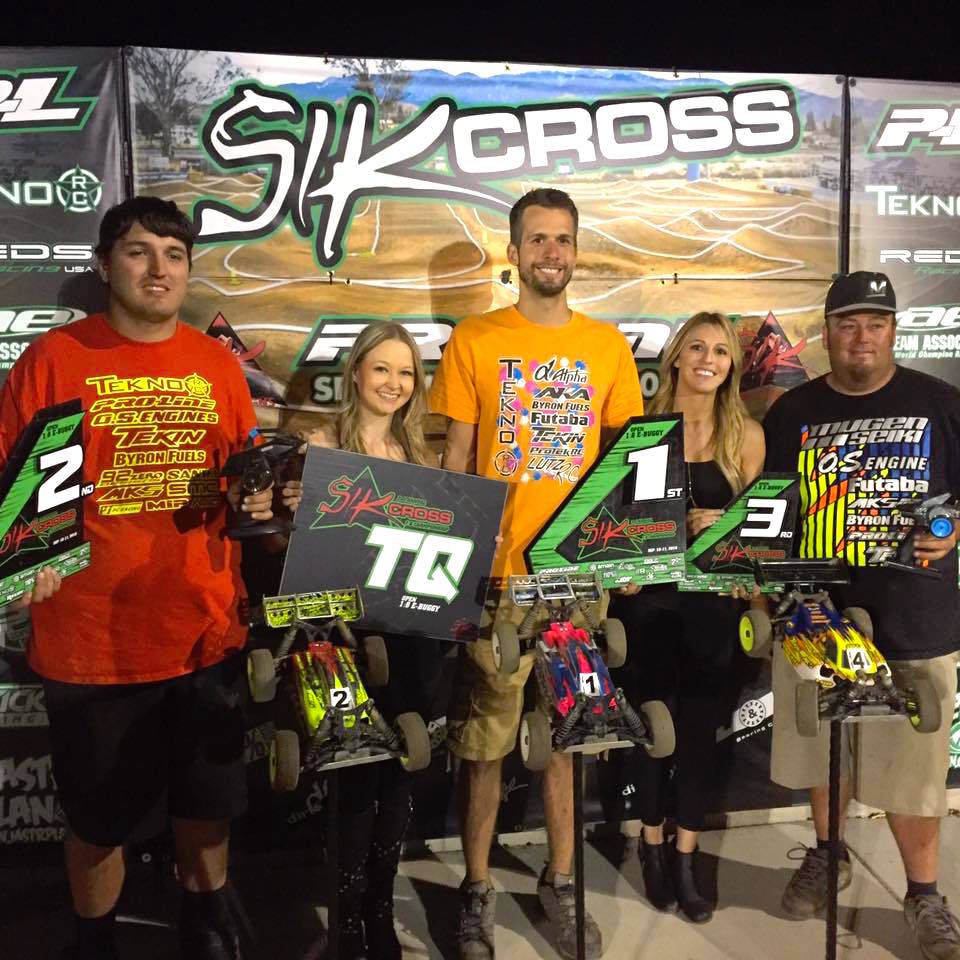 Electric Buggy Podium. Ryan Lutz, Joe Bornhorst and Mike Truhe.
Nitro Buggy was the real battle as nine of the worlds Top 25 were in attendance. The track being watered every run and getting rough made it a good test session for the upcoming IFMAR Worlds. A1 you could tell everyone was pushing hard. The driving was rough and on lap two you could find the first three qualifiers running in the last three positions. With that gate start, anything could happen. The Tekno boys battled hard but had a disappointing A1 with Ryan 6th and Joe 8th.
In A2 Ryan had a much better start and made some good passes in the opening laps to take the lead and begin to stretch out on the field. Joe was also running well in 5th before a marshal side grabbed his car covering his exhaust and flaming him out. Ryan would come away with the win and Joe had to settle for 11th.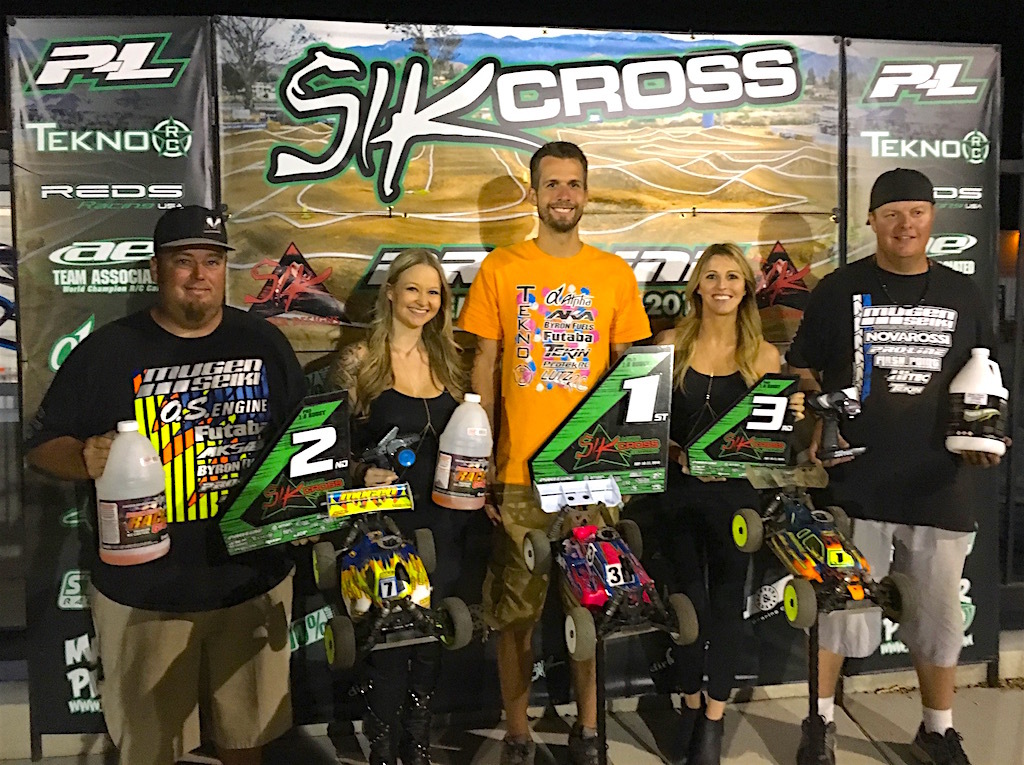 Nitro Buggy Podium. Ryan Lutz, Mike Truhe and Adam Drake.
A3 was next and even with a 6th and a 1st Ryan still had a shot at bringing home the title. He had a good start coming out of the opening may lay in 3rd. He quickly picked off the drivers ahead of him and began to set sail. Joe wasn't far behind, moving up through the pack and into 2nd about 5 seconds behind Ryan. It was a great showing for Tekno and they finished that way, 1-2. After points were tabulated Ryan would take the overall win and the one grand bonus for winning both Nitro classes. Joe would come home in 8th after the bad luck in A2.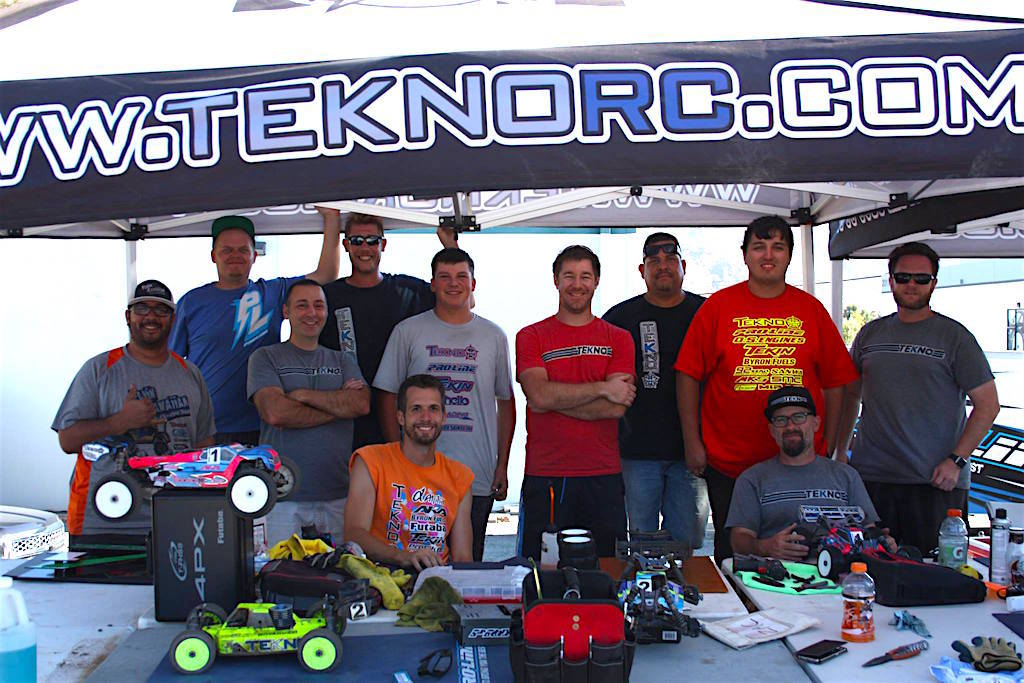 Thanks everyone for your help!
*Thanks to Dan Lukerchine for providing the photos.