Ultimate Tekno EB410 Stock Build
Curious what upgrades to do to your EB410 for stock racing? Check out this article from our driver on the upgrades he did in preparation for the ROAR Nationals.
Hey guys and gals, Tyler Hooks (Hooks Race Services) here, I built a new EB410 for the upcoming ROAR 1/10th scale off-road nationals to run in the stock 13.5 class, so I thought I would highlight some of the tips, tricks, and products used to build a top-level stock car.
As a disclaimer, by no means do you need any of these parts to build a competitive EB410. Unless you are chasing national championships every weekend, I wouldn't recommend some of this stuff as it requires more upkeep and maintenance as I will explain later on.
Car: EB410
ESC: Tekin RS Black Edition
Motor: Tekin SpecR 13.5
Servo: MKS 575SL (For most people I would recommend the MKS 575 for this car, I was simply trying to save weight with the slim servo.)
Battery: SMC True Spec Extreme 4000mah
Gearing: 23/81
Running Weight: 1640g
So for the purposes of this build I am going to break the car down into 3 parts, front, center, and rear. I am not patient or organized enough to do a build following the manual and categorize it here, so front, center, and rear it is.
Front End: As far as the front end goes things are pretty straight forward as long as you follow the manual. I also chose to build the front end with a carbon shock tower and top plate for added rigidity and reduced weight as well as adding the front sway bar kit.
Steering Rack: For the steering rack, I stuck with the stock plastic bell crank arms, but added the aluminum Ackerman plate for added steering consistency and reduced flex. *I would recommend adding a little dab of glue to the steering rack bushings when you press them into the bell cranks to insure that they don't end up spinning on the bell cranks when you either tighten them or remove them. (Manual Step C-2)*
Parts used:
TKR6623 Front Sway Bar Kit
TKR6581C Front Carbon Shock Tower
TKR6598C Carbon Steering Top Plate
TKR6573FA Aluminum Front Axles
TKR6550P Composite Internal Diff Gears
TKR6560A Aluminum Ackerman Plate
Rear End: Alright, so the major change from stock here is moving the shocks from the rear of the arm to the front. This requires mounting the arms backwards, and a sway bar mount such as the one found here. You also must use a shock tower with integrated camber link holes such as the new carbon one from Tekno RC (TKR6583C). I also added 2mm of (10mm inner diameter) washers in between the inner hub bearing and the lip of the axle to insure that there was ample dog bone plunge at full droop.
Chassis:
For the center of the chassis, I stuck with the stock spur gear considering the nature of the Tekin motor, but those with other brands of motors could benefit from the 70t option (TKR6670). Beyond that I added a carbon top plate, carbon battery strap, and Avid aluminum rear center diff mount. I didn't use composite diff internals in the center considering the fact that most of the force and impact is felt by the center diff.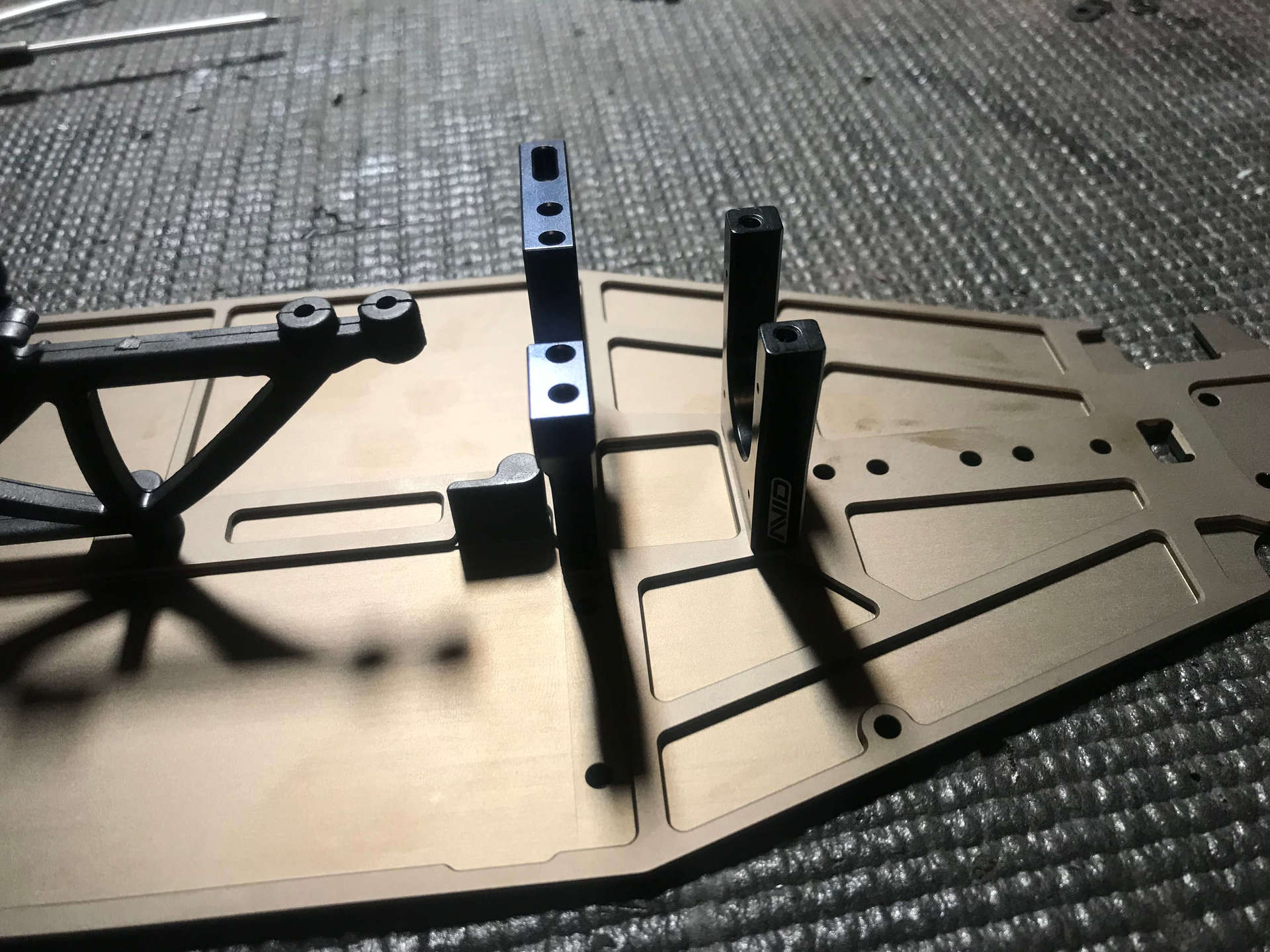 Parts used:
TKR6635C Carbon Center Top Plate
TKR6503C Carbon Battery Strap
AV1089 Avid Aluminum Center Diff Mount
Shocks:
Regarding the shocks, I added aluminum caps, and drilled out the stock 1.8 pistons to 2.0.
Parts used:
2x TKR6712A Aluminum Shock Caps
Misc. Parts used:
In stock classes the major name of the game is reducing rotating mass. Luckily, Tekno offers aluminum axles as well as composite diff internal gears which I already talked about. Another key player in creating an effective stock car is reducing friction, and while Tekno doesn't offer ceramic bearings, there are a host of other companies that do. I personally used the Avid AURA line of bearings throughout my car. Beyond that I swapped out the stock turnbuckles for Lunsford titanium, and the ball studs for an Avid kit.
AV-AFK-410 Avid Aura Bearing Kit (Lots of upkeep required as these bearings have no shields.)
AV1027-55-TI-B6 Avid Titanium Ball Studs (This kit is not intended for the EB410and the neck of the ball stud is 1mm taller than stock so please take that into consideration before buying)
LNS2602 Lunsford Titanium Turnbuckles
Thank you for tuning in, if you have any questions please feel free to email me at [email protected].
Thanks, Tyler Hooks