Two more successful weeks with Tekno RC Team drivers winning in USA, Canada, UAE and Korea! Congratulations to Tekno RC Team drivers Andy Pokorney, John Blakley, Tony Hinojosa, Rudy Khoubbieh, ManSoon Im, Dave Hemenway, Jared Galligar, Brian Bush, Mike Legue and James Titus for winning the races they attended! Report from each race follows:
2nd Annual Caster tool challenge (US), report by Andy Pokorney: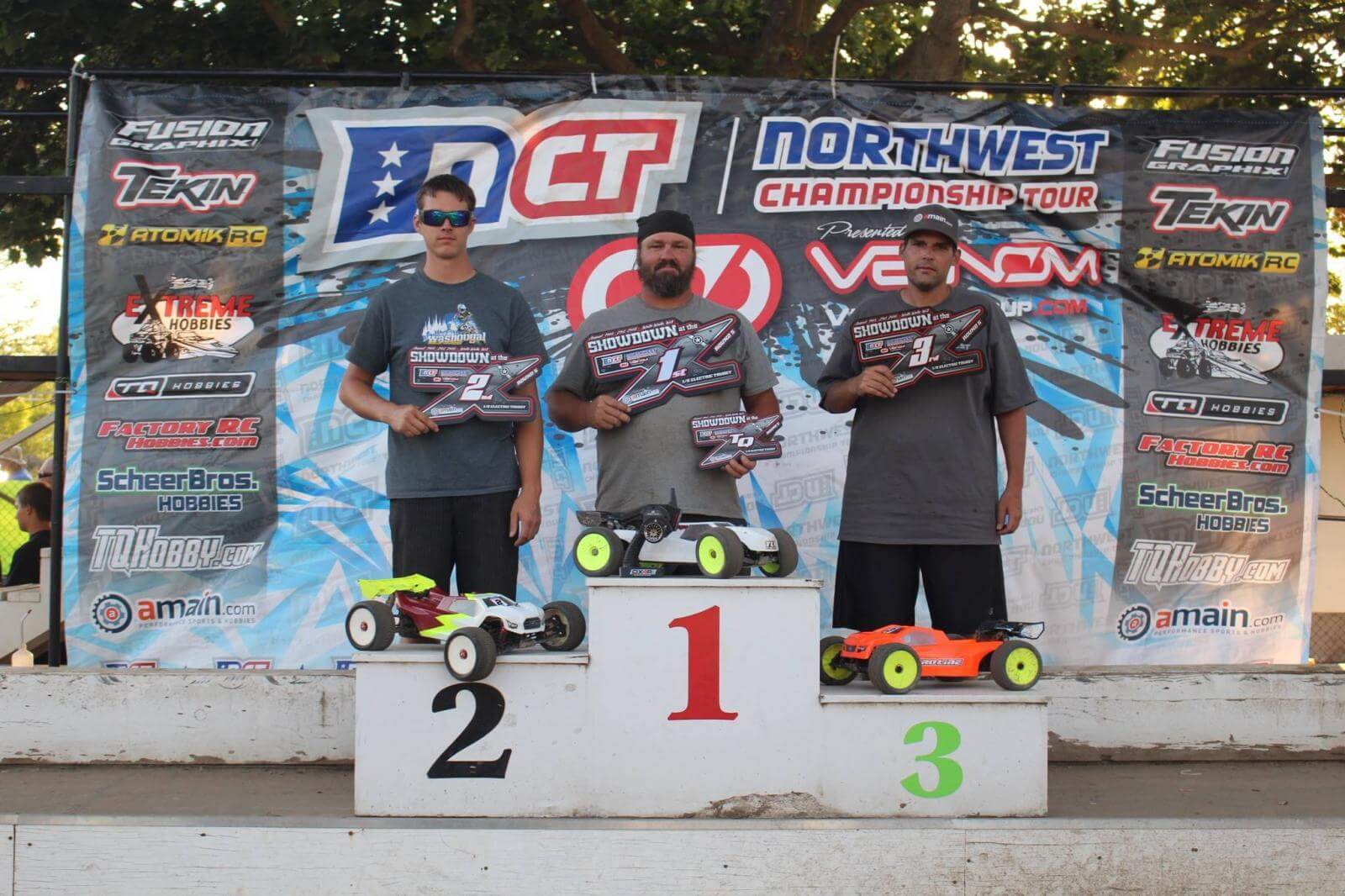 "4x4SC was great as always! Felt good in practice and managed to get 2nd in qualifying. In the mains I made the pass for first on the 3rd lap and kept it for the rest of the race."
Overall results:
1st: Andy Pokorney – Tekno SCT410.3
2nd: Rick Jenkins
3rd: Chris Farnsworth
Barnyard Brawl Race (CA), report by John Blakley: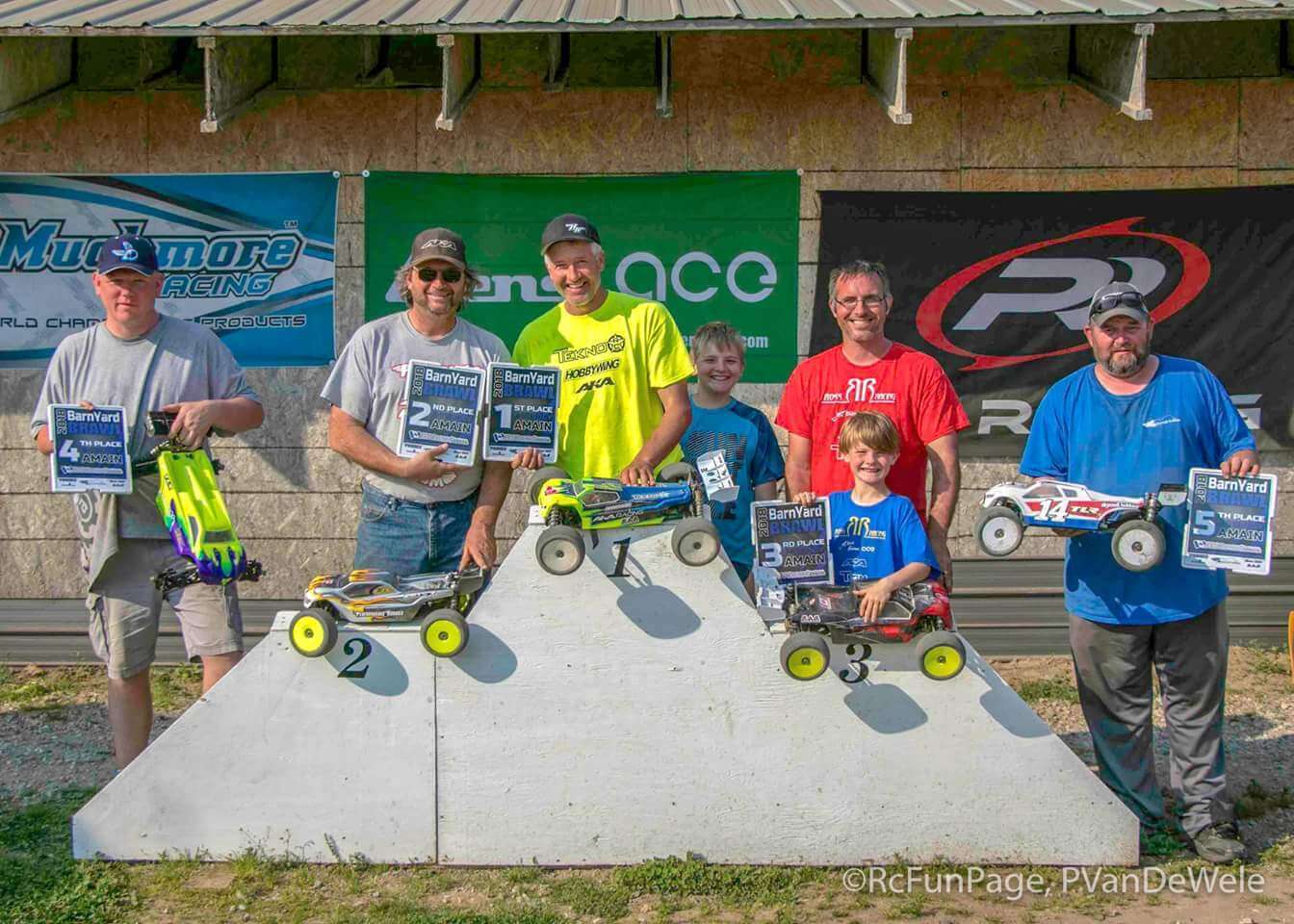 "I attended the Barnyard Brawl which was a 3-day event. I raced my E-Truggy and E-Buggy and had a fantastic time with both classes in the qualifying rounds taking all 4 rounds for TQ with E-Truggy and Qualifying 3rd overall with E-Buggy.
Mains day the competition stepped up and so did the heat, my AKA Gridirons in super Soft compounds were not the right choice for the temps, unfortunately, I did not have harder compounds to switch to. I did, however, run a flawless first run for A1 of E-Truggy taking the win and a solid run for E-Buggy taking 3rd.
A2 saw a major change in traction with scorching temps and my car was really hard to drive and I fell back to the 2nd place to finish, my E-Buggy was the same way with wrong tire choice but managed to hang on to 3rd place again.
Both classes were double A mains only and with the Ifmar tiebreaker being the drivers best race of the 2 A mains. I clinched 1st place for E-Truggy by 1 second and 4th place for E-Buggy. I am very pleased with my kits so far this season.
Cannot wait for the next outdoor race."
Overall results:
TQ/1st: John Blakley – Tekno ET48.3
2nd: Rob Van Es
3rd: Adam Ross
Tri-State Championships (US), report by Tony Hinojosa: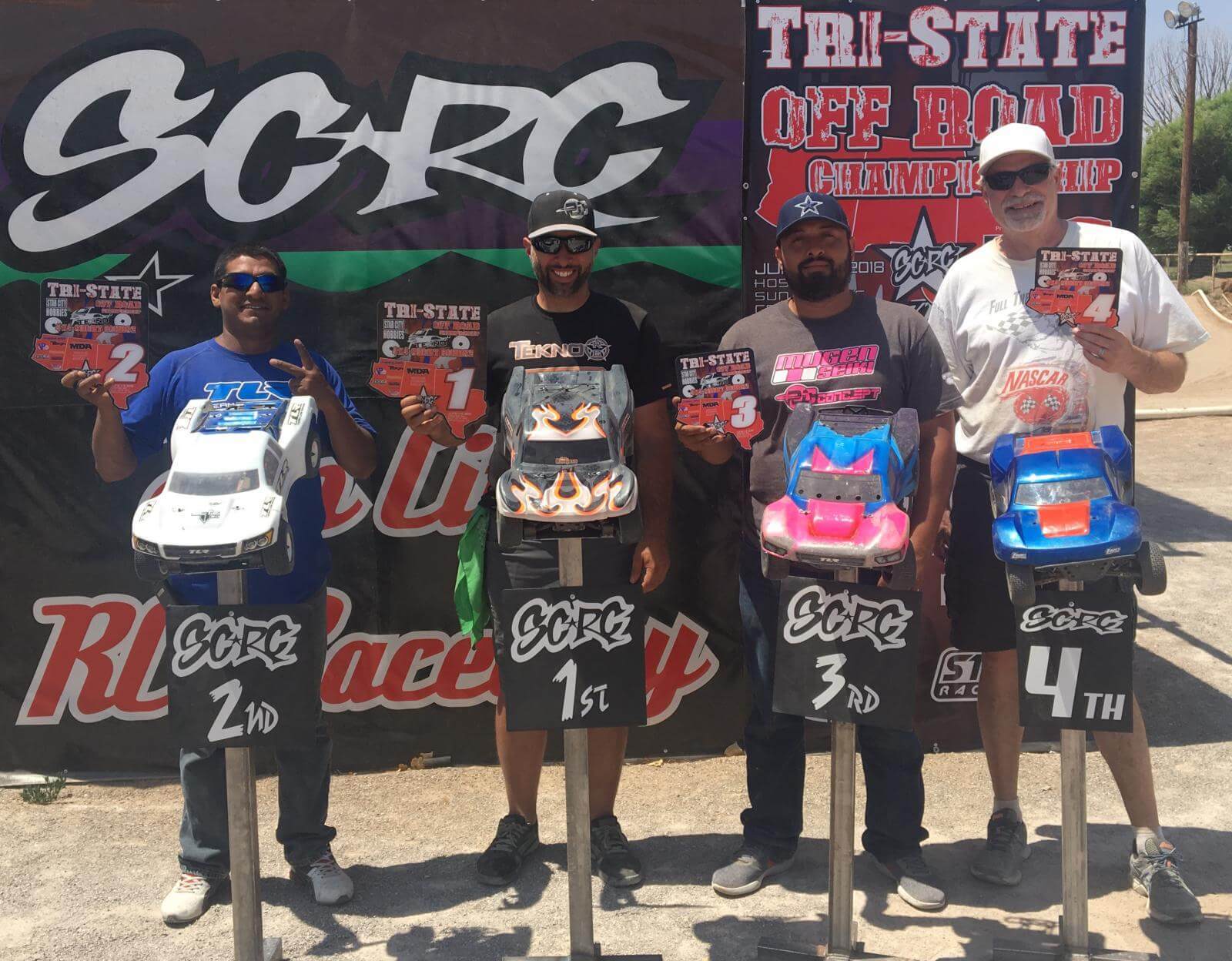 "I had a great weekend at Sun City R/C Raceway in El Paso, TX. Joey Showers, Corbyn Showers, and Kenny Brosh organized a benefit race for the Muscular Dystrophy Association. Joey Wolters Christensen built us an amazing track.
I didn't do as well as I hoped in Nitro Truggy, finishing 7th in the B-Main, but I was able to take home the win in 4wd Short Course!
Thanks to Tekno for sponsoring the race. Tekno was very well represented in all the classes."
Overall results:
1st: Tony Hinojosa  – Tekno SCT410.3
2nd: Jose Sanchez
3rd: Cesar Gallegos
Ramadan Offroad Race (UAE), report by Rudy Khoubbieh:
"Last Friday I attended the last race of our season, a special night race held during Ramadan. I did not have time to work on the car so I just went and raced and did not expect to get the results I did. During qualification I got the TQ winning 2 rounds out of 3 and then in the final I made a mistake in the first corner which put me last but the car was great and I slowly recovered and won the race!
Thanks to Tekno Rc for the support."
Overall results:
TQ/1st: Rudy Khoubbieh  – Tekno NB48.4
2nd: Zach Nylund
3rd: Dave N
ChunCheon Leisure Sports Cup Wam Up Race (KR), report by ManSoon Im: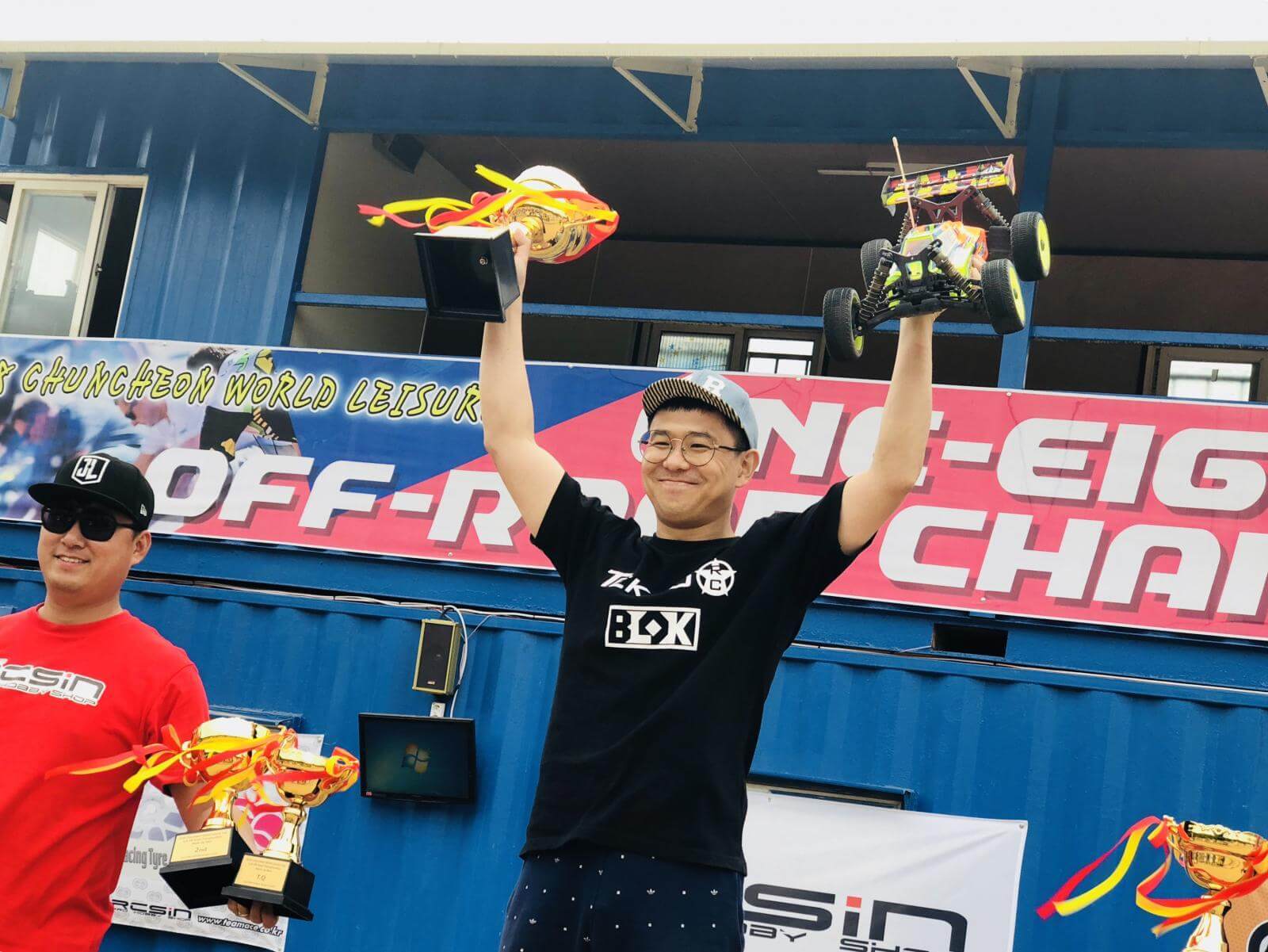 "This was ManSoon's second race with Tekno and it seems he is super fast with the car. He qualified 6th but right after few laps he was leading and never looked back. Finished 1st with almost 20sec lead!"
Overall results:
1st: ManSoon Im – Tekno EB48.4
2nd: HanYoung Jeon
3rd: InSung Yoon
Rumble In Rome Race (US), report by Dave Hemenway: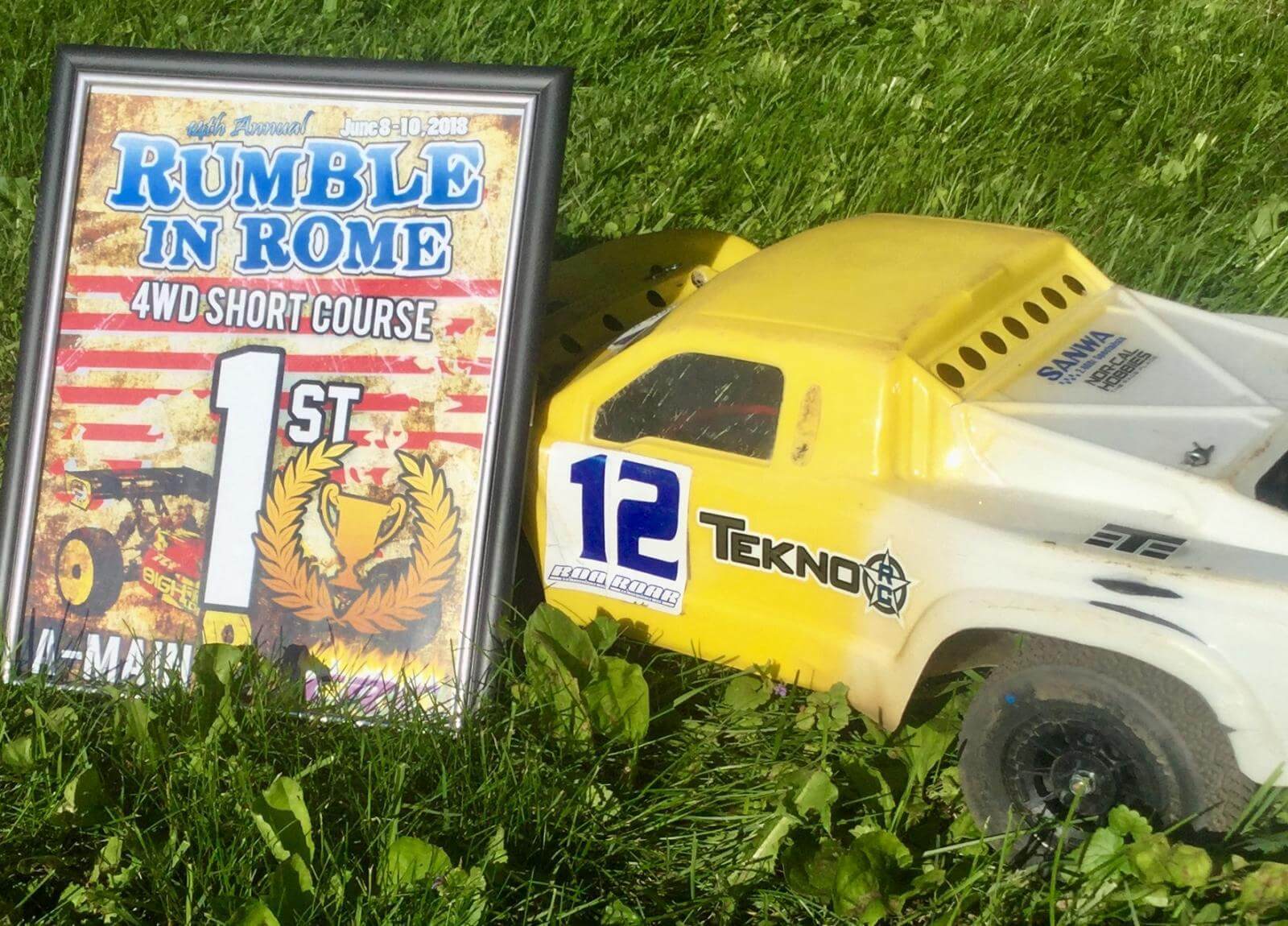 "Had a blast at the 14th annual Rumble In Rome, hosted by CRC Raceway. With the largest turnout the event ever had, at 279 entries for the 2 days + practice, and top talent from all over showing up, it was an honor to make the A main event for all 3 of the classes I ran, coming away with a victory in 4wd SC with the Tekno RC SCT410.3. With the perfect outdoor weather, the track had developed a lot of traction and a groove on it. I was able to capitalize on a wide turn and a missed jump early on to take the lead on lap 1, and would never look back. The setup I had was perfect, allowing me to turn fast laps and stretch out my lead without having to push it, even though there was a lot left in the truck to give.
Thanks to Tekno RC for the amazing vehicles and teammates, SMC Racing for the power to #SendIt, Sanwa for the flawless control I had all weekend, Nor-Cal Hobbies for getting me back into RC years ago now, my wife for supporting my passion for RC Racing, the CRC crew for running a great event, and of course Jesus Christ for saving me and making me a better person than I would've been otherwise."
Overall results:
1st: Dave Hemenway  – Tekno SCT410.3
2nd: Daryl Barth
3rd: Carl Dorn
RPM Series Round 2 (US), report by Jared Galligar:
"The layout was the same as Rd.1 so I just ran one tank in the morning to shake down the car. It felt really good so I was excited about racing. Made the last second decision to run Open Truck as well. Went out and threw down a TQ run Rd.1 in truck and buggy. Right before Rd.2 of truck, while trying to adjust tune, I somehow spun a flywheel so I was out. RD.2 of buggy I was on a REALLY good run until I had one bad lap towards the end of the run.
Mains:
Open Truck – I started out front had a small bobble couple laps in and went back to second. I caught 2nd place pretty quickly and ended up having a really good battle for most of the race. Pulled a gap towards the end to go on for the win. (Truck felt weird whole race…come to find out I forgot to vent my tires…DOH).
Intermediate buggy- Started 2nd and had a good little battle with Ryan Nielsen in the beginning until his throttle servo let go. After that, I had a pretty big gap to Louis in 2nd (18 seconds at one point) and kind of just cruised and managed the gap the whole race. Ended up winning by 7 seconds."
Overall results:
Rumble in Rome Race (US), report by Brian Bush: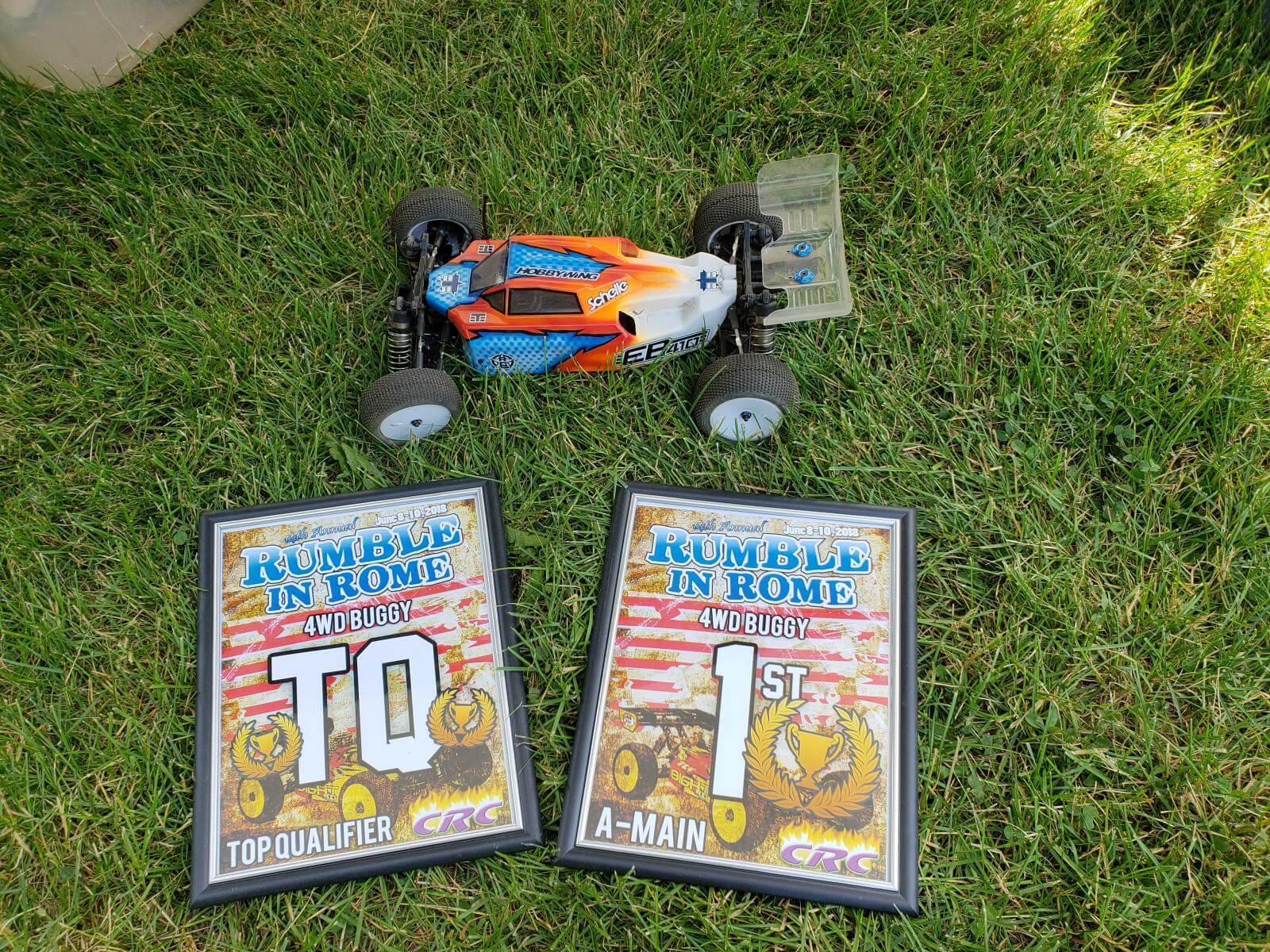 "Outstanding event, with a huge turnout of some of the top drivers in the North East and Canada. Frank Calandra and his team were on point.. this year's event was just outstanding, the weather was perfect, the track was great, the program was flawless and there was even a live band Saturday night… WOW! Round 1 quals went well 2nd in E-Truggy, 2nd in 4wd 1/10, 3rd in +40 E-Buggy, 15th in E-Buggy. Round two was a mixed bag, a few mistakes put me back to 5th in E-Truggy, a nice run in mod 4wd took TQ for the round, took 8th in E-Buggy, and 5th in +40 E-Buggy. Round three I had a solid truggy run and was 2nd fastest on the track.. had a little mistake but made my way back to 2nd for a 2nd overall qual position. Mod 4wd went well TQ'ing round 3 and taking the overall TQ position. Had a really nice +40 run taking 2nd and securing a 3rd place start, in E-Buggy it was again a struggle but managed to hold onto 13th getting me into the A-main. With the level of talent at the event, I was super happy to get all 3 of my Teknos into the A-mains! My first main was the E-Truggy… I threw some of my fastest laps of the weekend, just barely missed 19 laps the truggy was awesome… but Anthony Mazzara was on fire and had a near perfect race… I'll take a 2nd to that any day with a nice podium finish. Next up was my E-buggy race, this started out great, made my way all the way up to 5th on lap 6 but would have some bad luck getting collected in other racers and sending me back to 12th, I made my way back to 11th where I started to finish out the main. Next up was the Mod 4wd buggy race, the eb410 was a beast all weekend and I had a great run and lead from tone to tone taking the "W". Next up was +40 E-Buggy on my whupped tires running back to back to back races, she was awesome on the groove though, I would make my way into the lead a few times thru the race but would end up finishing 2nd with some great racing! Awesome event, great people.. huge Tekno presence and just good fun!!"
Overall results:
TQ/1st: Brian Bush  – Tekno EB410
2nd: Jordan Isselhard
3rd: Carl Doran
Shaw's 2018 Shoot Out Series Round 4 (US), report by James Titus: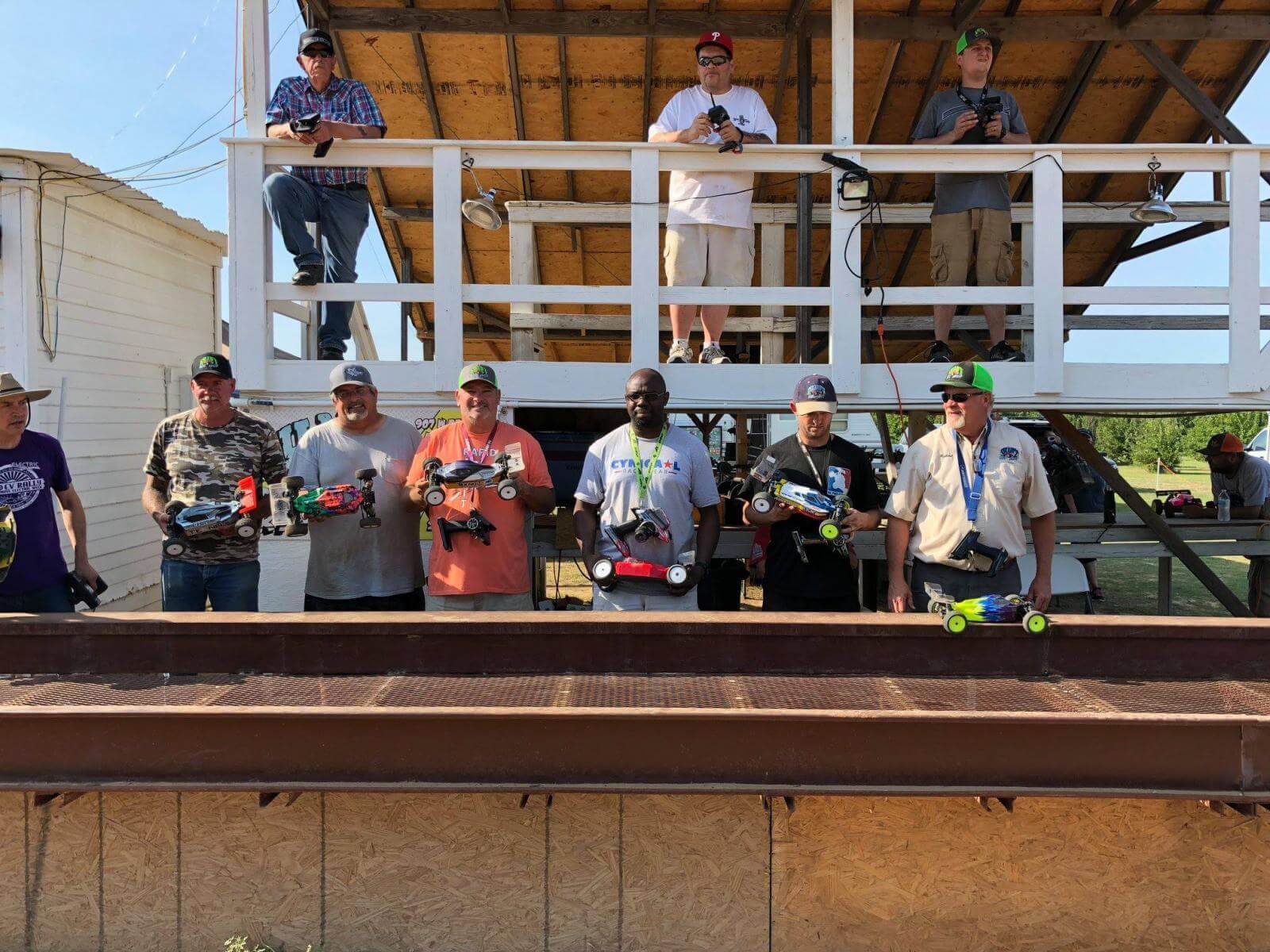 "I attended the Round 4 of the Shaw's 2018 Shoot Out Series. I raced 3 classes, 1/10 13.5 4wd buggy, 1/8 E-Buggy and 1/8 E-Truggy. It was a great day of racing overall. Round 1 was ok because I didn't have much practice time and bad tire choices led to difficulties with traction.
Round 2 was much better, I made some tire changes which resulted in bettering my times in E-Buggy, E-Truggy and setting TQ in 13.5 4wd buggy. Mains were tons of fun because of battles in E-Truggy and E-Buggy the entire duration of the race. 13.5 buggy I ran away early and never looked back, I had one wreck which allowed 2nd place to get caught up but I was able to ultimately hold on for the win."
Overall results:
TQ/1st: James Titus – Tekno EB410
2nd: Jim Brown
3rd: Peter Husser
THE-Series Race (US), report by Mike Legue:
"What a killer weekend at THE-Series race #2! I ran Mod 2wd, Mod 4wd, and E-Buggy. Even with the threat of rain we still managed 276 entries! With a ton of tough competition, I was still able to TQ 2wd, TQ 4wd, and qualify 3rd in E-Buggy.
After the dust settled, I would come out victorious in all 3 classes! All my cars were absolutely on point all weekend, as well as the driver! Can't wait for race #3 next month!"
Overall results: