Tekno RC Team Report Week 18-19, 2018
Two more successful weeks around the world with Tekno RC Team drivers Diego Marin, Tyler Hooks, Gerhard Du Toit, Wil Alameida, Jonathan Yeung, John Brett, Jesse Munn, Cole Cullings, Markus Carver, Cody Charnisky, Dean Rock, Mike Legue, Jared Wiggins, Jade Lim, Tag Georges, Akshay Patel, Clayton Wittmayer, Steve DeArmon and Mike Lopez winning the races they attended in Bolivia, USA, Namibia, China, Malaysia and South Africa, well-done everyone! Report from each race follows:
Departamental Santa Cruz Race (BO), report by Diego Marin: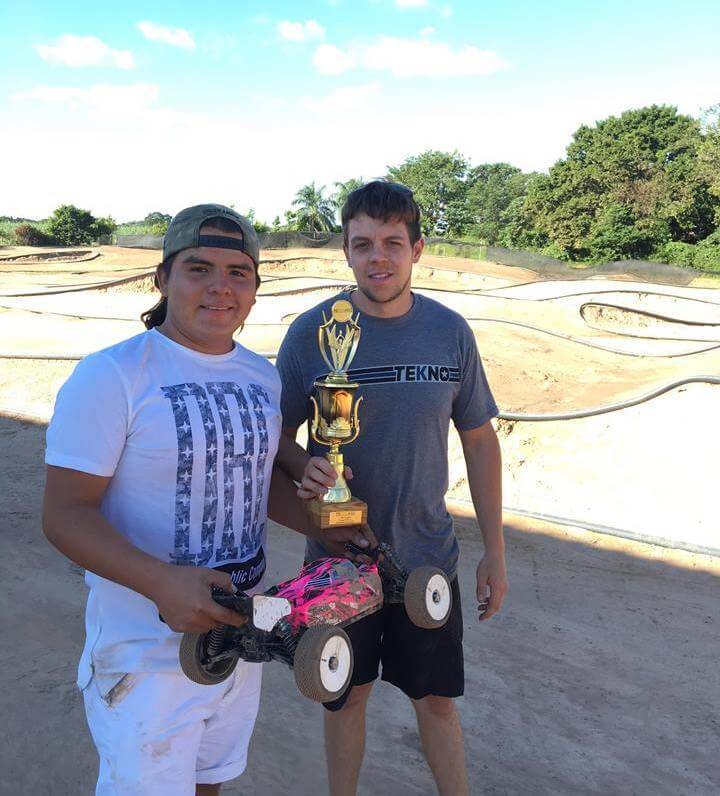 "This past Sunday we had the 2nd round of the state championship of Santa Cruz Bolivia. Saturday was practice day where I used my time to set up my both buggies for race day. On Sunday morning we had the 2 quals in both Nitro Buggy and Electric Buggy classes. I was able to place 4th on the grid in Nitro and the TQ in E-Buggy. In the mains I had to abandon the nitro race because of some glow plug issues. In the electric main, I had a blast, my car was just perfect, consistent and really quick. It was a smooth race with some battling with another Tekno driver Nicolas Bigemann but at the end, I took the win."
Overall results:
TQ/1st: Diego Marin – Tekno EB48.4
2nd: Nicolas Bigemann – Tekno EB48.4
3rd: Jorge Pimentel
RCPro Round 1 (US), report by Tyler Hooks:
"First round of the RCPro series, it was a great time on a pretty amazing outdoor track in Louisiana. We didn't get to run the mains because of rain which also meant for decreased attendance but it was still a great time."
Overall results:
Namibian Nationals Round 2 (NA) report by Gerhard Du Toit: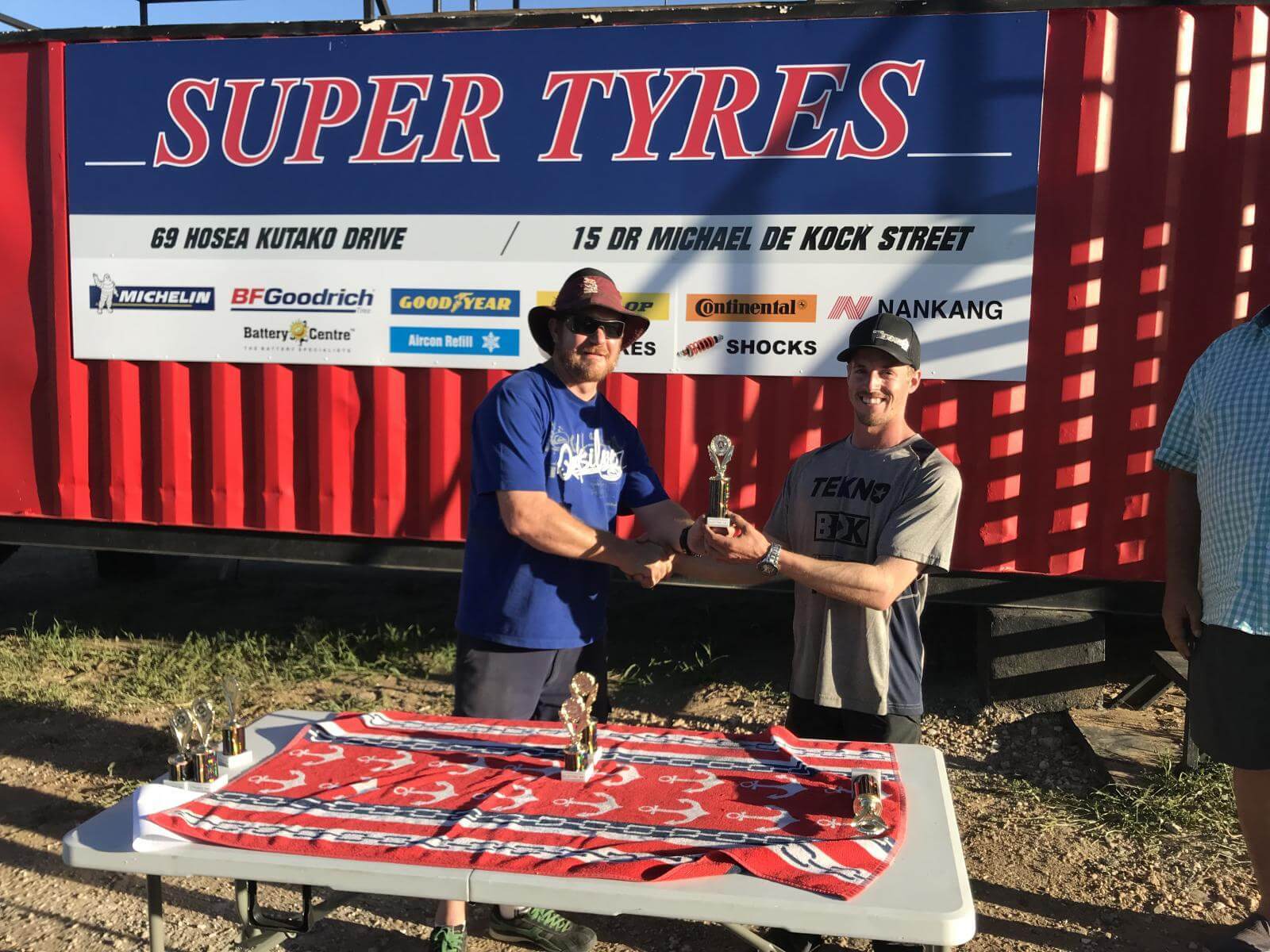 "Friday after work I headed up to the capital to race at WRCC situated at the Tony Rust race track facility for National – Leg 2. Race day morning started out pretty cold but that soon changed as the day got started.
I had a good general setup on all my cars from Leg 1 so I focused on getting the engines tuned and clutch on point.
Heats started off with Truggy running below the minimum lap time in heat 1 and having some bad luck in heat 2 putting me 7th on the grid. Buggy went very well, pulled smooth off the start and never looked back in both heat 1 & 2
E-Truggy was very easy to drive and would give me wins in both heat 1 & 2.
The finals went great, Truggy (NT48.3) I would have some battles at the start of the race and managed to work my way through the pack and wrap it up with a win by 3 laps, giving me the overall 3rd. Buggy was on a great pace and a low idle would cost me two flameouts but still managed to finish in 1st position with the Blok aM powered NB48.4, wrapping it up 1st overall. E-Truggy, the ET48.3 was insane all day long and would allow me to really push in some areas to not only take 1st on the heats but the final as well, concluding to an overall 1st.
Thank You to everyone who made this event possible, Ernest, Colin as well as Rudolph and his wife for getting the track in shape.
Big thanks to Tekno RC, friends and family for all their support."
Overall results:
ROAR Invitational – Season Opener (US), report by Wil Alameida:
"Headed to the ROAR Invitational race this past Sunday at G's RC Raceway. I have to say, that I absolutely love the layouts that "G" (Garland Smith) comes up with! There was incredible flow, elevation changes, option lanes, and even surface differences! Tons of fun!
I was able to secure the TQ and Win for both E-Truggy, and 4wd SCT. Lots of good racing, with good people, at a great track! Cant ask for much more. ?"
Overall results:
M.K.Power off-road Championship (CN), report by Jonathan Yeung:
"We arrived the track on 21-Apr for car tuning and practice on the new layout. I raced in both 1/8 nitro buggy and 1/8 EP buggy classes and I had an excellent start to the day. I got TQ in both classes after 3 qualify rounds. In my 3rd qualifying round of Nitro Buggy class, I had an excellent round of 13 laps 7:06.901 while 2nd fastest qualified car in 13 laps 7:22.074.
In the Electric Buggy A-Main finals, I won all 3 legs to claim the overall champion of this class. My Dad Carson Yeung got all 3 rounds in 2nd place and finished in overall 2nd place. In Nitro Buggy A-Main final, I started at pole position but the start was not as smooth as expected. The loudspeakers along the starting grid were not working such that my mechanic on the starting grid could not hear the race announcer. This caused the trouble in 10sec countdown and resulted in the delayed start of my car. In about 6min, I came back to first place and an exciting race keep going well until to the finish of the 45-minute A-Main final."
Overall results:
Thornhill Jr. Spring Series (US), report by John Brett: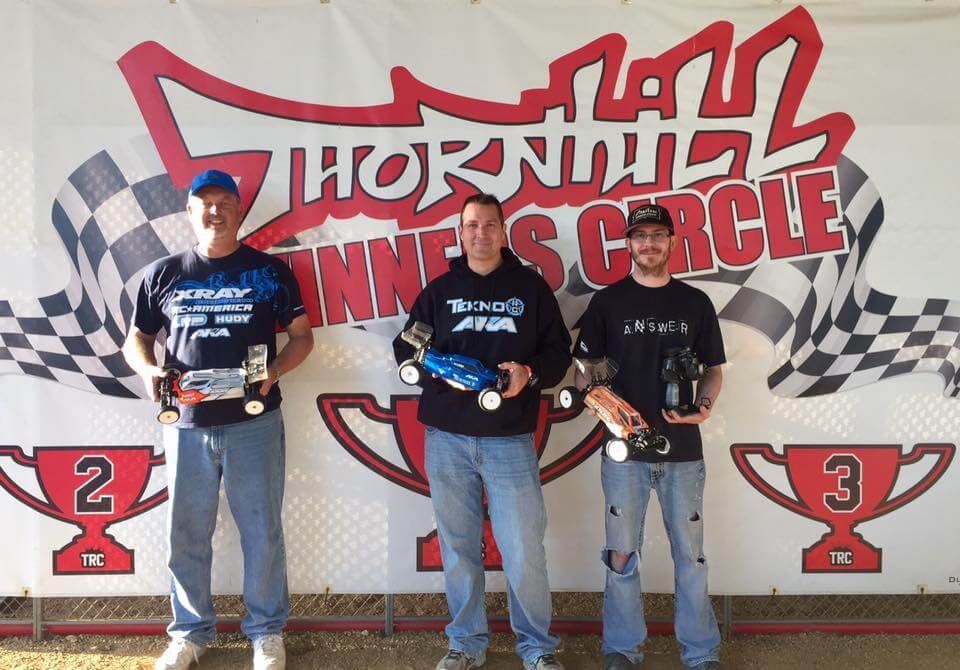 "This past Saturday was round 5 of the Spring Series held at Thornhill Racing Circuit in Hutto, Tx. Racing 13.5 4wd buggy and my first attempt at 17.5 2wd buggy. Had about 4 practice sessions in the morning before racing started. My EB410 has been extremely good so I spent a couple of sessions getting warmed up. I also ran a couple packs with the 2wd to get acquainted with it. Set out to run it as is to see how I would do, it felt pretty good during practice.
My qualifiers in 13.5 4wd went off without a hitch, taking first in each securing the top spot for the main. The car felt amazing in all three rounds.
I was able to pull off some decent finishes in 2wd. Finishing 6th in Q1, 2nd in Q2 and 3rd in Q3 giving me a starting position of 3rd for the main.
At the start of 13.5 4wd, we got off clean with 2nd and 3rd place right behind me. I was stuck in safe mode for a lap and a half trying to get my rhythm going. By lap 2 I had loosened up and was able to start putting down some good laps. By lap 18 I had built up a 10sec lead over 2nd place lapping up to 5th place. Coming up on 4th and 5th place, I backed it down a bit as they were having a good battle and didn't want to interfere. I remained just behind them for the rest of the race finishing with a 7.5sec lead. Loving my EB410 as it has become my favorite in the fleet.
All in all, it was a good day of racing with some good battles. I'm happy with my results and always looking forward to the next one."
Overall results:
TQ/1st: John Brett – Tekno EB410
2nd: Lance Myhre
3rd: Mitchell Gilkey
Columbia Cup – NCT round #1 (US), report by Jesse Munn: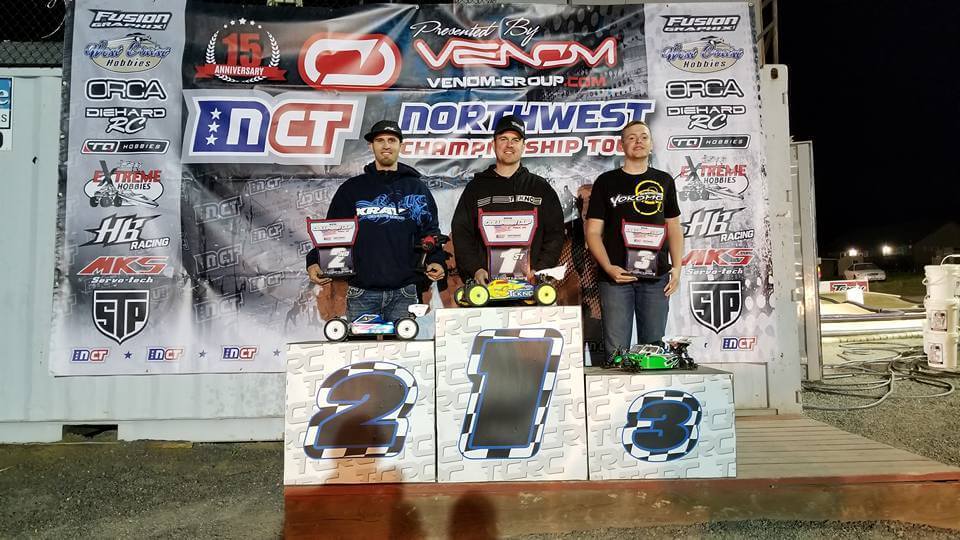 "The 15th season of the Northwest Championship Tour kicked off this past weekend in Pasco, WA at the Columbia Cup. After what felt like 6 months of non-stop rain here in the Pacific NW, everyone was excited to get out in the sun and race! With over 300 entries the event showcased some of the very best outdoor talent in the region as drivers traveled from Washington, Idaho, Oregon, Montana and Canada to race on the large outdoor clay track.
My EB48.4 was great from the first practice on Friday and after qualifying 2nd on Saturday, I was able to win the first 2 mains on Sunday to take the overall Ebuggy championship for the event! Big thank you to the Northwest Championship Tour for putting on such a great event and special thank you to all the Tekno drivers in attendance, both team drivers and privateers alike, for putting Tekno's on the podium in every class that we make a vehicle for!"
Overall results:
1st: Jesse Munn – Tekno EB48.4
2nd: Kason Russell
3rd: Jackson Andres
Spring Challenge Race (US), report by Marcus Carver: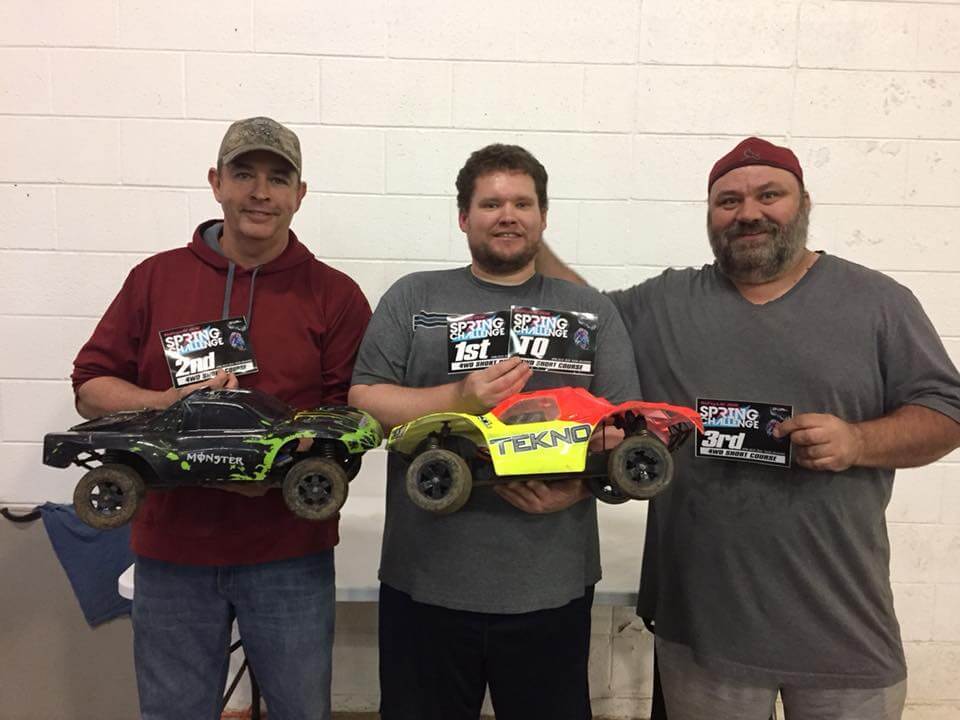 "Practice was held on Friday and I was there from 10:30am till about 9:30pm. Unlike the weekend before, track crew was able to fix the water issue and high traction clay was back. Spent the day learning the track with high traction.
The event was supposed to be a Sat/Sun event but had lower turnout then what the owner was expecting. Everyone voted and event was ran just on Sat with 3 Qualifiers and triple A-mains.
I was able to take TQ in both 4×4 ShortCourse and 13.5 Wheeler.
After Triple A-mains I was able to take the win in 4×4 ShortCourse and in a tie-breaker for 1st, I ended up 2nd in 13.5 wheeler."
Overall results:
TQ/1st: Marcus Carver – Tekno SCT410.3
2nd: Jeff Crain
3rd: George Weaver
Columbia Cup , Northwest Championship Tour  Round 1 (US), report by Cole Cullings: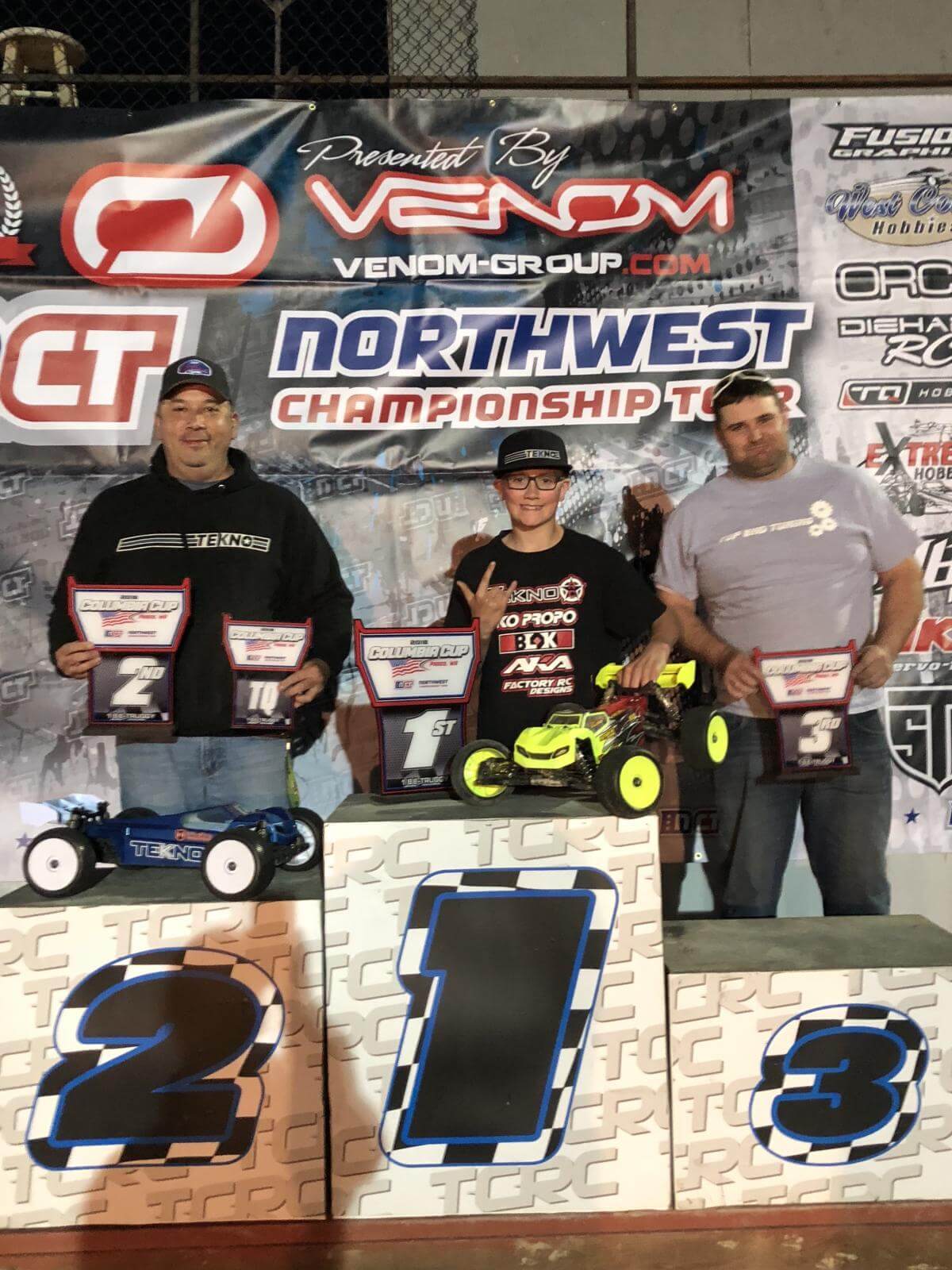 "2018 Northwest Championship Tour kicked off in Pasco ,WA April 20 -22 . 156 of the top Northwest drivers attended round 1 of 6 on the NCT tour , totaling 313 entries. Friday consisted of practice, Saturday Quals, and Sunday mains. "
Overall results:
1st: Cole Cullings – Tekno ET48.3
2nd: Sam Maahs – Tekno ET48.3
3rd: Danny Joliff
DDH and the Drake Race (US), report by Cody Charnisky: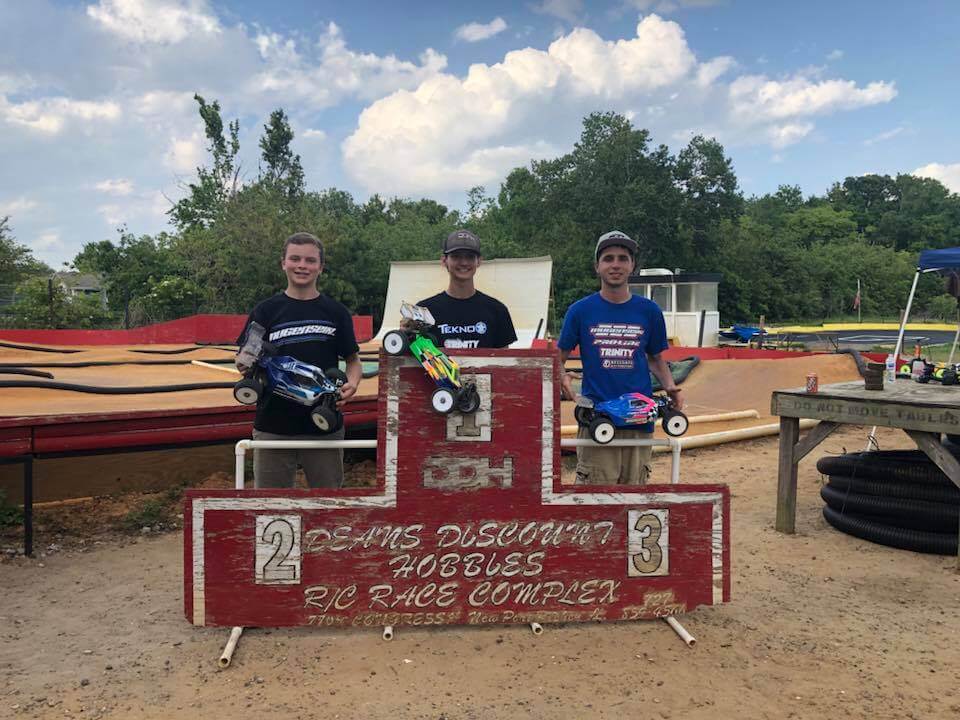 "This past weekend I attended a race with a very well known racer in the community. That was Adam Drake and that's who this weekend was dedicated to as he came down to DDHrc to hold a clinic and a race. To start off the weekend I was a bit uneasy about my setup that I had on both my Nitro Buggy and E-buggy since I've decided to start off with a completely new setup, although it was very similar to my setup from PNB. Running Quals 1 and 2 in my cars was spectacular they did everything I wanted them to do and with a couple minor setup changes the cars just got better. The track also just kept getting better with a nice high bite groove that formed in it for the mains. The race was run flawlessly and the track was very well prepped and taken care of the week prior to the race and it definitely showed as everyone raced on it. At the end of the day, I ended up taking Tq and a first in Pro E-buggy and a 2nd place in Open Nitro Buggy."
Overall results:
TQ/1st: Cody Charnisky – Tekno EB48.4
2nd: Ben Pinover
3rd: Jordan Singletary
Grassroots Racing Series Round 6 (US), report by Dean Rock:
"I had yet again another great showing with the Tekno vehicles this time at the final round of the 2018 GRRS held at the Proline Test Facility! Before round #6 started I had an idea that I already wrapped up the overall win for intermediate buggy, open electric buggy, and open truck put I still wanted to finish strong in the last round! As for qualifying I had to bump out of the B main for nitro buggy to grab a spot in the show, 4th in electric, and 1st in truggy after a couple difficult rounds of qualifying. As for the main I finished 8th in nitro buggy from 11th, 3rd in electric, and 1st in truggy. Overall the cars worked awesome with no flaws!
And as a result I would clinch the overall win in all three classes after only attending 5 out of 6 races! This couldn't of have been done if it wasn't for the reliable and quick NB48.4, EB48.4, and NT48.3 from Tekno RC! But most importantly a big thank you to my parents for everything they have done thus far!"
Overall results:
Kyosho At The Clubhouse Race (US), report by Mike Legue:
"This race ended up being bigger then expected, and brought in racers of pretty high caliber. So, it was even better that I put both ebuggy and mod 4wd on top of the podium!
I raced mod 2wd, mod 4wd and ebuggy. Qualifying was super tight, but all 3 cars were on point. I would qualify 3rd in mod 2wd, 2nd in mod 4wd, and TQ in ebuggy.
After the hard fought mains, with some super tight racing, I would finish 2nd in mod 2wd, and take the wins in both ebuggy and mod 4wd! Overall an excellent day of racing!"
Overall results:
Points Series Rd 1 (US), report by Jared Wiggins:
"I had a great time at Thunder Road's Rd 1 points series race this weekend! There was a new heads-up format with the quals being run with rolling starts and all 3 rounds counted so it would keep the day exciting! I was able to win all 3 of my races in Nitro Buggy and Ebuggy and take the TQ in both! In E-buggy I crashed in warmup and bent ashock shaftt but was able to drive smart and take the win! Nitro Buggy would see a 30 minute main and with some FANTASTIC pit stops by Kylie I would take the win with a new lap record! Thanks to all My Sponsors, Parents and Beautiful Girlfriend for all their help and support!"
Overall results:
Malaysian National League Round 3 (MY), report by Jade Lim: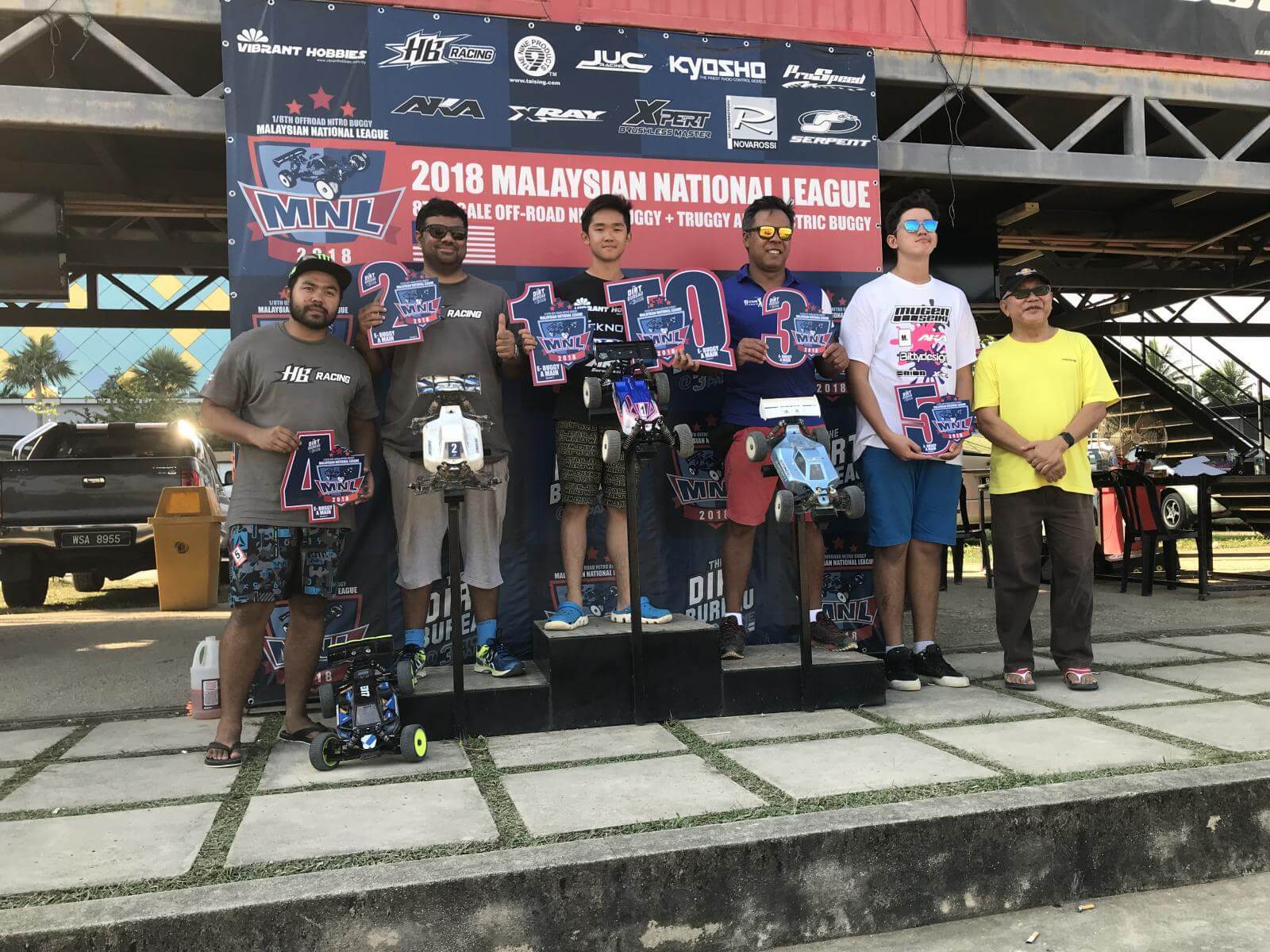 "Last weekend I attended the third round of national race at my home track (The Dirt Bureau ), which is located in Kuala Lumpur Malaysia. Kelvin and Cynthia are the track builders and organizers also. During the first day of racing, I struggled with the track conditions which were very different from the past weekend. So I decided to change the car setup and ESC setup in every heat, those setup changes I made improved the car a lot, so finally I got the right feeling for my car. The whole package working very good so I was able to TQ and Win the race!
Overall results:
TQ/1st: Jade Lim – Tekno EB48.4
2nd: Mubashir Mazhar
3rd: Alfie Othman
Race WInter Points Series (US), report by Tag Georges: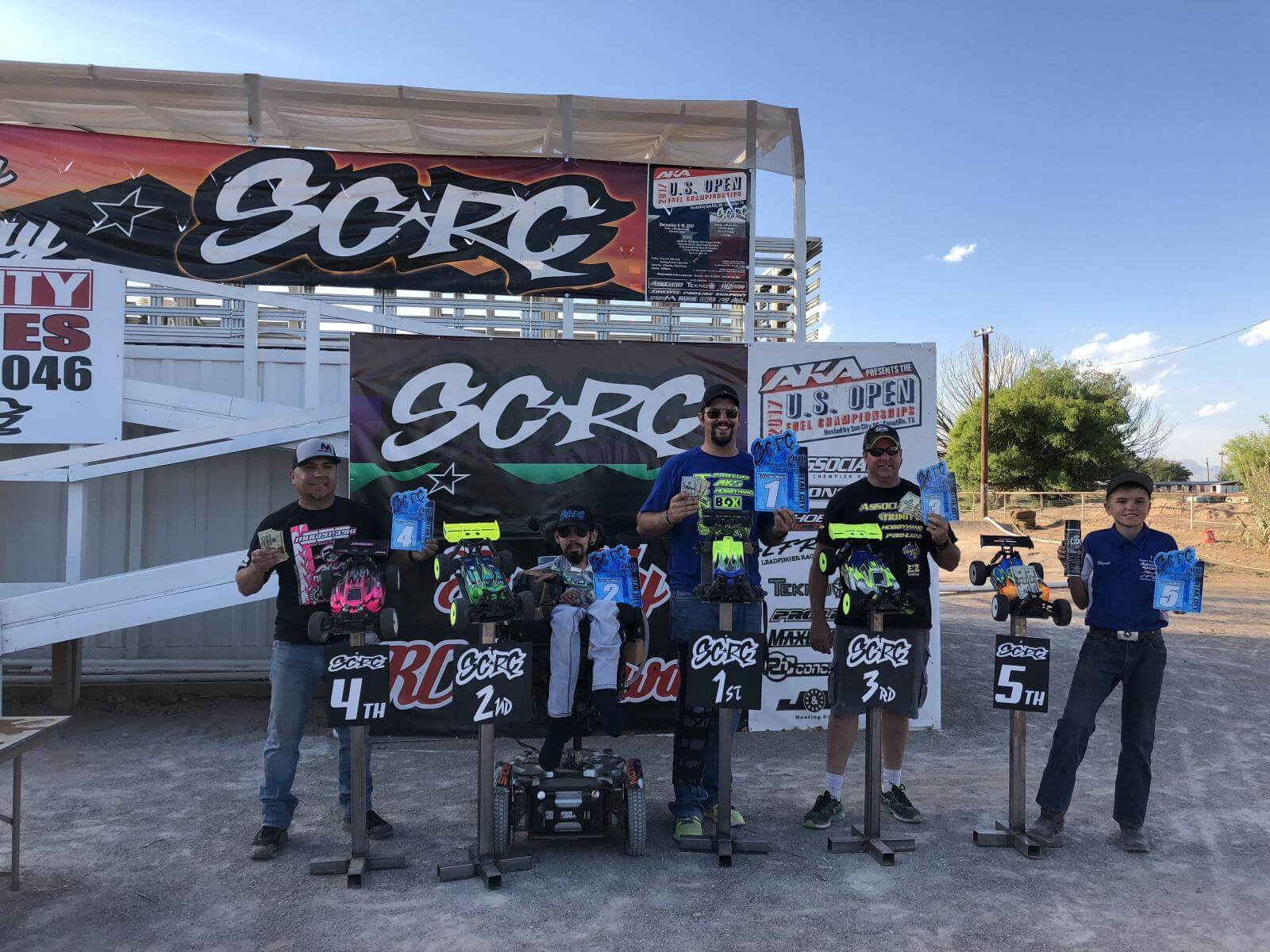 "For the 6th and last race of the Winter Points Series at SCRC, I ran my NB48.4 and my EB48.4. Both cars felt amazing throughout the entire day, whether it was a dry track or wet track, all I had to do was change tires and the buggies were great. I ended up qualifying in the 2nd spot in both classes after some good runs in qualifying. I had a couple good battles with Mugen driver Casey Peck, but he would beat me out. In the Electric buggy main, all I had to do was get a top 3 finish to seal the deal for the points series. I put in a very clean run, but wasn't quite on the pace of Casey and would finish 2nd. This would put me finishing 1st in the points. In Nitro Buggy, I would take the lead early in the 25 minute main, and get about a 20 second lead over the rest of the pack. After my second pit stop, however, I would flame out in the worst possible part of the track. After getting my buggy back in and started, I would fall back to 6th place with 7 minutes left. I put my head down and finished 4th overall. My NB48.4 was absolutely one of the fastest buggies on the track, just had an unfortunate event happen."
Overall results:
1st: Tag Georges – Tekno EB48.4
2nd: Corbyn Showers – Tekno EB48.4
3rd: Brian Dickey
KZN 2018 Regional Championship – Round 4 (ZA), report by Akshay Patel: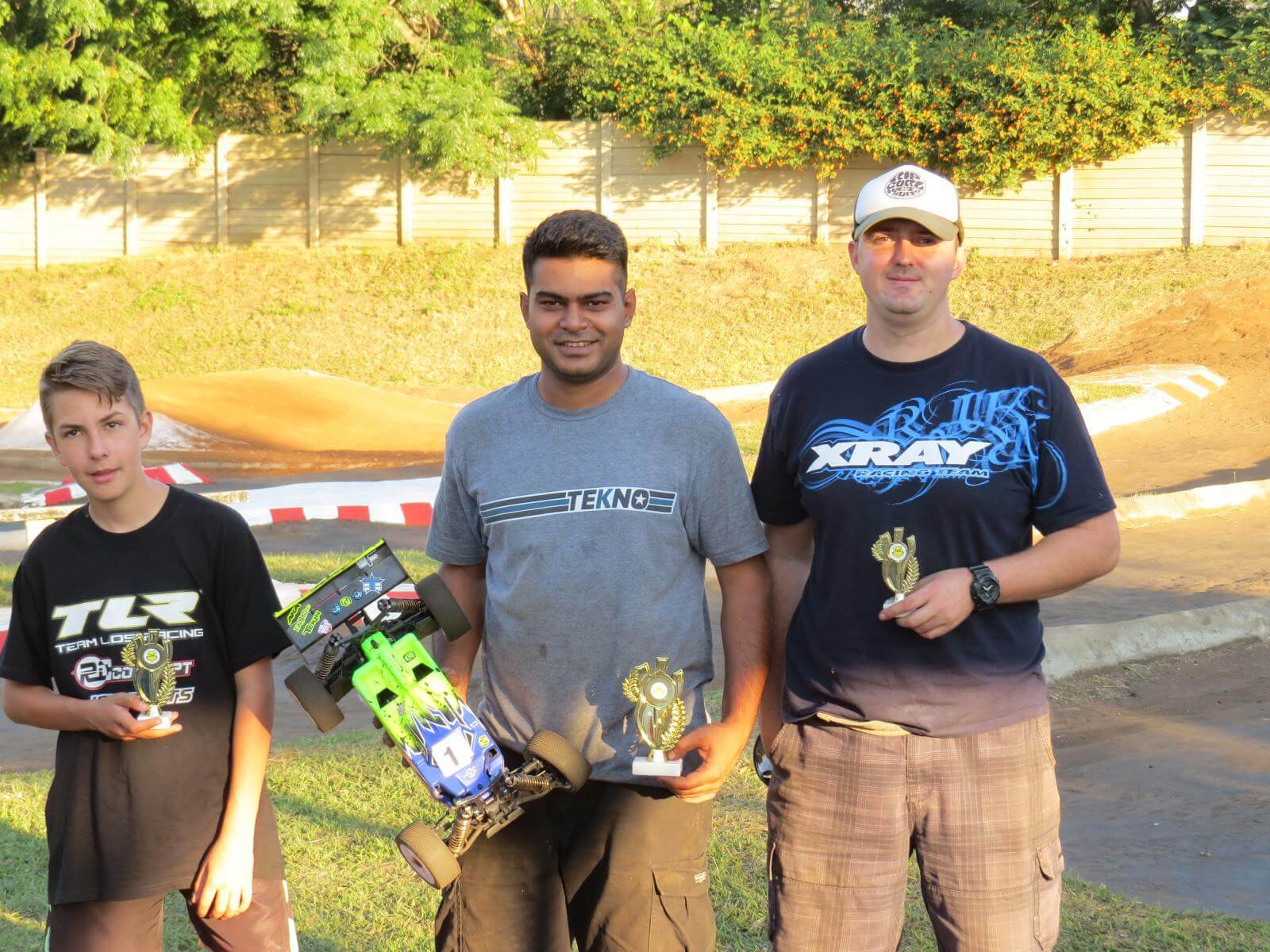 "The 4th round of the KZN Regional championship was held in Pietermaritzburg at Mandalay Raceway.
Practice on Saturday went well as we discovered tyres would be the name of the game for this race more than the others.
Qualifying on Sunday went well in E-buggy as I TQ'd all rounds and went on to win the final in the last lap.
All in all, it was a fantastic weekend and I look forward to the next KZN regional race!"
Overall results:
TQ/1st: Akshay Patel – Tekno EB48.4
2nd: Ryan Carlyle
3rd: Willem Steenkamp
2018 Tekno RC Offroad Riot (US), report by Clayton Wittmayer: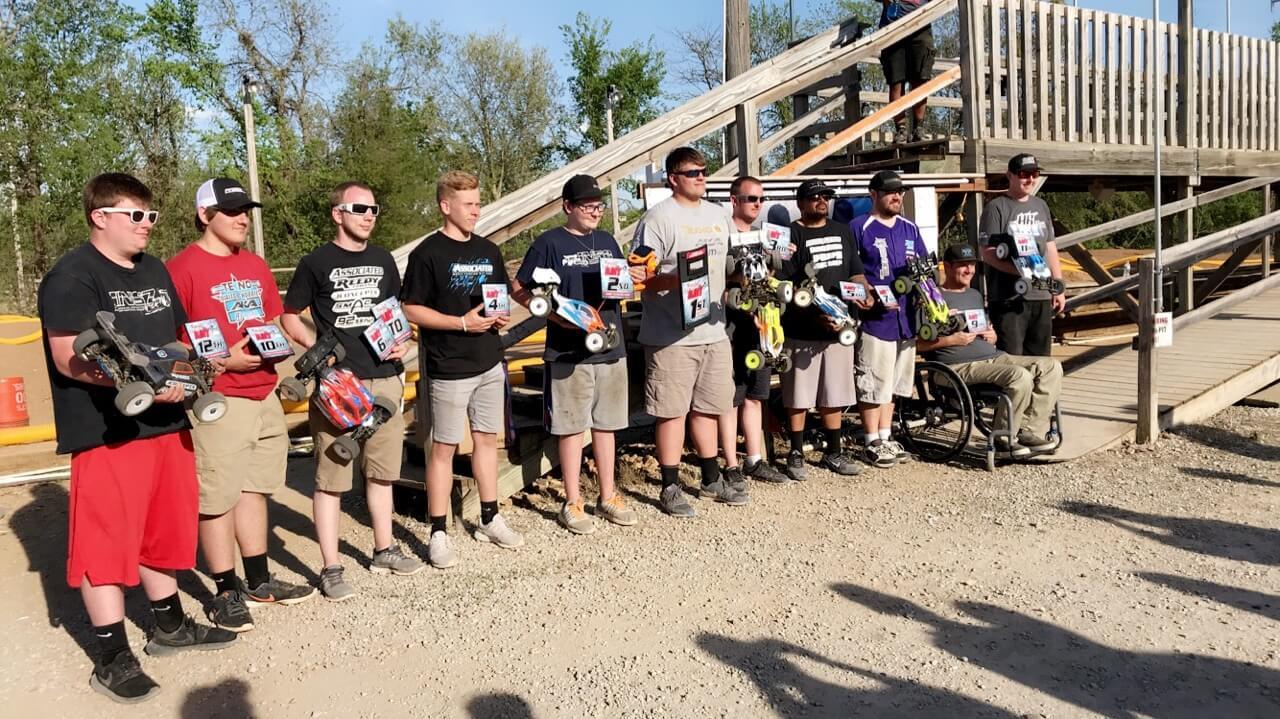 "My cars were good ever since they hit the track for practice. We ran three qualifiers on Saturday. In Nitro Truggy I had some nitro fun stuff and flamed out a couple times and ended up tenth on the grid for the main. In E-Buggy I knew I had a car that could win. Driver errors in qualifying made me start 5th for the triple A mains. There were 6 cars battlng out for the lead in all 3 races. We went back and forth for 10 minutes. I worried about my driving and ended up 2nd in A2 and won in A2 and A3 to take the overall"
Points Rd 1/Season Opener (US), report by Jared Wiggins: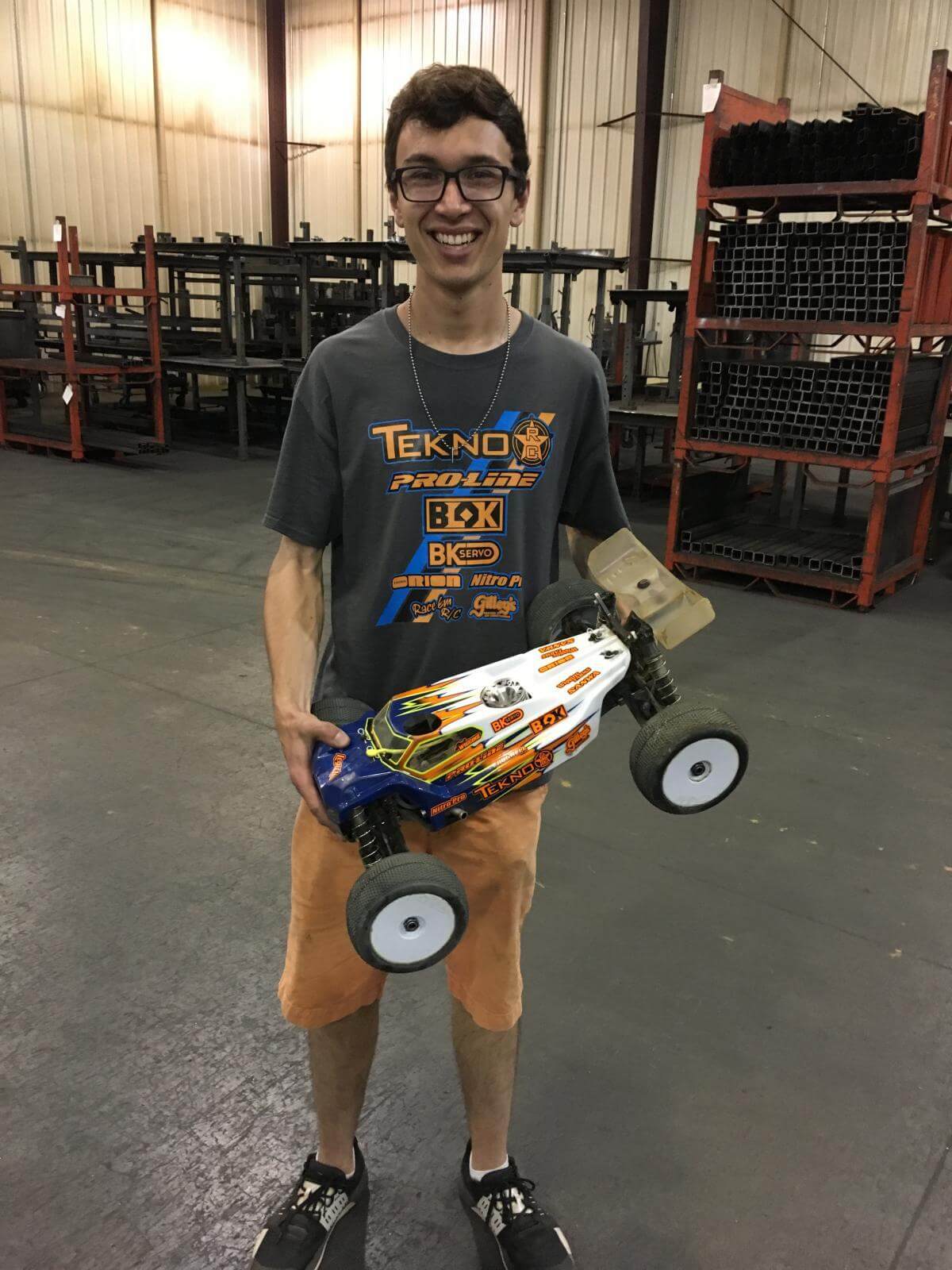 "We headed out to LRT Raceway in Iowa this past Saturday for their season opener/ Rd 1 points! I ran Pro Buggy and Nitro Truggy and while there was a light turnout as a whole, Buggy was stacked with the likes of Cole Brad Tom and others! The track grooved up as per usual and the layout was awesome thanks to the Bartholomew's! I would end up taking the TQ in Pro Buggy and Truggy after the first two rounds. In Truggy I sat out Rd 3 to prep for the main, after the 20 minute main I would take the win! In Buggy it was a lot more challenging; I would hold off Cole till just after the first pit but afterward, I lost focus and made some mistakes and couldn't quite match his pace ending a strong Second! Congrats to Cole on the win, he earned it! I couldn't ask for any better equipment, my program has been working really well lately!
Shoutout to My Family for everything they do, as well as my Sponsors for their support! On to the next one!"
Overall results:
TQ/1st: Jared Wiggins  – NT48.3
2nd: Alan Larson
3rd: Eli Fulks
OKC Hobbies Finals Payout Series (US), report by Steve DeArmon: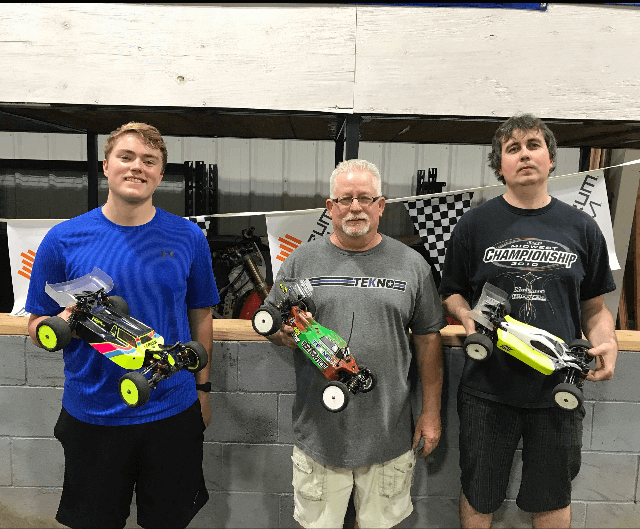 "The turnout was very low, only the racers that were contending for the 1,300.00 payout of the 4 rounds was in attendance . My Fantom powered EB410 was flawless all day, winning all 3 qualifying rounds and setting the TQ with the only 25 lap run at the race! 7 min double A-Mains. Chris Clemson in his Hot Bodies ride was not gonna make it easy along with Noah Golly from Dallas TX getting in the mix in with his HB ride and an up and coming youngster from Tulsa Oklahoma in his Hot Bodies ride! The Tekno set the pace and won both A-Mains and the Cash, my set-up was 12/12/7 in the diffs, 40wt in front and 35 in rear, orange springs all around, 70/23 gearing, 2 degree camber fr and rr, 1 1/2 degree toe out in front steering, JConcepts space bars in front and Dirt Webb's in rear ! Thanks to Tekno for letting me represent them in my region! Next up will be some 1/8th scale at Shaw's series on the 12th"
Overall results:
TQ/1st: Steve DeArmon – Tekno EB410
2nd: Chris Clemson
3rd: Noah Golly
The Kyosho Race at the Clubhouse (US), report by Mike Lopes:
"The Kyosho Race at the Clubhouse is in the rear view mirror…. Bill, Melissa, and Co. held another solid event.
226 Total Entries /115 Drivers and once again, it made for stacked talent from all around the Midwest and then some.
In 4wd SC, the SCT410.3 has just been a workhorse. A costly error in no mans land would put a damper on my TQ run. I started 3rd overall in the show, took the lead after a few laps and didn't look back. Finished 1st in the A.
Just a Tekno recap on chassis victories at the Kyosho race…. 4wd Mod buggy, 4wd SC and Ebuggy—- Tekno FTW."
Overall results:
1st: Mike Lopes – Tekno SCT410.3
2nd: John Motors
3rd: Tom Buckley