Tekno RC Team Report Week 1-2, 2018
With the festive season coming to an end Tekno RC Team drivers lost no time and are back to winning races all over the world! Congratulations to James Doherty, Mike Legue, Marcus Carver, Jonathan Yeung, Jeremy McGuigan, John Bernard Jr and Jade Lim for winning their races in the USA, China and Malaysia! Report from each race follows.
Showdown In The Snow Race (US), report by James Doherty:
"I raced at Big Dogs in Stoneboro, PA at the Showdown in the Snow event. My Tekno cars on Pro-Line rubber were great all day! In 1/10 scale 4×4 buggy, I was 2nd overall for the round. For the Main, I finished 1st at the podium, and lapping the entire field. For SCT, I qualified 4th and in the A-Main, I came in 3rd place. For 1/8 scale E-Buggy, in the 2nd round, I qualified second. In the A-Main, the car in first place lost its wheel and I took first for the entire race, having a very clean run."
Overall results:
Winter Cup Race (US), report by Mike Legue: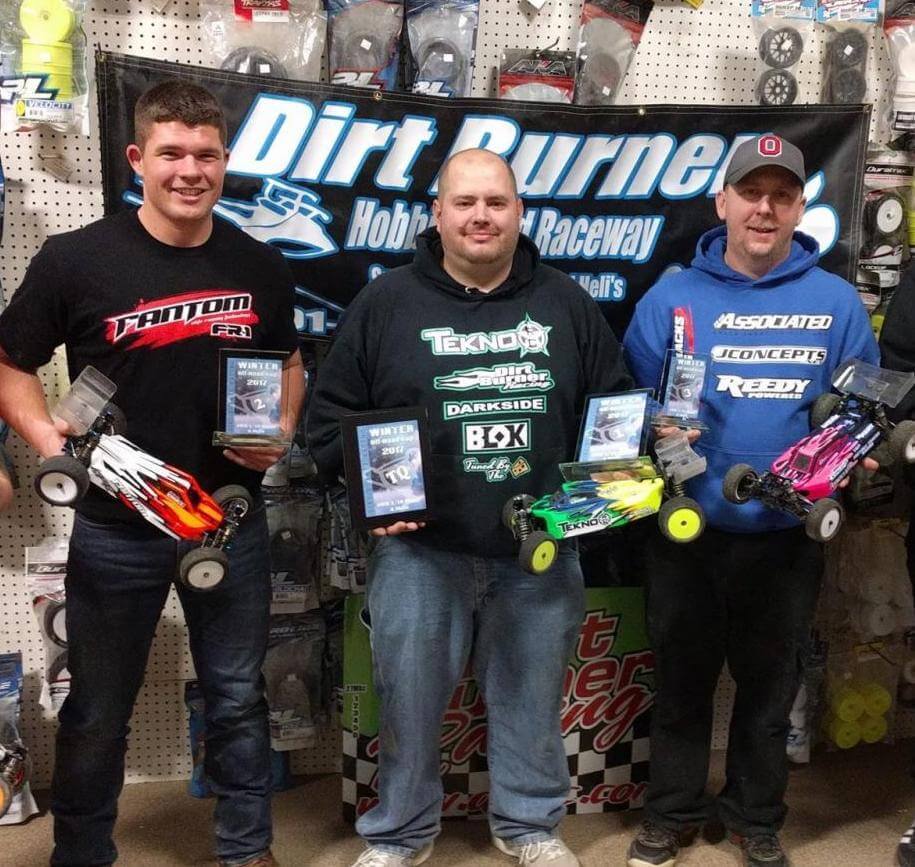 "This week I stayed close to home and ran the Winter Cup trophy race at my home track, Dirtburner Racing. Entries were a bit lite with Christmas being this weekend, but the competition was still fierce and racing was excellent!
I ended up running Mod 2wd, Mod 4wd and E-Buggy. Being pressed for time didn't leave much setup time, so I made the best of it. I wound up TQing all three classes with lap times that just couldn't be touched! My Tekno EB410 had all kinds of people stunned and asking for setup help!!
In the mains, I should've gone with more pin on my tires. As the track became a bit slick late in the day. I still won Mod 4wd and had to settle for 3rd in both Mod 2wd and E-Buggy. But, still ended up on the podium! Overall a great success if you ask me! On to the next one!"
Overall results:
TQ/1st: Mike Legue – Tekno EB410
2nd: Michael Rinke
3rd: Jim Bronson
"Shakedown" Race (US), report by Marcus Carver: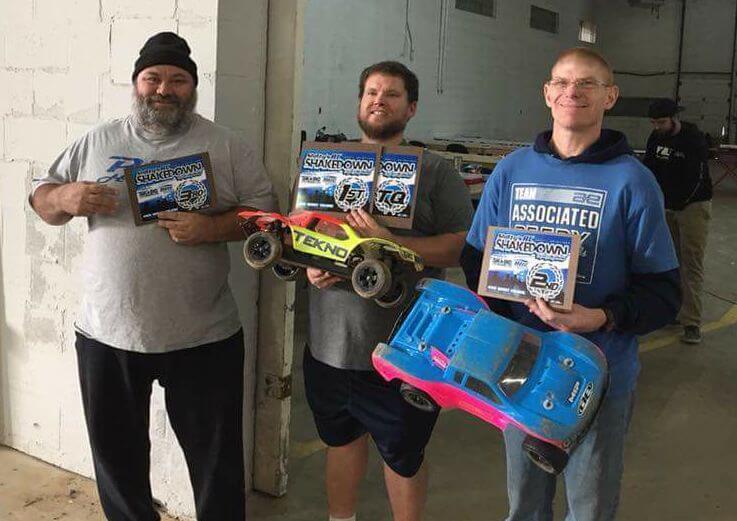 "This was tracks first big race since opening 4-5 months back. This was a 3-day race with 4 qualifiers and triple A-Mains.
Practice was on Friday on the new layout. Spent about 8-9 hours learning the track while getting used to the EB410 and indoor high bite clay driving. Also first time on slicks with the SCT410. So had to get used to the truck sticking to the track and not making it flip over in the corners.
Qualifying went well and was able to TQ 4x4SC and got into the A-Mains with the EB410 with a 9th spot. My EB410 was on rails, it was the driver getting nervous against very very fast local drivers that have been running these wheelers for a long time. Still having issues running indoors and getting used to this rocket with a 5.5 in it.
In the Triple A-Mains, I won all 3 in my SC. With the EB410 I got a 3rd, 5th and then my throwaway round. Overall I came in 6th, but the EB410 was a lot faster than the others around corners and also getting out of the corners. I'm still working on not getting nervous indoor as it's hard to drive these rockets when your steering hand is shaking."
Overall results:
TQ/1st: Marcus Carver – Tekno SCT410.3
2nd: Cameron Spruill
3rd: George Wever
XMG Energy Cup Off-road Race (CN), report by Jonathan Yeung: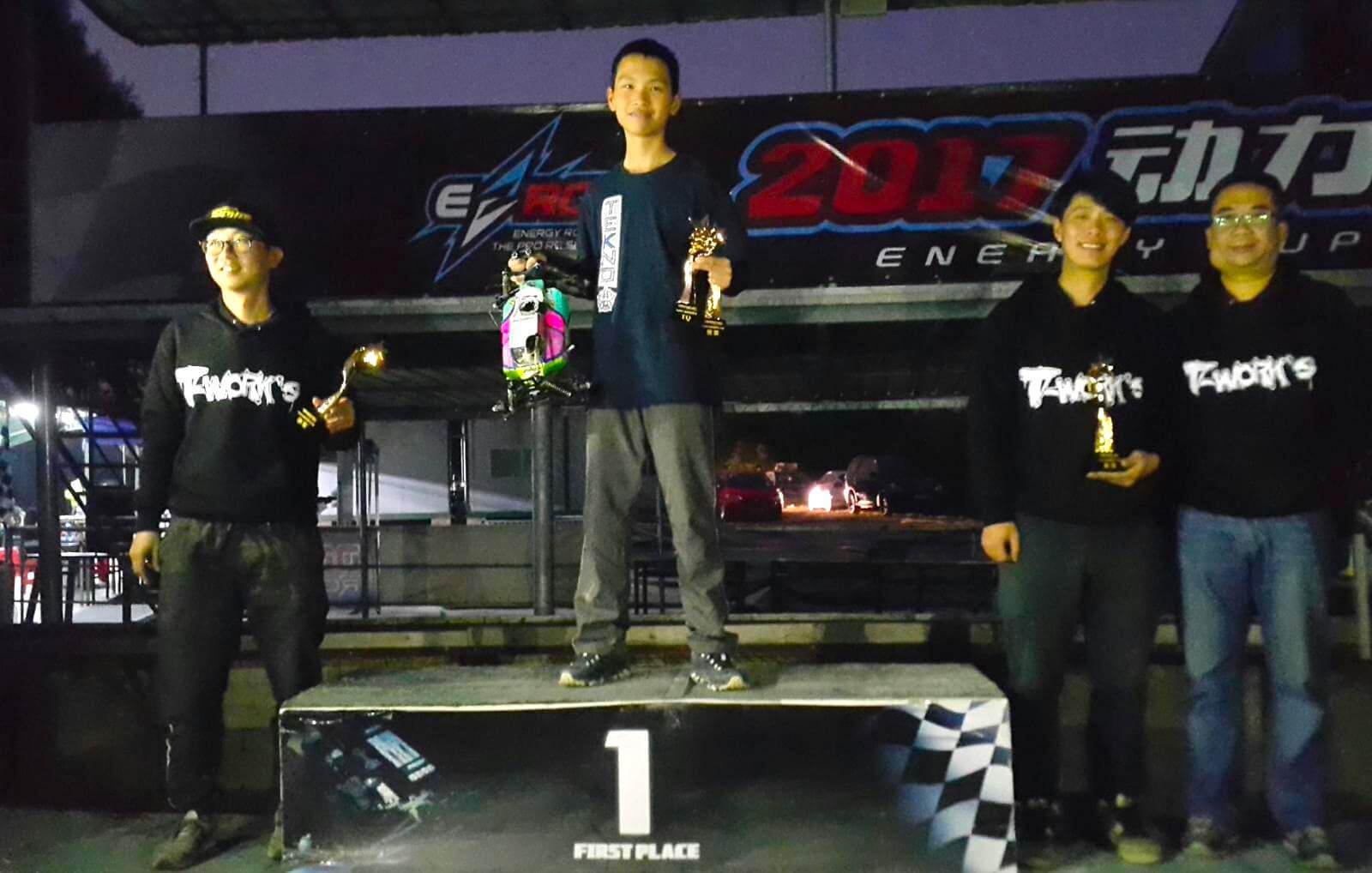 "My Dad and I traveled to XMG track in Dongguan China on 30-Dec, we started to tune our cars (I race in Nitro buggy class with NB48.4 while my dad Carson race in Nitro Truggy class with NT48.3). This race attracts top racers in China to compete for last race in 2017. On practice day and after a little tuning my car was able to set consistent and excellent lap times.
On race day (31-Dec), my car performed excellently as expected. I was able to set TQ round in Q1 & then Q2 again with 12 laps while the 2nd fastest qualifier had 11 laps. I entered the A-Main final directly with and had a very good start. I extend my lead in the first few laps and set the official best lap record with 29.974 sec in the A-Main final (Only one racer in the A-Main was able to reach 30.8 best lap and the rest of best lap times were 31.x). The lead continued to extend and after 40 min A-Main final, I finished with 75 laps while A2 racer finished at 71. In the Truggy class, my Dad drove his NT48.3 to win A1 in the A-Main final. What a wonderful race to close our 2017 race season!"
Overall results:
TQ/1st: Jonathan Yeung – Tekno NB48.4
2nd: Xiao Dong
3rd: Le Ha Lin
New Years Eve Race (US), report by Jeremy McGuigan: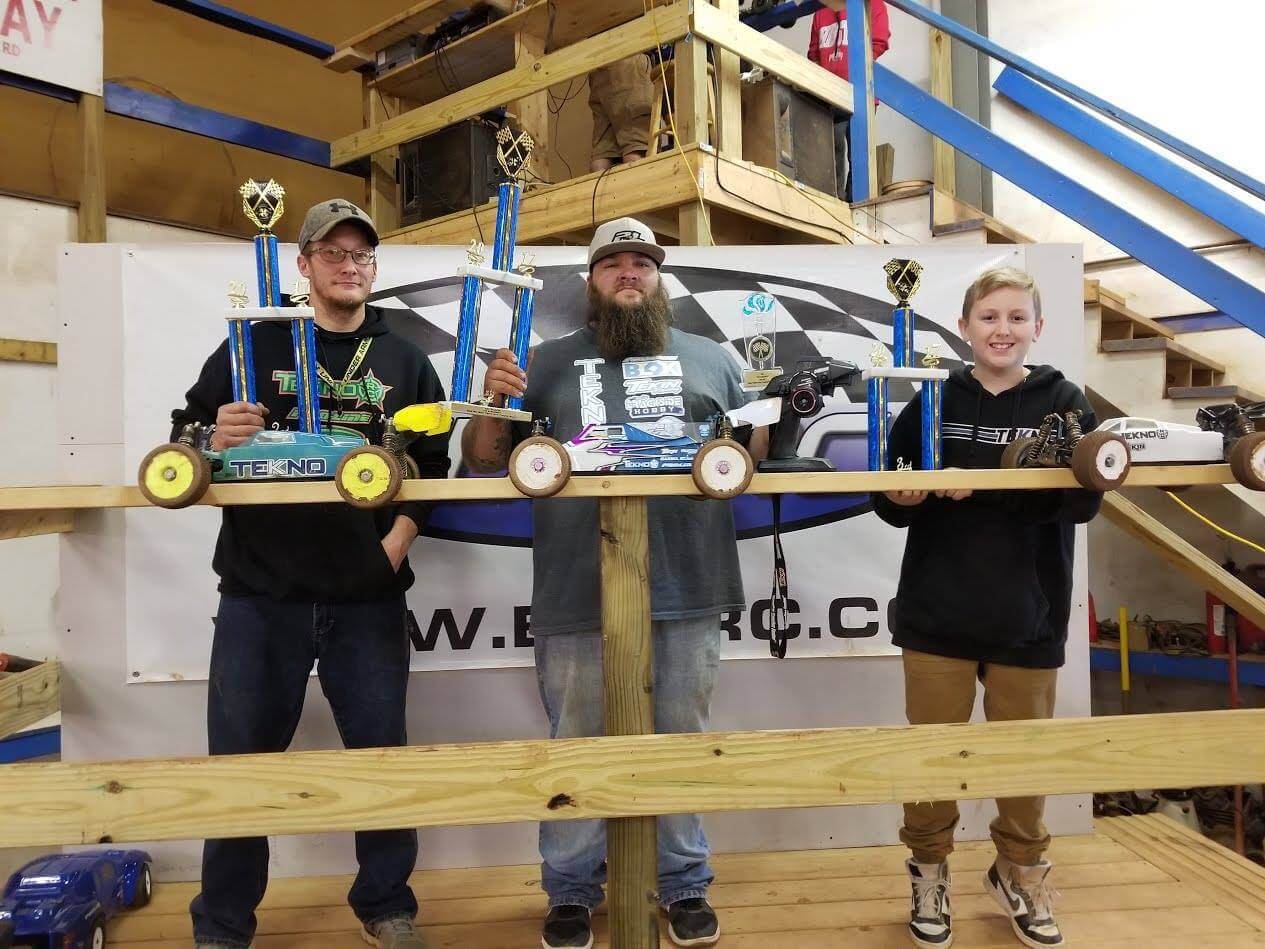 "The day started off rough with snow getting in the way. I chose to run 3 classes. Mod 4wd, Ebuggy and Mod Stadium. Got a pack through each car before the race started and had to make changes to each. Changes made helped a bunch.
TQ'd E-Buggy and won the race! Qualified 2nd in Mod 4wd and ended up second. Qualified 2nd in Stadium Truck and would finish 1st!"
Overall results:
TQ/1st: Jeremy McGuigan – Tekno EB48.4
2nd: Matt Lance – Tekno EB48.4
3rd: Joey Bourdon – Tekno EB48.4
Malaysian National League Round 1 (MY), report by Jade Lim: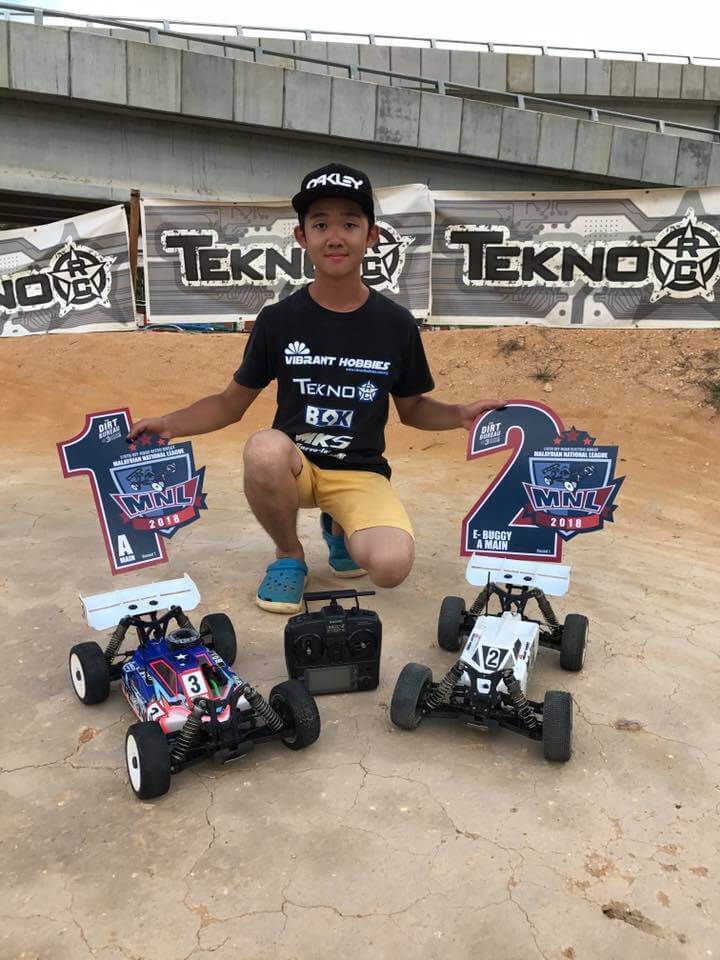 "Last weekend I attended the first round of Malaysia National League at The Dirt Bureau RC Raceway in Kuala Lumpur Malaysia ! I joined two classes this time which is 1/8 Nitro Buggy and 1/8 EP Buggy. I felt my car was working very well during Friday's practice. The next day was qualifying day, I had run out of fuel during the qualify and some bad luck during each heat that caused me dropped to 9th position. But in EP I had done well and qualified in the 2nd position! During the EP fina, I had felt the track traction was getting higher and higher so I decided to change some setup for my nitro buggy before the main start. After the setup change, I felt my car was working very well during the warm-up and was confident with my car! I had a great fight with David Lim during the main final until his car had a technical issue. In the end of the race I won the Nitro class and finished 2nd in the EP class! "
Overall results:
1st: Jade Lim – Tekno NB48.4
2nd: David Lim
3rd: Mizan
2017 ROAR Region 4 (US), report by John Bernard Jr:
"I decided to run 4wd SC, Open E-Truggy, and Pro E-Buggy for the region 4 race. The track was damp from the rain it received during the week and the off and on mist that came down during practice day (Friday). The surface was a little slick but smooth and the layout flowed really well. Practice went well with all 3 and I stuck with my base setups for all 3.
We ran 3 rounds of qualifiers on Saturday. Tire choice was the question of the day with the cold weather. For round one I chose the wrong compound for ET but still managed a 2nd place for the round. I had a great run in SC to take the round 1 TQ. Pro EB had some of the closest racing all weekend. I had a good run and put myself 5th in the A-group.
Round 2 started off great. I made the right tire choice and TQ'd ET and SC. Pro EB was even tighter as 2nd through 8th were only separated by 4 seconds. I had too many mistakes and had to settle for 7th for the round.
I started off round 3 with a great ET run locking up the overall TQ. I had a poor run in EB and finished 9th for the round.
Sunday was mains day and I was ready for the triple A-mains with only a slight sway bar change to the SC. I had great runs in ET and and SC and would take the A1 and A2 wins in both taking the overall. Starting off from the 6th position in the Pro EB, I would have decent runs in all 3 but had to settle for 6th overall at the end.
It was a great event and ran perfectly by Lance and Peyton MacDonald."
Overall results: