Tekno RC Team Report Week 44-45 2016
A very successful couple of weeks around the globe with Tekno RC drivers winning in the USA, Dubai, Malaysia, UK, and Ireland! Seth VanDalen, Mason Eppley, Keith Hadley, Carlos Arredono, Rudy Khoubbieh, Jade Lim, SL Wong, Daniel Austin, Mark Hicks and William White all managed to win the races they attended, congratulations everyone! Report from each race follows:
Tekno Winter Series round 1 (US), report by Seth VanDalen:
"When we showed up Saturday morning to the first round of the Tekno Winter Series I went out and practiced a full battery of short course, and it was extremely good. In qualifying, I ran descent and was abe to get the short course and Nitro Buggy TQ, although in E-buggy I lost the TQ by .01 because of a faulty radio battery in the 2nd qualifier. When the mains came, first up was short course. It was a very good battle all the way to the end. On the last lap, I passed team mate Allan Smith for the win and the top four all lead a lap as well. In nitro buggy, I was confident with the car and lead most of the race and ended up with a lap lead by the end. In E-buggy I ran decent but fell back to fourth and finished there."
Overall results:
4×4 SCT:
TQ/1st: Seth VanDalen – Tekno SCT410.3
2nd: Allan Smith – Tekno SCT410.3
3rd: Clayton Wittmayer- Tekno SCT410.3
TQ/1st: Seth VanDalen – Tekno NB48.3
2nd: Kyle Praske
3rd: Jared Wiggins – Tekno NB48.3
Irish Astro Cup 2016 (IE), report by William White: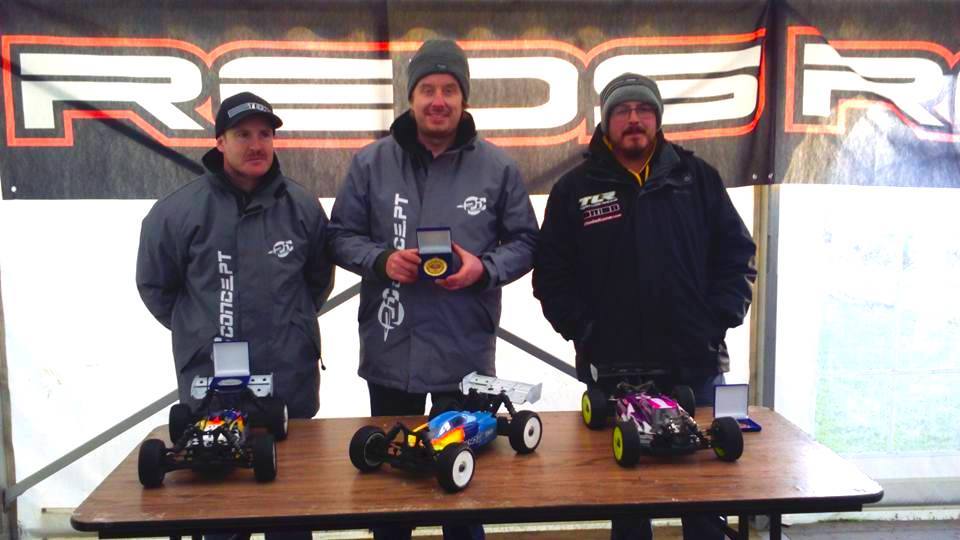 "The Irish Astro Cup is a new, and hopefully annual event held on astroturf about an hour outside Dublin in Navan. The track is compact and bumpy with some quite technical jumps, conditions were cold (3 degrees C) in the morning with some frost and standing water on the track. The weather warmed up, and the track dried to damp quite quickly and was dry by the middle of the day, with a shaded track in the afternoon, slippier conditions returned. In the E-Buggy class, my EB48.3 ran flawlessly. The cold temperatures meant that my car was too heavily oiled throughout, but it wasn't too bad, so I didn't make any major changes – opting to heat the diffs on the pit wall before my runs instead. I won all five rounds of qualifying to TQ the meeting. In the final, after a scrappy start, I broke free of the pack and lapped the whole field apart from Derek McCloskey who running at a serious pace with the improved setup. He managed to finish 2nd from 10th on the grid! Thanks to the event organizers and NNN, and of course thank you to my amazing sponsors, LMR, TEKNO, RC Concept and Modeltune."
E-Buggy Overall Results:
TQ/1st: William White – Tekno EB48.3
2nd: Derek McCloskey – Tekno EB48.3
3rd: David Telford
UAE National Championship Round 1 (DU), report by Rudy Khoubbieh: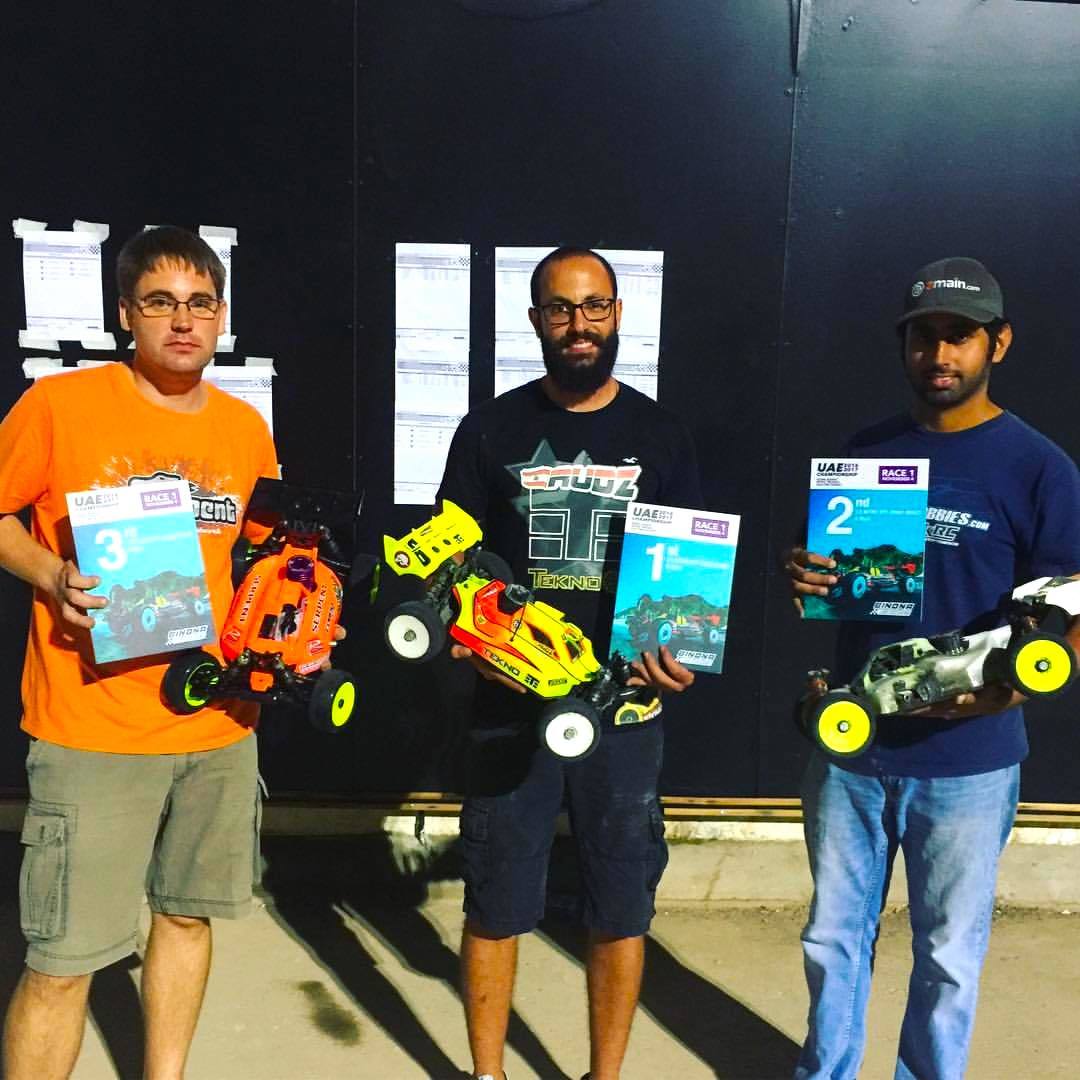 "Last weekend Binona RC Tracks organized the 1st round of the UAE championship a series of 6 races with a points system that will determine who will be the UAE champion for 2016-2017. Fast drivers attended from Oman and Qatar.
I qualified 2nd on the grid after an amazing battle with Edward Anthonijsz who took the TQ with a 2-second difference and then I won the Amain race with a comfortable lead after running some fast, consistent lap times."
Overall results:
1st: Rudy Khoubbieh – Tekno NB48.3
2nd: Khaled al Khababi
3rd: Dan Jones
JBRL Finals (US), report by Carlos Arredondo:
"Well, it's the finals and championships are going to be handed out. Starting with practice, my TeknoRC vehicles were on point right away. With the rough racing conditions we would have to race on, it was going to be who the best car setup and if you could survive the bumps. Qualifying came up and my cars were feeling really good after practice. After the first round of qualifying, I would be able to Top Qualify the E-buggy class and Nitro Truggy. 2nd round of qualifying I would better those times and TQ both classes. Mains came, and I was able to go tone-to-tone for e-buggy. As for Truggy, it was a heated battle for the first 10 minutes of the race. But eventually, I would emerge out front and take the win.
As for series points, I came into the finals with a healthy points lead in the e-buggy class and stretched it even more in the finals to take the championship. Coming into Nitro Truggy I was 2 points down, but I knew a TQ and a win would get me the championship, and that's exactly what I did, and I would secure the Nitro truggy Championship."
Overall results:
TQ/1st: Carlos Arredondo – Tekno EB48.3
2nd: Miguel Perez
3rd: Anthony Westergard – Tekno EB48.3
TQ/1st: Carlos Arredondo – Tekno NT48.3
2nd: Brendon Larrowe
3rd: Cameron Neff
Southern Regional League round 4 (MY), report by Kent Sung:
"Last weekend Tekno fellow racers, Tommy Fung, Jade Lim and Kent head south of Malaysia attending the Southern Regional League round 4 at Southern Alley, Johor Malaysia.
We arrived the track about noon of Sat for practice. I have to say track owner, our Malaysian team manager, Danny Teh is doing a fantastic job of maintaining the track. We had a wonderful time during practice with the fast local guys and were able to get our cars dialed for the race on Sunday.
On race day, during qualifying Jade Lim dominated, getting the TQ, and was the only guy to get 15 laps in 10mins. During the one hour final, Tekno driver Jade Lim and SL Wong lead the entire race and finished champion in both the pro and semi pro class final.
Overall, we had a great day with 9 Tekno cars in the race. I would have to thank Danny Teh and SL Wong for helping Tekno team to grow in southern Malaysia. Extremely happy to see some new faces joining Team Tekno."
Overall results:
Nitro Buggy (Pro Class):
TQ/1st: Jade Lim – Tekno NB48.3
2nd: Bh Gan
3rd: Kent Sung – Tekno NB48.3
Nitro Buggy (Semi Pro Class):
TQ/1st: SL Wong – Tekno NB48.3
2nd: Danial Miswan
3rd: Yc Chong
Fawl Brawl (US), report by Mason Eppley: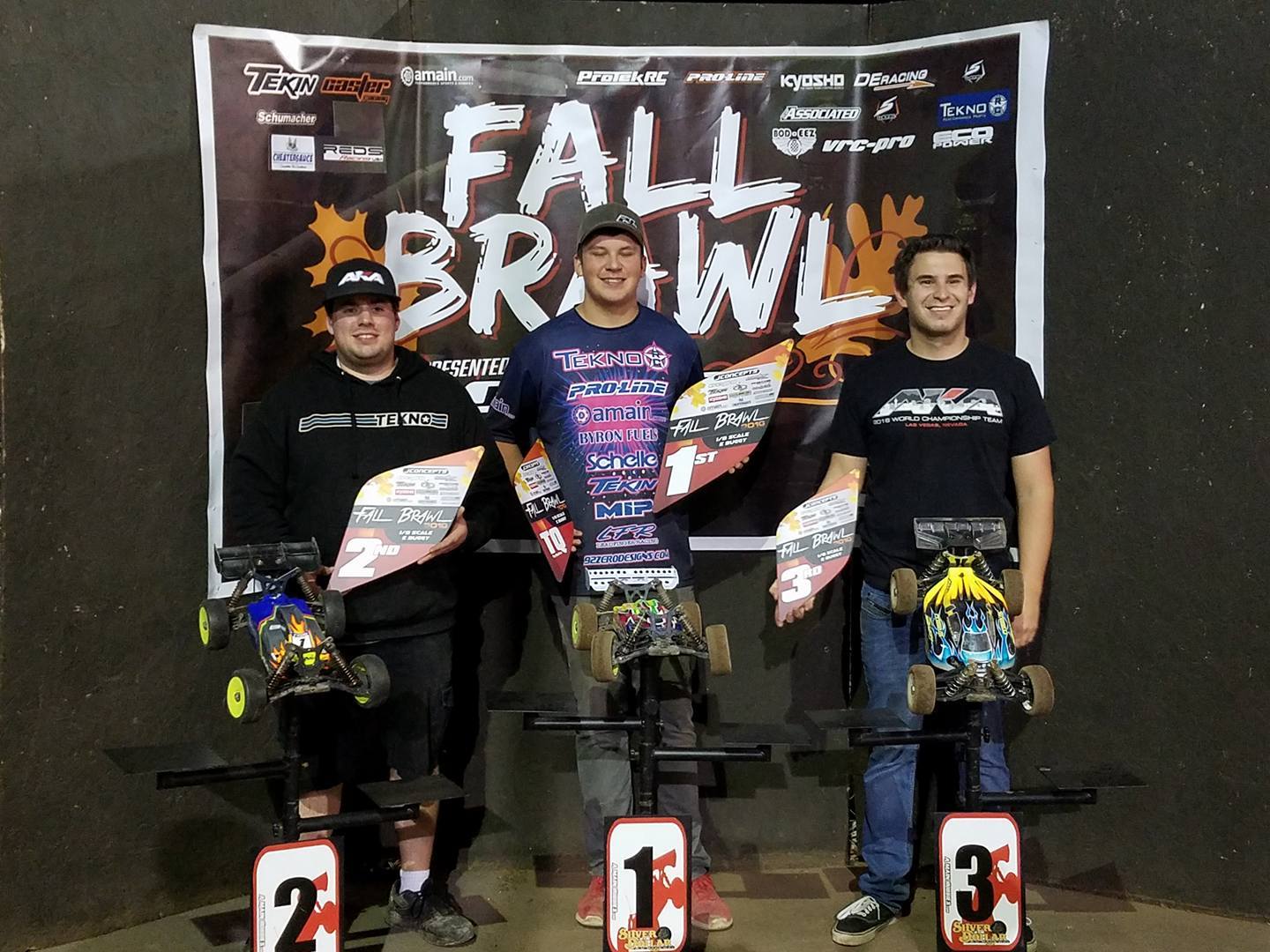 "It's time for the annual Fall Brawl race held at Silver Dollar Raceway in Chico, California. I would get to the track Friday morning for a full day of Practice. My Eb48.3 was dialed from the get go! I only ended up going slightly softer in shock oil. The next day was racing, I was able to grab the TQ in the first round over Austin Blair and a few other fast guys. With them only running two qualifiers, it would only count your one fasted run. Luckily my round one run would hold up, and I would be the overall TQ in the double ten minute mains. I would have great battles in both mains, but in the end, I would take the overall win in electric buggy with Tekno RC Teammate Keith Hadley would TQ and win the 4×4 SCT Class!!
Overall Results:
TQ/1st: Mason Eppley – Tekno EB48.3
2nd: Keith Hadley – Tekno EB48.3
3rd: Austin Blair
TQ/1st: Keith Hadley – Tekno SCT410.3
2nd: Andy Pokorney
3rd: Kyle Linton
AWS – Swindon Series (UK), report by Daniel Austin:

"This weekend several of Team Tekno UK attended the 2nd round of the AWS series held this time at Nene Valley Raceway. Winter had well and truly kicked in with low temperatures and a light frost to great us on the track. Carlo De Marco, Mike Lightfoot, Matt Bridge, Wes Jolly and John Soundy would be running in the Nitro Class with their NB48.3's and Dan Austin, Jason Perry, Chaz Blake and Si Cummings would be running in E-Buggy with the EB48.3. In E-Buggy, Dan Austin would TQ all three rounds taking pole in the Main. Jason Perry had some great runs on a new track for him and lined up 2nd on the grid with Si Cummings, also first visit to the track, qualifying 3rd for the Main. Dan would get a great start and went on to take the victory. Jason and Simon had a mare of a start getting tangled with each other and having to fight back through the field. Late on in the race Jason had fought his way back into contention for 2nd but ran out of time and finished 3rd only a couple of seconds behind 2nd place in the 15 minute final. Simon recovered back to 4th and Chaz managed to gain a place and finished 6th.
Elsewhere in the UK Tekno driver Mark Hicks was in attendance at his local club Swindon for a round of their winter series. Mark managed to take TQ and win the A main and as you can see by the picture was over the moon with his victory!!!"
E-Buggy (AWS):
TQ/1st: Daniel Austin – Tekno EB48.3
2nd: Darren Smith
3rd: Jason Perry – Tekno EB48.3
510 Full Throttle Raceway Trophy Race Round 1 (US), report by Allan Smith: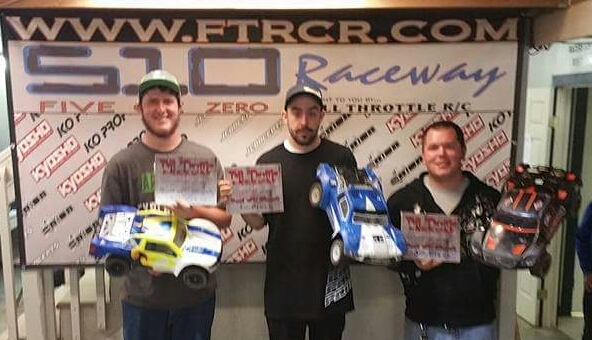 "The first race of the indoor season couldn't have gone better at the 510. Sean VanDalen and the track crew made a real nice layout. I brought my Tekno SCT410.3 my stock buggy and my Pro2 SCT. All my cars were feeling well, especially my Tekno 410.3. I won all three qualifiers and with an intense battle with Sam Sovacool I came out with the victory. Thanks to my sponsors Tekno Rc and Full Throttle Raceway for always helping me keep racing strong!!"
Overall results:
TQ/1st: Allan Smith – Tekno SCT410.3
2nd: Sam Sovacool
3rd: John Larson