A rather fruitful couple of weeks with Tekno RC drivers winning all around the globe. RJ Hart, Carlo De Marco, Michael Lightfoot, Alejandro Alvarez, Jake Spaulding, Mason Eppley, Derek Weatherholt, Matt Bridge and Ben Doyle all won the races they attended in UK, USA and Bolivia, congrats everyone!
710 Season Opener (US), report by RJ hart: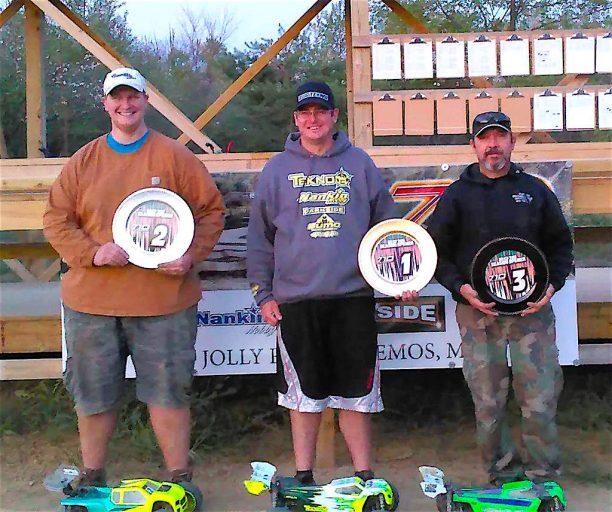 "We officially kicked off the outdoor season @ 710 R/C Raceway this last weekend. We had just over 80 entries on the day with some very talented drivers in attendance. We setup and had plenty of practice Friday evening and were ready to go for the Saturday morning start.
With qualifying under way I had some transponder issues in nitro truggy in the first round. Round 2 I pulled out a 3rd overall for the round. I decided to take the last round off to do some rebuilds on the car to get it ready for the mains.
Felt real comfortable with the ET48.3 all day and went on to TQ all 3 rounds.
The start of the main went pretty smooth until I cased the triple and flipped, letting most everybody by. I just kept plucking away and moving back up to the front. I ended up getting back in the lead and cruised to a comfortable win with a Tekno podium sweep!
Overall very happy with our first race of the season!
Thanks to Tekno R/C, Nankin Hobby, Darkside Designs, and Sumo R/C for the continued support!"
Overall E-Truggy Results:
TQ/1st: RJ Hart
2nd: Ben Belote
3rd: Clay Chambers
Deerdale Summer Series Round 2 (UK), report by Daniel Austin:
This Sunday saw round 2 of the Deerdale summer series and the weather had treated us to the hottest day of the year so far. Team Tekno were out in full force with 5 NB48.3s running in nitro and 6 EB48.3s in the electric class.
In nitro buggy, Tekno driver Carlo De Marco took TQ with Team mates Dan Austin qualifying 2nd and Wes Jolly a close 4th. The final went pretty much the same way with a Tekno 1,2 podium. Carlo De Marco converting the TQ position into a comfortable victory and Dan Austin coming in 2nd. Only a last lap wobble costing Wes Jolly the final podium spot.
In ebuggy, qualifying again went our way taking the top 4 qualifying spots. Tekno's Mike Lightfoot taking TQ ahead of team mates Richard Metcalfe (2nd), Neil Bent (3rd), MattBridge (4th).In the Final, Mike Lighfoot took a comfortable victory in front of Matt Bridge with an excellent 2nd place on his first outing with the EB48.3. Neil Bent came in 3rd and Steven Bond just missed the podium in 4th.
Thanks to Chris Jeffries and Deerdale for the race and congrats to all the racers. See you next time."
Overall results:
TQ/1st: Michael Lightfoot
2nd: Matt Bridge
3rd: Neil Bent
TQ/1st: Carlo De Marco
2nd: Daniel Austin
3rd: Kamil Jablonski

Campeonato Interno CRCSC Round 3 (BO), report by Alejandro Alvarez:
"The "Campeonato interno Club RC Santa Cruz" Round 3 was held on the weekend of May 7-8th in Santa Cruz de la Sierra Bolivia and the classes raced were Nitro Buggy, E-Buggy and E-Truggy.
I raced in the Nitro Buggy and E-Buggy classes in which I managed to get TQ. Qualifiers and mains were both raced on Saturday. The weather didn't really change and it was hot and sunny throughout the whole event.
In the mains I ended up 1st on E-Buggy (EB48.3) and 2nd on Nitro Buggy (NB48.3) with a fellow Tekno racer "Diego Marín" got 2nd place on E-Truggy (ET48.3)."
Overall Results:
1st: Nicolas Uribe
2nd: Alejandro Alvarez
3rd: Fernando Caballero
TQ/1st: Alejandro Alvarez
2nd: Leo Jr Suarez
3rd: Diego Marin

I-70 Showdown Race (USA), report by Jake Spaulding:






Practice started on Friday at 6 pm and the track was fast and very fun. My Tekno cars performed flawlessly all weekend.
On Saturday qualifying started at 12, with the wind blowing heavy I ended up putting in good qualifying times in e-buggy and truggy but struggled first round of nitro buggy. Second round I would end up qualifying better in nitro buggy sitting me 3rd overall for the round.
In the E-buggy main I would get off to a good start and ended up taking the win. In nitro truggy, Brandon Hogan, Derek Weatherholt and I had a good battle switching positions throughout the first half of the race until Derek had motor troubles halfway through the race. Brandon and I ended up battling most of the race all the way to the end where I came out on top with Brandon not far behind. Thanks to the whole Jax Trax crew and the JCP group for the awesome race!"
Overall Results:
TQ/1st: Derek Weatherholt
2nd: Rob Gleason
3rd: Jake Spaulding
Nitro Truggy:
1st: Jake Spaulding
2nd: Brandon Hogan
3rd: David Jeffery
TQ/1st: Jake Spaulding
2nd: Bryan Seitz
3rd: Rob Gleason

NCSOS- Norcal, Southern Oregon Series (USA), report by Mason Eppley: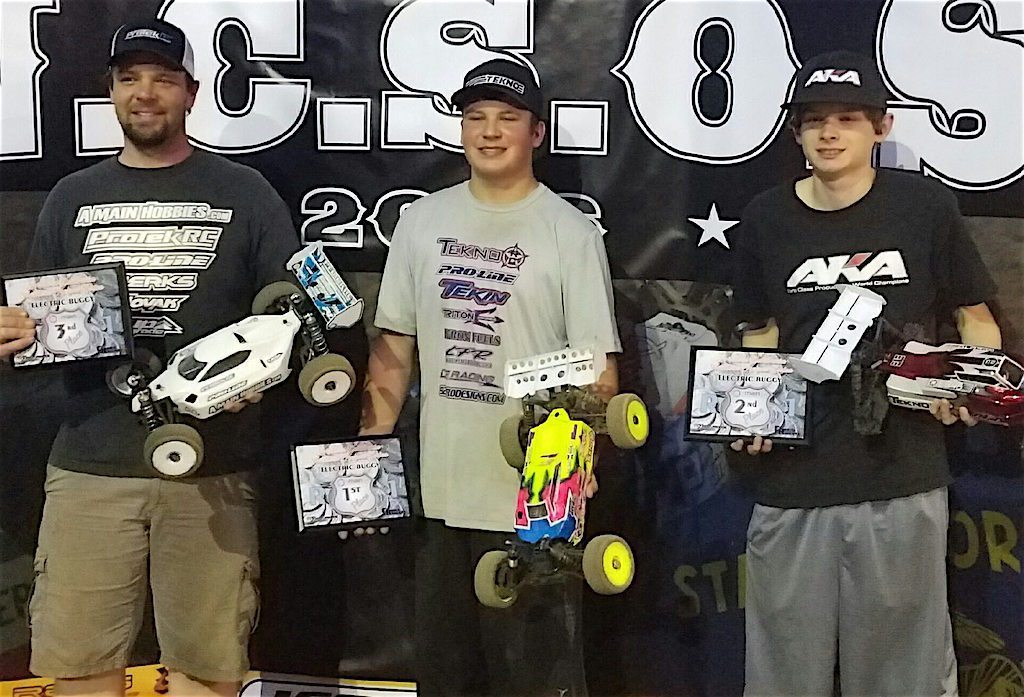 Had a great time at the first round of the NCSOS series held at Silver Dollar Raceway. I would end up TQing 2 of the 3 rounds in pro nitro buggy which would put me as overall TQ.
Ebuggy qualifying didn't go quite as I would of hoped, I ended up 3rd going into the main. I made a few more changes before the A1 main and was way better! I ended up taking the win by 10 seconds over 2nd place. A2 would be more of a battle but in the end I would once again come out on top for the overall win. Now it was time for the pro nitro buggy main, I would have a decent start but I would end up making a mistake on one of the toughest parts of the track. I did my best to battle back and ended up with a 3rd place finish. Overall it was a great weekend of racing, also it was awesome to see 1/3 of the cars this weekend were Teknos!"
Overall Results:
1st: Mason Eppley
2nd: Kyle Turner
3rd: Chad Bradley

Northern Regional Series Rd 1 / Nene Valley Summer Series Round 1 (UK), report by Daniel Austin:
Super fun and successful weekend had for Tekno drivers across the country!
First up, the 1st round of the highly competitive Northern Regional series held at the excellent Ndor track. Attracting some of the best drivers from the North of England with nearly 100 entries for the day, (Nitro buggy 70, Truggy 20, E Buggy 10).
The day started with one round of timed practice for all drivers and early signs were good as the Tekno's took the fastest time in all 3 classes. Next up, 3 rounds of qualifying which also went went well.
In truggy Matt Bridge TQ'd round 1 and 2 of qualifying giving him the overall TQ with the NT48.3. In E Buggy, Micheal Lightfoot, Neil Bent and Richard Metcalfe dominated qualifying with there EB48.3s taking 1,2,3 in every round of qualifying and secured the top 3 spots for the final. In Nitro Buggy, Carlo De Marco had an excellent TQ in round 1 and backed it up with a 2nd in round 2 lining him up 2nd on the grid straight into the A main and Daniel Austin also managed to qualify his NB48.3 straight into the A main in 9th position.
Finals time! All Nitro finals would be 22 minutes and electric final would be 15mins. First up was the Truggy B Final which was won by Tekno driver Martin Connolly with his ET48.3bumping him up into the A Main.
In the Truggy A Main, Matt Bridge lined up on pole with his NT48.3 and never looked back! A dominating performance from Matt lapping the entire field and an easy victory. The truggy and Matt's' driving were faultless and the performance of the Truggy was on another level to anything else out there.
In the E Buggy final, Mike Lightfoot once again put on a show with ridiculous quick laptimes and faultless drive to give him the win. Neil Bent took an excellent 2nd and also set the new lap record for the track during qualifying which won him a free set of tyres! Richard Metcalfe took 3rd with another great performance making it a podium lockout for Tekno.
In Nitro Buggy class, a disappointing start for Carlo from 2nd on the grid (loosing a wheel!) ended any chances of a podium for him but managed to pull back some time during the 22 minute final and finish a very respectable 8th still and Daniel Austin managed to take a superb 6th place from 9th on the grid. Great results for the NB48.3 in a talent stacked field.
A superb day had by all and great to be outside in the sunshine. Happy birthday to Tekno's Simon Mitchell who also had a great day qualifying into the C Main.
Elsewhere in the country, Nene Valley Raceway hosted the 1st round of there summer series and Tekno drivers Ben and Gerry Doyle were in attendance to rep the Teknos. Gerry had some electrical gremlins all day but Ben managed to qualify 2nd overall and take the victory in the A main with his EB48.3 . Nice job guys.
At Herts, Chris Long, Martin Offer and Nigel Morris were in attendance. Chris Long had a superb day and had his best ever finishing result. Since switching to the Tekno from a long term affair with a Kyosho, his quickest laptimes have dropped by a second and his results have just got better and better!
Nigel Morris got a great result and podium finish in the E Buggy class finishing 2nd with his EB48.3 and Martin Offer also had a great day just missing a bump up spot in his final by 1.5 seconds. Great job guys.
Thanks to all our drivers around the country for the support. Lets do it all again next weekend!
Peace out."
Overall Results:
TQ/1st: Matt Bridge
2nd: Carl O Connor
3rd: Lewis Rushdon
TQ/1st: Mike Lightfoot
2nd: Neil Bent
3rd: Richard Metcalfe