Race wins from USA, UK, Dubai and Thailand are featured in this week's Team report. Tekno RC drivers Derrick Harris, Dave Hemenway, Michael Lightfoot, Steve Alcock and Witsarut (Boy) Roumlarp winning the races they attended, showing once again what Tekno RC vehicles are capable of. Report from each race follows:
New RC Championship Round 3 (TH), report by Witsarut Roumlarp: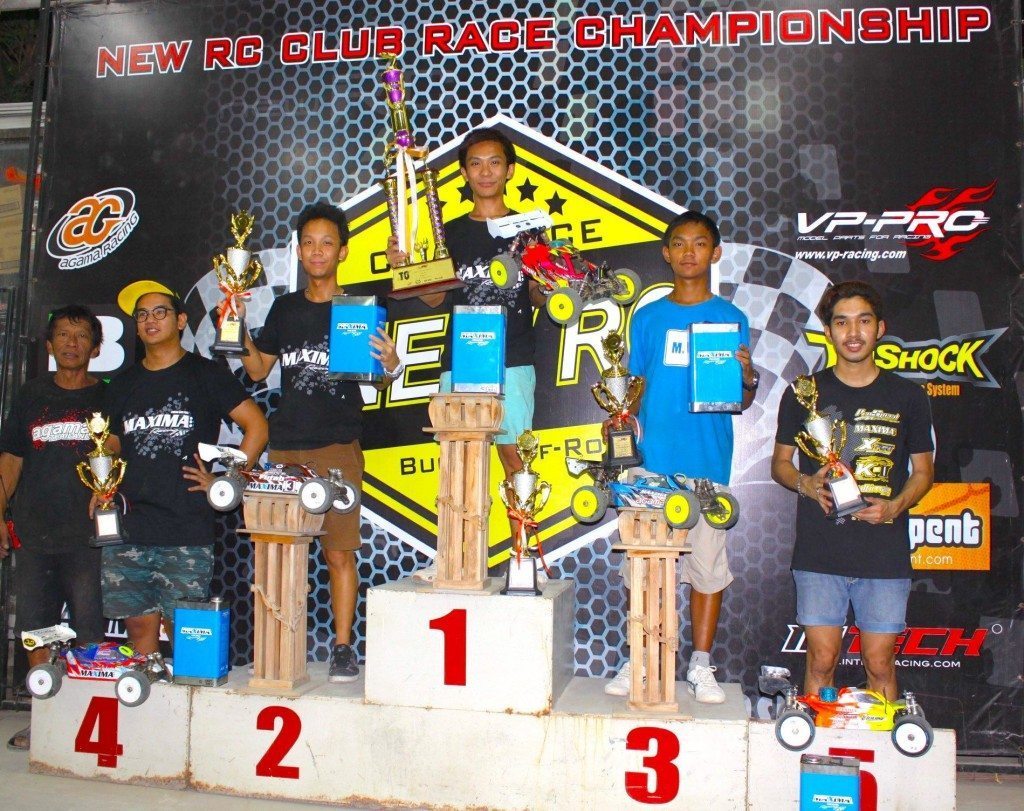 "This was my first big race with the Tekno RC NB48.3, the event was held at New Rc Thailand Circuit named "New Rc Club Race 1/8 Round3 2016" racers from all around Thailand attended the race with more than 70 entries overall, it was a single day event and with some practice in morning first thing was to find a good setup and the right tires which in this case was the VMAX from Beta.
Qualify Round consisted of two qualifying rounds, 7 minutes long, the performance of NB48.3 was very good, I did great in both qualifying rounds, getting the overall TQ.
Time for the A main where the top 13 drivers race for 45 minute. Starting from the first position and leading the race for 5 minutes until I made a mistake and I dropped down to 4th. At that time the leader was Mongkolphan L. which kept the position until middle of the race. I tried my best and pushed my car to the max and moved back to 2nd position with Meen V in the lead. 15 minute to go I took the lead with Meen V. in second, 7 seconds behind. Meen V. would end up running out of gas and the car stoped before it crossed the line. ขอแสดงความยินดี!"
Final Results:
TQ/1st: Witsarut Roumlarp
2nd: Paphon c
3rd: Witchapoom New RC
4th: Meen V.
5th: Napatrapee K.

2016 Spring Sting (USA), report by Derrick Harris: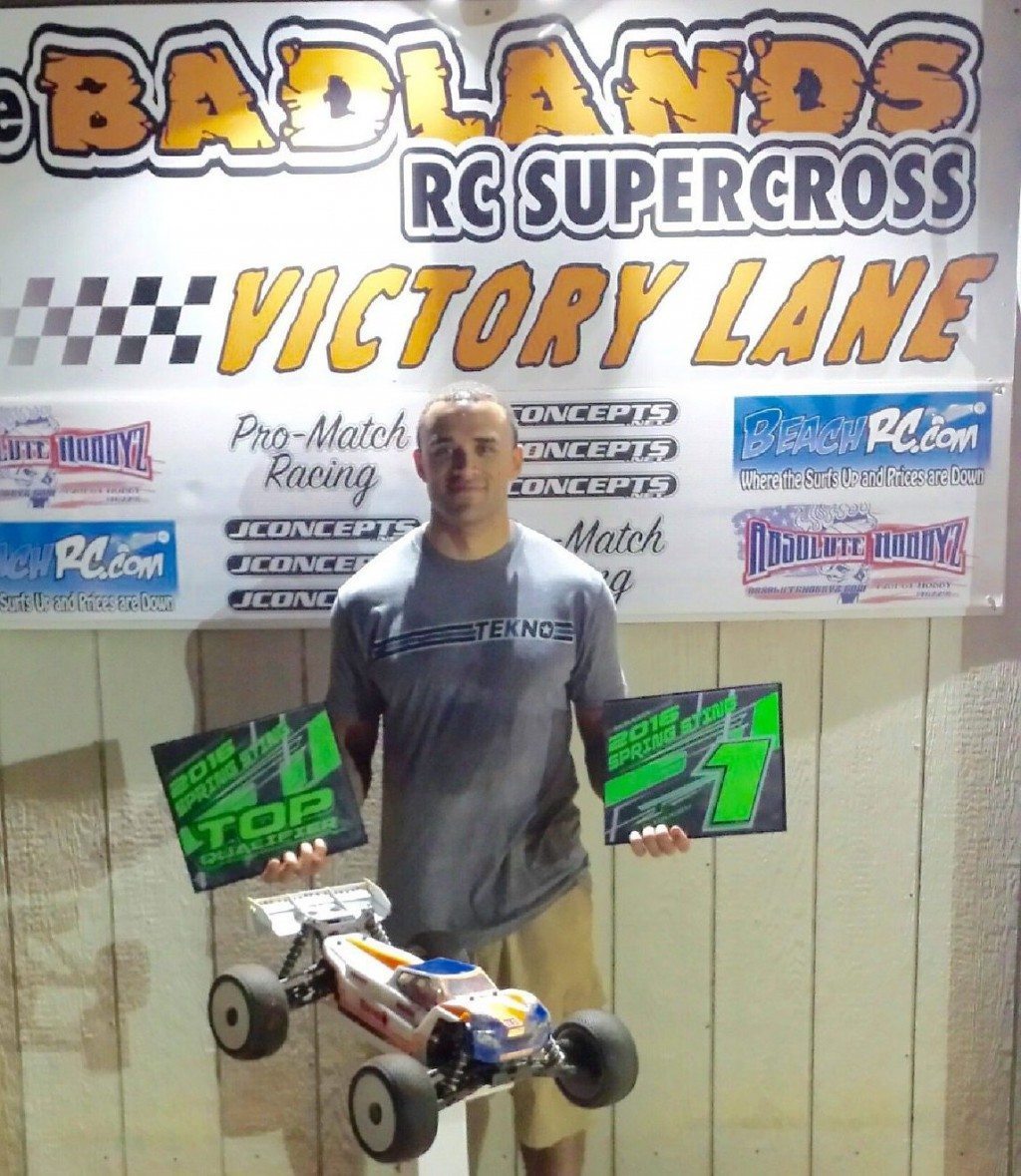 "Spring Sting 2016 @ Badlands
So… 26 hours after getting up on Saturday morning for the race, I returned home from Badlands. ???
It a great trip as I was looking for this event for some time. The event, track and crew was great. Great seeing so many Tekno teammates and racing with some of the best in the business.
Practice on Friday yielded a high grip track with great flow. Tire wear was high, even in the X2 compounds, so we had to choose tires carefully to retain grip throughout the heats.
I ended up qualifying 7th in ebuggy B and TQ in etruggy. In etruggy, I would get a subpar start by under jumping the first double and dropping to 4th on the first lap. But after the first lap jitters and swing of luck, I was able to find myself back in the lead with a minute to go… And that's how I'd finished. It pays to never give up and it showed last night. ?
I worked my way up to 4th in the buggy B, but with a few mistakes and caught in a few wrecks, I would end up 10th
Can't wait for another Spring Sting!
Thanks again to my cousin Mike for allowing us to stay at his place, Tekno RC and G's RC Raceway."

Summer Series Round 2 (UK), report by Daniel Austin:






"E Buggy podium lockout! Nitro Buggy double podium and Truggy domination!
Massive congrats to all of RPRC/Team Tekno UK this weekend at NDOR summer series Rd2!
In Ebuggy once again Tekno drivers dominated qualifying with a 1,2,3. Rich Metclafe taking TQ honours. Micheal Lightfoot took the victory in the A Main after a close fought battle with team mates Neil Bent in 2nd and Rich Metcalfe 3rd. All drivers dropping ridiculous lap times, quicker than any of the Nitro Buggy's.
In Nitro Buggy Carlo De Marco secured TQ with his Tekno NB48.3 and team mate Daniel Austin qualifying 3rd on the grid for the A Main. In the final a few too many mistakes cost us the victory but still managed an excellent 2nd (Carlo De Marco) and 3rd (Daniel Austin) behind a great drive from Lloyd Bostock. Tekno driver Wes Jolly also managed to dominate the B Main and secure the bump up to the A Main.
In Truggy, Electrics and Nitro run together and Steve Alcock once again dominated proceedings with his ET48.3 after a shakey start in rounds 1 and 2 of qualifying, Steve managed to take the TQ and go on to win the final by a fair distance. 2nd and 3rd in E Truggy were Tekno drivers James Phelps and Martin Connoloy.
A massive thanks to NDOR and Chris Jeffries for a super fun event and massive thanks to all the Tekno drivers for your hard work and support."
Final Results:
TQ/1st: Michael Lightfoot
2nd: Neil Bent
3rd: Richard Metcalfe
Electric Truggy:
1st: Steve Alcock
2nd: James Phelps
3rd: Martin Connoloy
1st: Lloyd Bostock
TQ/2nd: Carlo de Marco
3rd: Daniel Austin

Outdoor Season Opener Race (USA), report by Dave Hemenway: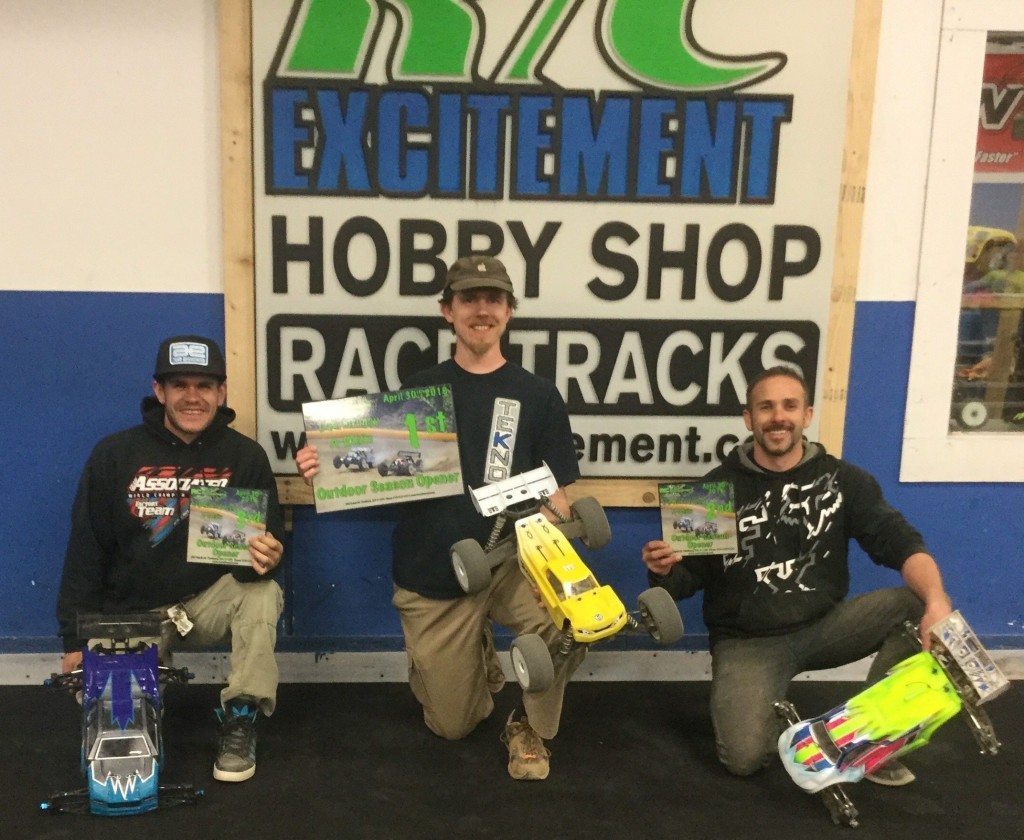 "RC Excitement is one of the well established tracks in the North East and had their Outdoor Season Opener with many brand's race teams represented. This was a very fun race as nobody knew quite what to expect from the new surface, lots of new outdoor clay, and the Adam Drake track design. I took the TQ and win in eTruggy and also ran 4wd SC and eBuggy. After some mistakes in 4wd sc and traffic issues in eBuggy, I took 4th in both after working my way back through the fields.
From the start, the ET48.3 was dialed. I had some issues with traffic in the first qualifier, but in the 2nd qual I managed to avoid them and took TQ. I expected the race to be close, but after a few laps 2nd place got tangled up with 3rd and I never looked back. Many folks commented on how great the ET looked and it was turning lap and race times that would've kept it on the podium in the buggy classes.
Thanks to Tekno for the amazing vehicles, SMC for consistent power, and NorCal Hobbies for getting me back into RC. Special thanks also to my wife for encouraging me as I pursue my racing passion, and to Jesus Christ for saving me and making me who I am."
Final results:
TQ/1st: Dave Hemenway
2nd: Jim Edmonds
3rd: Phil Morris

Binona RC Championship Series Rnd 7 (DU), report by Rudy Khoubbieh: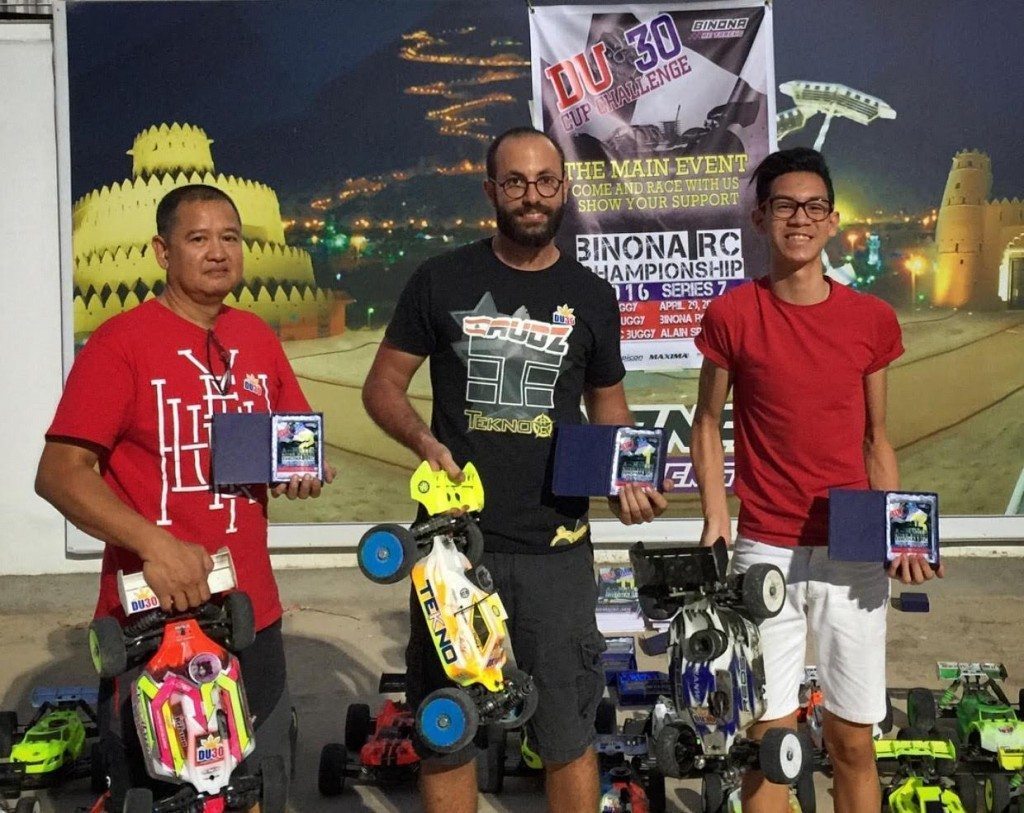 "I attended the last race of the championship ( round 7 ) and came back home with TQ, a Win and overall 2nd place in the championship. I lead the race from start to finish and i was very consistent, did some good lap times. The car like always is amazing fun to drive. I enjoyed every minute of the race. Looking forward for next event."
Final Results:
TQ/1st: Rudy Khoubbieh
2nd: Joey Ariston
3rd: Patrik Sidiangco