Joe Bornhorst and Tekno RC Racking Up the Podiums!
Tekno RC Factory Team driver Joe Bornhorst recently attended the Mugen Challenge at LCRC in Pennsylvania and the Wicked Weekend in Georgia.  Joe was on the podium for all but one class scoring three 1st place victories and two 2nd place finishes.  Here is a report from Joe:
The Wicked Weekend race was held on August 14th-16th in Gainesville, Georgia, with a massive 550 entry turnout. Sean Ramos and I made the trip there. I raced three classes at the race (E-buggy, Nitro Buggy and Nitro Truggy). Practice day went smoothly, my main concern was to get some good time on my brand new NB48.3 and make sure everything was working. My NT48.3 Truggy and EB48.3 E-Buggy were dialed as always, so I spent most of the practice time testing tires. Qualifying day came and after some eventful runs due to some driving errors I managed to qualify 4th in the main for Nitro Buggy and TQ both Nitro Truggy and E-Buggy classes! During the main day I managed to take 2nd in both E-Buggy and Nitro Buggy (after a hard battle with Cole Ogden) and take the overall win in Nitro Truggy!
The following weekend I attended the East Coast Mugen Challenge held at the LCRC track in Oakland Mills, Pennsylvania. Same case here, I opted to run my normal three classes (E-buggy, Nitro Buggy and Nitro Truggy). Qualifying went well for me, after some good battles with Adam Drake and Barry Pettit for the TQs I managed to get the overall TQ in both Buggy classes and take 3rd overall in Truggy after the three-way tie breaker. The Nitro Buggy main was 45 minutes and I ended up winning the race with a good margin even after a quick splash-n-go pit stop toward the very end! The Nitro Truggy final was an eventful one.  I was leading by nearly a lap, turning some great laps when a screw broke off and ended my race :(. Onto E-Buggy. Things went well there, my EB48.3 performed great giving me the overall win for the class, even with some driving errors,which was great!
So overall not a bad two weeks.  Six classes entered, three 1st place victories and two 2nd place podium finishes.  Can't wait for the next race!
Wicked Weekend Pro Electric Buggy Podium
Wicked Weekend Pro Nitro Buggy Podium
Wicked Weekend Pro Truggy Podium
Mugen Challenge Pro Electric Buggy Podium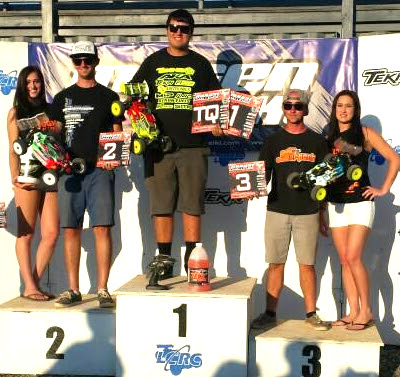 Mugen Challenge Pro Nitro Buggy Podium